Laos with Family 12 Days
12 days 11 nights
The Essentials
Price from
Contact us
Embark on a 12-day family trip to the land of elephants, an exquisite destination for you and your loved ones to explore the authentic beauty of ancient Indochina. Your journey through Laos will feature child-friendly activities, ensuring quality family time
What unique experiences await during your trip ?
Discovery of the major sites of Laos from North to South.
Embark on an unforgettable cruise along the Mekong River, visiting Luang Prabang and the 4000 Islands.
Enjoy a peaceful kayak excursion around Nam Ngum Lake, which remains relatively undiscovered by tourists. Explore the different islets and visit local fishing villages.
Experience a visit to an elephant village and enjoy an elephant ride.
Discover the tranquil region of the 4000 Islands, a haven of peace in southern Laos.
Maintain a balanced rhythm between activities and moments of rest during your journey
Day 1 Luang Prabang arrival
Upon arrival in Luang Prabang, the ancient capital of the Lanxang kingdom, you will receive a warm welcome from the local French-speaking guide. Afterward, you will check in at the hotel (with rooms available from 2:00 p.m.).
Your first day in the city will include visits to:
The Royal Palace Museum, constructed in 1904 during the French colonial era for King Sisavang Vong and his family.
Wat Mai Temple, renowned for its exquisite golden bas-reliefs and considered one of the city's most beautiful temples.
A climb to the top of Mount Phousi for a delightful exploration of the sacred and golden stupa, offering panoramic sunset views of the city and the Mekong River.
In the late afternoon, you will participate in a Baci ceremony with a local family. The Baci ceremony is a traditional Laotian ritual that symbolizes the spirituality of the country and provides participants with a deep understanding of Lao culture.
The day will conclude with dinner at a local family's home.
You will return to the town for the night in Luang Prabang.
Day 2 Luang Prabang City tour
Spend the day exploring Luang Prabang, the former imperial city.
Begin with a walking tour through less-visited areas, showcasing traditional charm and UNESCO-listed architectural diversity:
Explore traditional Laotian houses crafted from bamboo or hardwood, raised on stilts.
Discover half-wood, half-cement houses built during the French colonial period.
Admire French colonial buildings reminiscent of those found in Vietnam and Cambodia.
Visit old Chinese stores designed for both commerce and residence.
In the afternoon, visit Wat Sene, the oldest temple, and the impressive Wat Xiengthong, showcasing classic Laotian architectural styles.
Explore the Royal Palace Museum, home to a collection of intriguing artifacts.
Visit Wat Mai, one of Luang Prabang's largest and most ornate temples.
Conclude your day by ascending Mount Phousi for a tranquil exploration of the sacred stupa and a panoramic view of the sunset over the Mekong River.
Overnight in Luang Prabang.
Day 3 Luang Prabang - Pak Ou Caves
Option: Take a walk or bike ride through the city to observe the unique Laotian tradition of offering alms to monks on the roadside. Laos is the only Buddhist nation to preserve this ritual. Afterward, make a brief visit to the local morning market near the Royal Palace. At the market, you can find a variety of products, from rice and fresh vegetables to steamed fish, frogs, and the day's catch, all laid out on the ground – this is an integral part of the daily life of local people and provides a genuine taste of local culture.
Following breakfast, embark on a leisurely cruise upstream along the Mekong River, offering picturesque views of the tranquil countryside.
Arrive at the enigmatic Pak Ou Caves, a 16th-century cave monastery filled with thousands of Buddha images, situated 25 kilometers north of Luang Prabang within the limestone cliffs overlooking the Mekong.
Return to Luang Prabang, with a stop along the way at Ban Muang Keo, a village renowned for its traditional Lao rice whiskey distillation.
Next, visit Ban Xangkhong, the village of the Thai Lue people, known for their arts and crafts. You will also explore the neighboring village of Ban Xienglek, where traditional Saa paper is produced.
Overnight in Luang Prabang.
Day 4 Luang Prabang - Kuang Si Waterfalls
After breakfast at the hotel, we'll head directly to Kuang Si, the largest waterfall in the Luang Prabang area. The pools here are perfect for swimming and are highly popular among both tourists and locals.
You can also take a walk to the nearby village of Ban Thapene to explore hidden waterfalls, which are rarely visited by other tourists. If you wish, you can make a short visit to the Bear Rescue Center, where a few dozen animals have been rescued from the hands of poachers and traffickers.
On our way back to Luang Prabang, we'll also make a brief stop at the Ock Pop Tock Craft Center, where weavers, spinners, and batik makers produce premium quality fabrics. Free tours are offered every half hour.
The night will be spent in Luang Prabang.
Day 5 Luang Prabang – Visit to an elephant village – Vang Vieng Train
Another enjoyable activity not to be missed for your children: Begin the day with breakfast at the hotel, followed by a direct transfer to the elephant village.
Upon arrival at the elephant camp, you will be welcomed by our camp manager, who will provide a brief introduction to the camp and its elephants.
After getting acquainted with the elephants by feeding them corn or sugar cane, embark on an elephant ride along the Nam Khan River. It's your turn to care for the elephants by bathing them in the Khan River, offering an exhilarating bathing experience!
In the afternoon, enjoy a boat trip to Tad Sae waterfall. While less touristy than Kuang Si Falls, Tad Sae offers a remarkable spectacle and an exceptional swimming experience, with numerous staircase "bathtubs" surrounded by pristine nature.
Return to Luang Prabang and transfer to the train station for your journey to Vang Vieng (6:20 p.m. - 7:12 p.m.).
Upon arrival in Vang Vieng, you will be met and transferred to your hotel for the night in Vang Vieng
Day 6 Vang Vieng - Vientiane
In the morning, explore Vang Vieng, a charming town nestled along the banks of the Nam Song River in an idyllic setting. Often referred to as 'the Halong Bay of Laos,' Vang Vieng is a haven for nature enthusiasts.
The limestone cliffs and valleys surrounding Vang Vieng house numerous caves and caverns. Your tour begins with a visit to the most famous of these caves, Tham Jang, which served as a refuge for local people during a Chinese invasion 200 years ago.
Continue your exploration at Tham Nanga, also known as the Cave of Angels, featuring massive limestone formations and spectacular stalactites in unique formations. Before returning to Vang Vieng, take time to relax and refresh at the Blue Lagoon.
Bid farewell to Vang Vieng as you depart for Vientiane. This capital city, situated on the banks of the Mekong River, evokes exotic images with its intriguing blend of Laotian, Thai, Chinese, Vietnamese, and French influences.
Night in Vientiane.
Day 7 Vientaine - City tour
Today is dedicated to exploring Vientiane's most remarkable cultural and historical sites:
Pha That Luang - a symbol of Buddhism and Laos' sovereignty, and one of the country's most sacred monuments.
Haw Phra Kaew - a former royal temple dating back to the Lane Xang kingdom, now transformed into a national museum of sacred art.
Vat Sisaket - known as the 'Buddha Museum,' it is the city's oldest temple and houses over ten thousand Buddha statues.
Patuxai - an Asian triumphal arch.
Buddha Park - a captivating collection of Buddhist and Hindu sculptures on the Mekong River meadow.
Night in Vientaine.
Day 8 Vientiane – Pakse – Bolaven
Take a flight to Paksé, the largest city in southern Laos. Upon arrival, you'll be welcomed by the local guide and transferred to the Bolaven Plateau, a mountainous region that is home to dozens of hill tribes, waterfalls, and coffee and tea plantations.
During the journey, make a stop at a tea plantation. Next, visit the picturesque Tad Fan Waterfall, which is a double waterfall. You will then explore the local village of Ban Lak Sipchet, known for its iron knives, and Ban Lak Samsip, where bamboo baskets are crafted.
Don't miss the opportunity to visit Tad Yeung, where you can swim in the clear and refreshing natural pool at the base of the waterfall.
Enjoy the night at the Bolaven Plateau.
Day 9 Bolaven – Wat phou – Don khong
After breakfast, visit the Tha Teng food market. Then, explore the minority villages: Ban Bong Neua, an Alak village featuring a sacrificial altar, and Ban Kokphung, a Katu village where coffins are stored under the houses.
In the afternoon, explore Wat Phou, an ancient Khmer religious complex dating back to the 5th century. Recognized by UNESCO as a World Heritage Site, Wat Phou is a spectacular pre-Angkorian temple situated amidst the rice fields and waterways of southern Laos. The temple served as the most important economic and political center of the region and remains one of the most revered temples in Laos.
As the day comes to a close, continue your drive to Champassak to observe examples of French colonial architecture. From there, transfer to Don Khong, where you'll have the rest of the day for your own exploration.
Enjoy the night on Don Khong.
Day 10 Don Khong - 4000 islands
Today, we explore the Siphandon region in southern Laos, known for its unique landscape where the Mekong River divides into numerous islands and islets.
Board a long-tail boat to experience the vast Mekong during the dry season when the waters recede, revealing thousands of islets. Visit a local market, see Liphi Waterfall, and explore remnants of French colonial architecture.
Additionally, we'll visit a local pagoda to learn about spiritual traditions and admire the temple architecture.
Afterwards, enjoy free time and spend the night on Khone Island.
Day 11 4000 islands – Khone Phapheng – Pakse
After breakfast, return to the fishing village of Ban Nakasang and head south to explore Khone Phapheng, considered the largest waterfall by volume in Southeast Asia. Located near the Lao-Cambodian border, Khone Phapheng is an awe-inspiring destination in an area rich with wildlife, making it one of the most breathtaking places in Laos.
On your way back to Paksé, visit Ban Khoh, a village known for its stone sculpture expertise.
At the end of the day, ascend to the top of Wat Phou Salao to admire the panoramic view of Pakse city.
Enjoy the night in Pakse.
Day 12 Pakse – Departure
Enjoy free time for relaxation or any final purchases.
Depending on your flight schedule, transfer to the airport for your return journey.
This marks the end of our 12-day Laos family tour services!
Trang VU, 36 years old
Travel Consultant
Are you considering this itinerary ?

Quick & relevant response within 48 hours
Free quote with no commitment
Tour Price
This price includes:
Accommodation for the entire circuit, in hotels or with locals
Travel according to the program by private car
English-speaking guide for the visits mentioned in the program
All activities mentioned in the program, including entrance fees to tourist sites
Economy class domestic flights with airport taxes included
Meals mentioned in the program
Bottle of water during guided tours (2 x 500ml/traveler/day)
Government taxes currently in force (VAT, etc.)
This price does not include:
International flights from your home
Visa fees, payable directly at the airport customs (see VISA)
Bank fees related to payment
Personal insurance
Personal beverages during meals: beer, Coca-Cola, fruit juice, etc.
Other meals not specified in the program
SIM card and mobile plans
Tips, personal expenses, and other services not mentioned in the "Our Included Services" section
Most frequently asked questions
1. What is the 'customized travel' option?
It is a formula in which your journey is designed according to your preferences for dates, duration of stay, services, while taking into account your interests and budget. A local advisor assists you in the trip's preparation and in its execution on-site (transportation, visits, accommodation, etc.). You benefit from an organized trip, tailored to your desires and constraints down to the smallest details.
2. How can I book my trip?
3. What is the price of the trip?
4. What are the dishes to try during the trip?
5. What type of vehicle is planned for my trip?
6. Can I make changes to the itinerary?
7. How can I make payments on-site? Which currencies are accepted?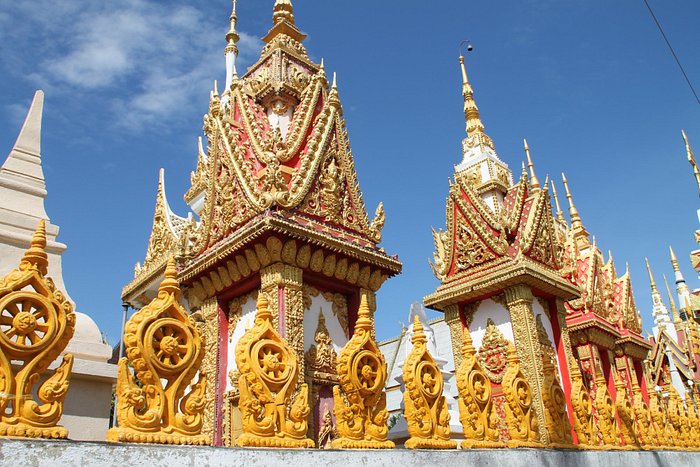 Thank you for your interest in:
Tour:

Laos with Family 12 Days

Duration: 12 days 11 nights
Type: The Essentials
Please feel free to contact us if you have any questions or provide us with details about your project. Our advisor will contact you shortly.
Our information and quotes are completely free!
If you are unable to submit this form, please contact us directly at :