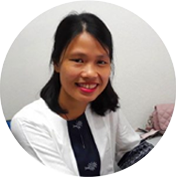 Mrs. DUONG Thi Lan
Travel Consultant
More information about our trips ?
Our testimonials
Numerous travelers have embarked on journeys with our travel agency. After returning from their adventures, they graciously shared their thoughts and feedback. We encourage you to peruse these testimonials, which not only offer valuable insights into our agency but also provide useful information for planning your upcoming voyage.
Karine, solo trip
France
"Vietnam Essentials" tour 15-day in November 2023
I was apprehensive about this first solo trip, so I decided to get in touch with Kampa Tour agency. Linh, my contact there, immediately proved to be extremely available, attentive, and reassuring. We discussed my desires and expectations, and she crafted a wonderful 15-day trip for me, from which I have extraordinary memories.
I am still thankful to her today for her advice and suggestions, which turned out to be excellent choices. From the beginning of our exchanges, I sensed that this agency was serious and undoubtedly professional. I committed without any fear, as the support from the moment I arrived until the end of the trip was perfect and aligned with the agreed-upon program.
All necessary information was provided to me, and I had a dedicated contact throughout the trip who regularly checked in on me. The guides and drivers selected by the agency all showed kindness and care. I was fortunate to enjoy a special moment with the agency members (a warm dinner), which was fantastic!
Once again, I sincerely thank Linh for her involvement, her recommendations (cities, sites, accommodations, excursions, etc.), and for the overall organization that was truly TOP-notch, with unwavering availability (before, during, and after)! I've barely returned, but I'm already looking forward to going back to explore other regions serenely with Kampa Tour ;-)
Karine, November 2023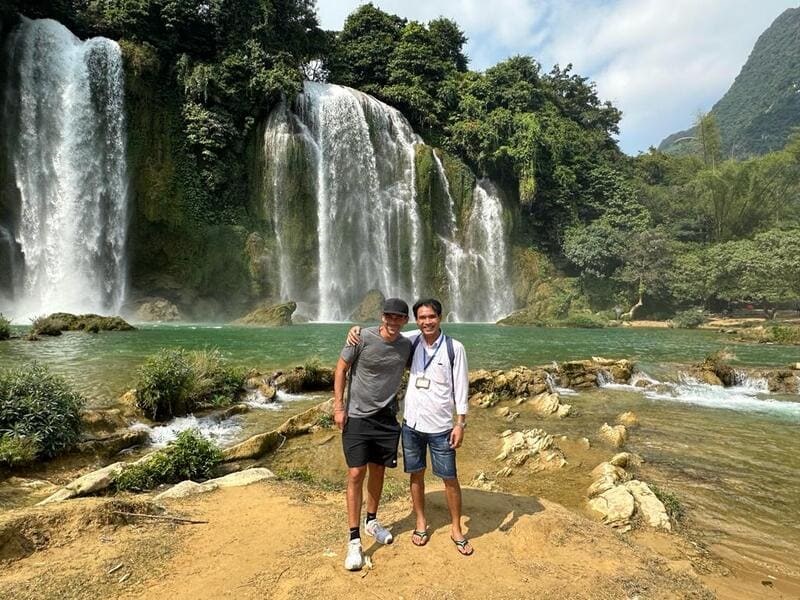 The Patricia Ait family
France
"Vietnam Essentials" tour October 20 - November 01, 2023
Our trip was simply extraordinary and wonderful. It was a lesson in life. It would not have been possible without Mrs. Duong Lan, our Vietnam découverte correspondent, who was always available and very attentive, and who proposed a personalized tour according to our needs, guiding us in our choices.
The hotels were chosen with great care, and we really appreciated the home-stay accommodations, which gave us the chance to share special moments with the families. 
Our driver, Phong, young and careful, was wonderful and very kind. Our guide, Hiep, "a walking encyclopedia of Vietnam", knew northern Vietnam and its history inside out. He was very committed, a good listener and had great human qualities to match his skills. He guided us in our choice of local restaurants (we hadn't taken the meal package), and helped us discover the north by walking along paths where we admired the terraced rice fields and breathtaking green landscapes. On these occasions, he also let us "live" the life of the various Vietnamese ethnic groups in the mountains, visiting some of the houses of the ethnic minorities, scenes of life that are indelible. 
During this trip we had many favorites. The Bac Ha market is one of the largest in the north, where all the minorities gather in their traditional multicolored costumes. The Dong Van karstic plateau, with its succession of sugar-loaf limestone peaks. The impressive Ban Gioc waterfalls.  
But what particularly caught our attention were the harsh living conditions of the white Hmong people.
During our 15-day trip, we appreciated the support of our guide and driver. They will leave their mark on our lives. They are indelible links. 
We would like to thank the entire Vietnam découverte team and highly recommend the agency for its professionalism, but also for not having forgotten that a trip is prepared in collaboration and with human contacts.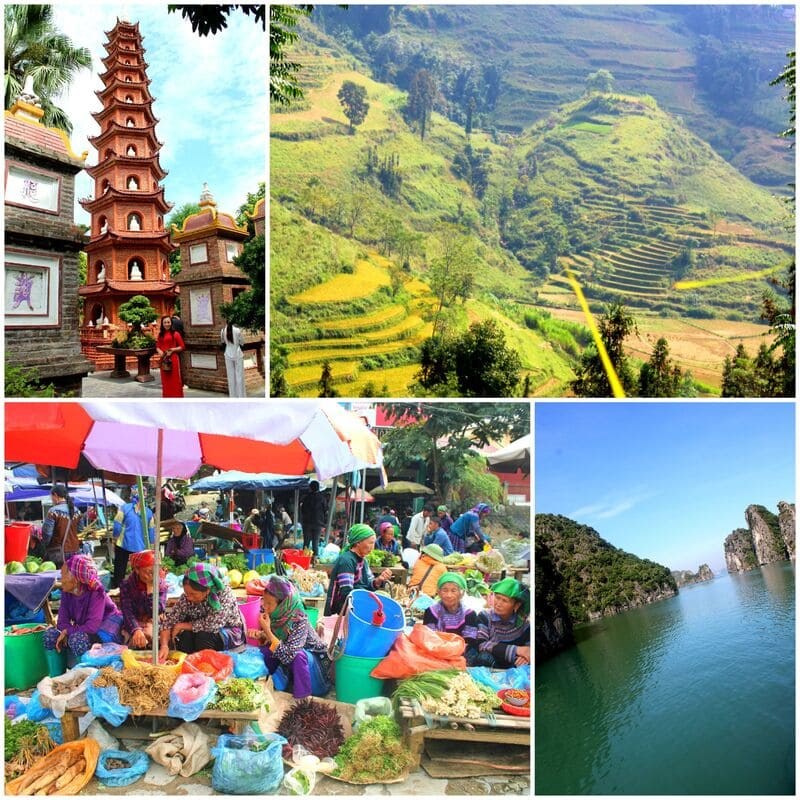 Valérie and Nathalie
France
" The Colors of the North " tour - October 20, 2023
We've just returned from a 13-day tour of North Vietnam: Hanoi - Sapa - Bac Ha - Ninh Binh - Halong Bay.
We were delighted with our tour, our encounters and our exchanges with the Vietnamese. Special mention to our guide and driver! For 9 days, we were driven in complete safety and were able to get off the beaten track thanks to them. We ended our trip with a 3-day cruise on Halong Bay ... idyllic ...
Communication with the agency was easy and pleasant to establish our program together.
This agency had been recommended to us... we were not disappointed...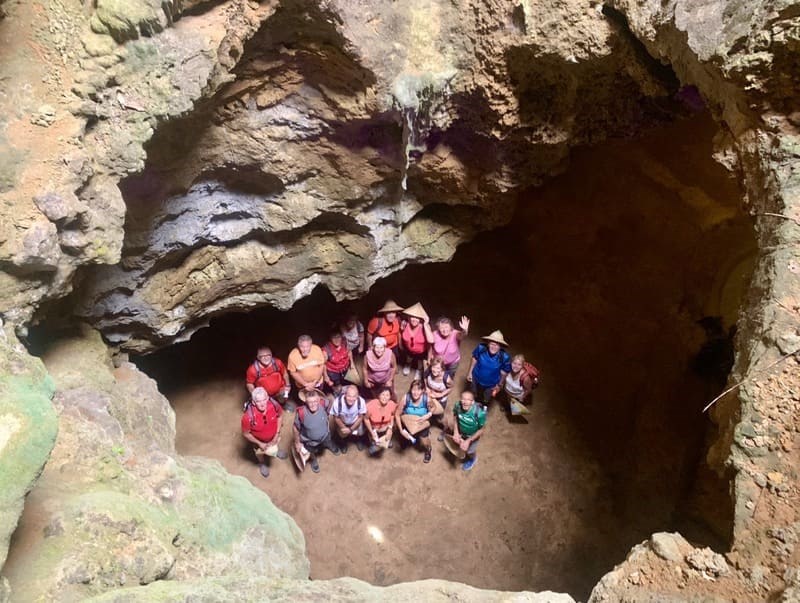 Mrs Gisele Denaes and friends
France
Circuit "From the mountains of Sapa to Halong Bay" October 14 to 25, 2023
Hello
We had good feedback. All my friends were satisfied with your services. I will come back to you if we decide to go back.
Thanks again. I hope to see you soon.
Gisele Denaes.
--------------
Hello, yes, the return trip went well. We appreciated the beauty of your country, its authenticity and the kindness of the inhabitants. 
Thank you for your warm welcome. Our guide Duc and the driver were excellent, very professional and very kind. 
Sincerely Agnès and Gilbert STRAUCH.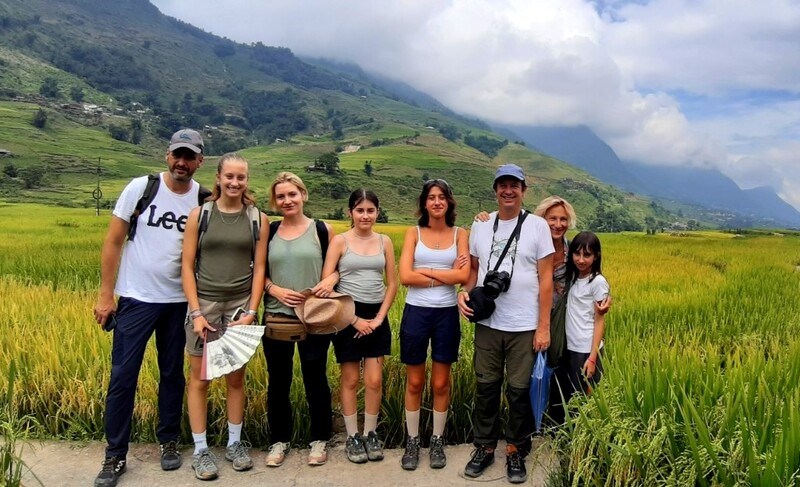 GERBAUD-SAVELLI families
Tour "From the Northern mountains to old town Hoi An" spanning 16 days, from August 13th to August 28th 2023.
Hello,
It is us who thank you for the fantastic journey we experienced, one that exceeded all of our expectations. I have nothing to criticize about the organization, which was impeccable. The guides were excellent and delightful, as were the drivers. We were warmly received in every hotel without exception and taken care of, leaving us with no worries for the rest of the time! All the hotels were chosen with discernment and surpassed our expectations.
Our gratitude extends to the entire team! You can count on me to spread the word about your services.
I would like to extend special thanks to Thom, with whom I corresponded for over 3 years to prepare this trip, and who always provided wise advice and responded very promptly. She organized the journey I had dreamt of for a long time with unparalleled professionalism and kindness. Dear Thom, I will miss our interactions!
I wish all of you continued success!
(Gerbaud - Savelli Families)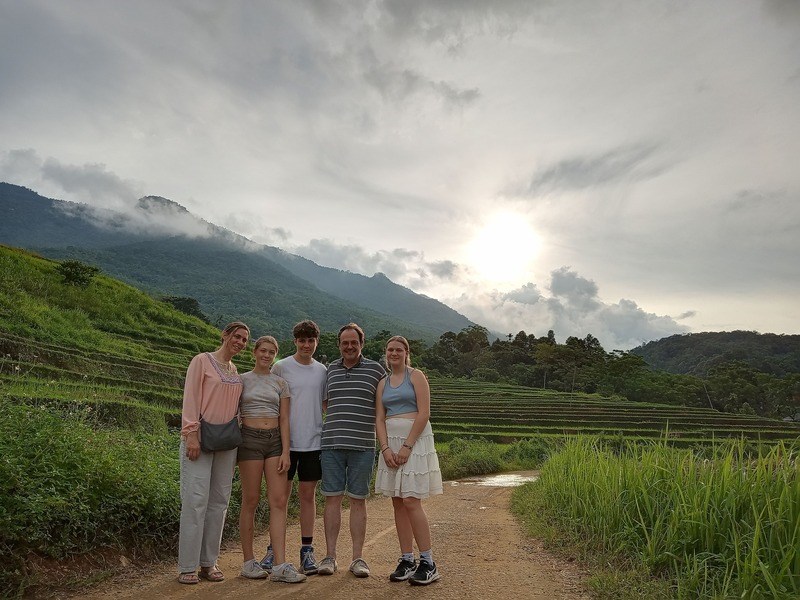 The BROSSY family
SWITZERLAND
Discovery of Vietnam with family from July 18th to August 6th 2023
Dear Sir/Madam,
On behalf of the entire family, I would like to express our gratitude for the organization of our trip to Vietnam. We were warmly welcomed everywhere we went and had three wonderful weeks.
The hotels were excellent, especially the Kiman Hotel in Hoi An with its very friendly staff and bicycles available (very convenient for getting to the beach), the hotel in Mui Ne (a beautiful and well-maintained setting), and the bungalow in Pu Long (a beautiful pool with a splendid view of the rice fields). We also greatly enjoyed our stay with Mr. Ti, where we made wonderful connections and had a fantastic evening over a delicious meal.
Regarding transportation, our taxis were very spacious, comfortable, and always punctual, making our journeys enjoyable and relaxing. Thanks to our drivers who adapted the program to our wishes (lunch breaks, beach stops). A tip for the case you host other Swiss travelers (who don't often have the opportunity to see the sea!): plan for a 1-hour beach break (between Hue and Hoi An) so they have time to swim! It's very frustrating to see such beautiful beaches and not be able to enjoy them. Thanks to our guide and driver for giving us more time than expected!
The train journey from Hanoi to Hue also went very smoothly.
Thanks to our guides, especially Khoa, who accompanied us during the hike in Pu Long, the beautiful waterfall the next day, and a bike tour in Ninh Binh. We had a lot of fun discovering Vietnam with him, even though we gave up on visiting Mount Mua (it was so hot that we preferred to rest at the hotel). It was very interesting to walk in the countryside and discover so many exotic fruits and plants; Khoa and our local guide took the time to show us many things, which was great despite the sometimes challenging heat!
Regarding the gastronomy, the meals included in our package were delicious, especially during the cruise on Halong Bay and in Ninh Binh. We were delighted!
Thank you for tailoring our program to our desires as we were very pleased to discover Whale Island. We were also happy to have a not-too-packed program and free time. It was great to spend 4 nights in Hoi An; we thoroughly enjoyed the seaside and the city.
I am sending you some photos and wish you every success in the years to come.
Thank you and best regards,
Sylvie and family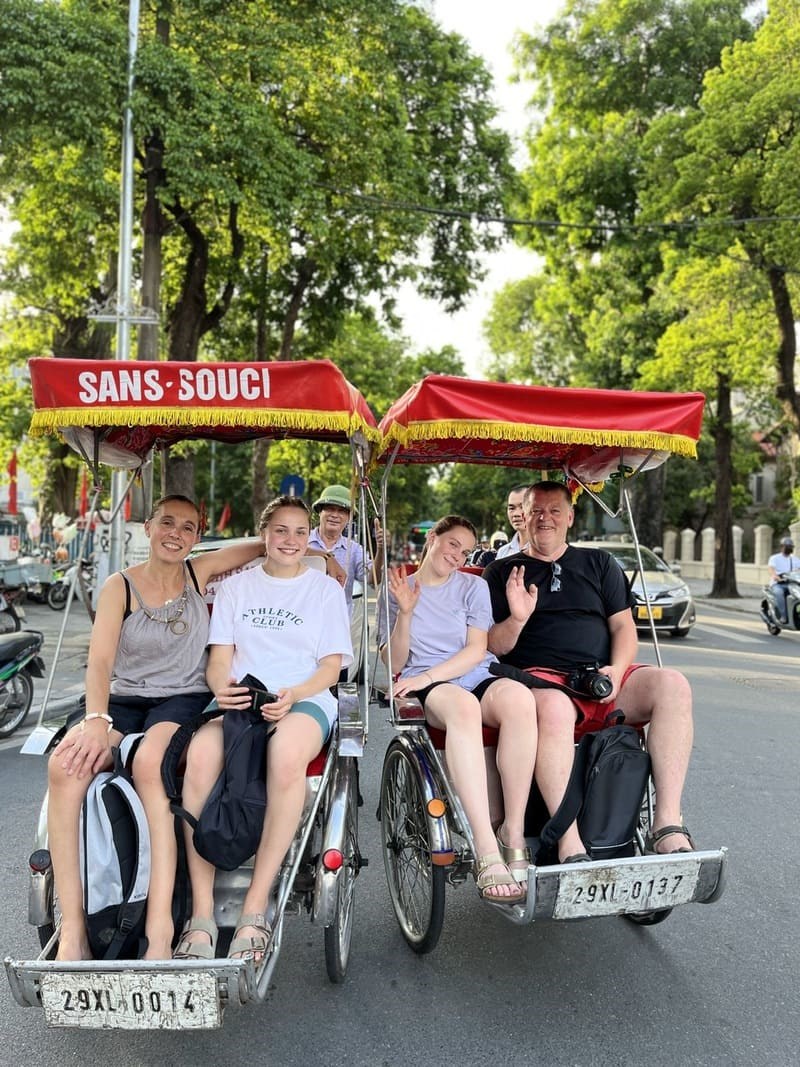 The GAUTIER family
French
"From Halong Bay to the Mekong Delta" Tour from July 22nd to August 4th 2023
Hello,
Thank you to the Découverte Vietnam agency for this fantastic trip. The agency organized an excellent 14-day tour for us, from Halong Bay to the Mekong Delta, at our own pace. It was a family trip, filled with unforgettable moments (from July 21st to August 4th, 2023).
We want to express our gratitude to Thom, who flawlessly organized this tour down to the smallest details, making sure everything went smoothly. Communication through email and WhatsApp was very easy with immediate responses, which instilled complete trust.
Upon our arrival at Hanoi airport, we were warmly welcomed by our guide and driver. We especially enjoyed the hospitality of the local people where we stayed, they were wonderful and exceptionally kind, creating precious moments.
We would like to thank our three guides, Nam, Suong, Nhhiem, who were truly exceptional throughout our journey, as well as our drivers. We wholeheartedly recommend this agency, as they listen to your needs and organize a tour to perfection. We are ready to travel with them again without hesitation.
We received a warm welcome at the agency and had the pleasure of meeting the entire team, especially Thom, who is truly outstanding.
Once again, thank you for this fabulous journey that will be etched in our memories for a long time.
The Gautier Family, France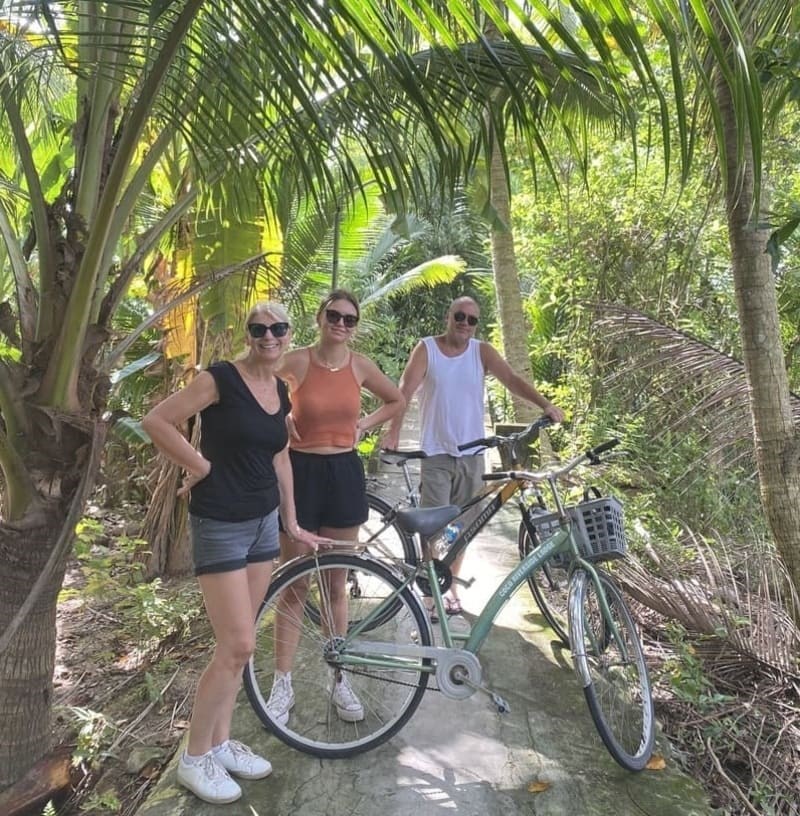 The NOLLIER family
Vietnam in the "Dream of the world tour" from July 24th to August 20th 2023
Hello Thanh LE,
Our stay is coming to an end, and here we are at the superb Mui Ne hotel for rest and relaxation. It has been a wonderful journey, transcending time from north to south, accompanied by three guides we already miss. We had grown attached to them, and their guidance and dedication showcased remarkable human and professional qualities. Thank you for selecting them for us. They allowed us to get as close as possible to the local population and experience moments we will never forget. They shared a great deal about Vietnamese culture, regardless of the region, with humor, joy, kindness, and exceptional proficiency in French. The same goes for the drivers, especially during the nine days with Dac in the north, despite the language barrier.
It was a beautiful encounter!
A huge thank you, Thanh, for organizing this trip and for your team, which transported us to a world different from our everyday life. We will feel nostalgic when we return to France, thinking of all of you. Our guides also excelled in capturing photos and videos, which means a lot for our Vietnam travel memories book that our daughter Mathilde will create upon her return to France. We have visited many countries in Asia, but this one will remain our favorite and etched in our memories. Everything was perfect, truly perfect, down to the smallest details.
Keep on taking the whole world on journeys; you are at the pinnacle of Vietnam travel!
Have a lovely evening to you and your team. Sending you warm hugs.
See you soon for our return to France.
Warm regards,
Régine, Mathilde, and Denis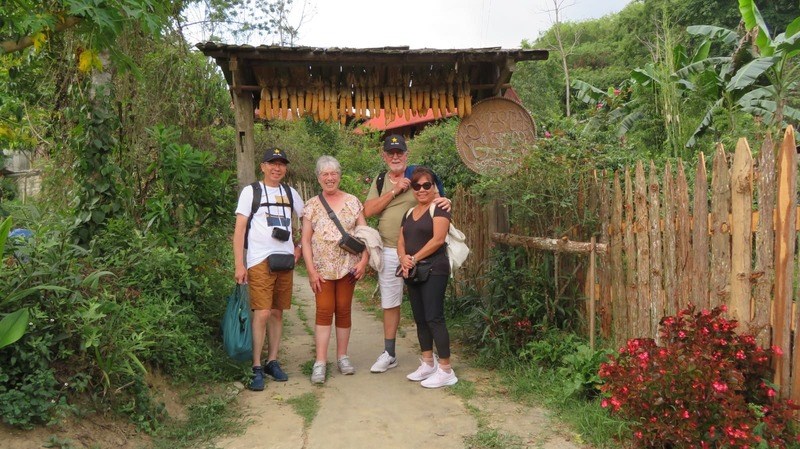 Return to the roots of My Linh & Guy (Guadeloupe) and Christine & Thành (Belgium)
The hidden beauty of Vietnam & Cambodia June 2nd to June 22nd 2023
Thank you, Chau Thom, for everything. Vietnam Discovery organized an excellent trip for us in Vietnam and Cambodia. It was a return to our roots for my sister (My-Linh) and me (Thành), as well as a discovery of our home country for my brother-in-law (Guy) and my wife (Christine).
Everything went perfectly from the first contact with the agency, whether by email or directly through WhatsApp. Thom, our contact, took care of our adventure down to the smallest details, and everything proceeded in excellent conditions.
We were well taken care of from Hanoi airport by our guide and driver. We received a warm welcome at Vietnam Discovery's office, where we met the entire team, especially Thom, who helped us overcome the fatigue of the long flight and jet lag.
This is a journey that will leave us with unforgettable memories. In Vietnam, we had three guides and drivers: Duc and Cuong for the North, Kiên and Hung for the center, Dai and Duc Anh for the south. They are extremely competent, kind, always smiling, and attentive to our wishes. We sincerely thank them for their guidance. They introduced us to extraordinary sites and helped us understand the history and life of the Vietnamese people.
The Cambodian part of the journey also went very well. Our guide, Mao, knows the history of the Khmer temples like the back of his hand, and he revealed details of the sculptures that other guides didn't know.
We thank Vietnam Discovery for the organization and the support throughout our trip. We will highly recommend Vietnam Discovery to our friends and acquaintances.
My-Linh & Guy (Guadeloupe) Christine & Thành (Belgium)