Vietnam Cambodia Tours
You only have 15 days but want to visit two countries, Vietnam and Cambodia? This 15-day Vietnam-Cambodia tour is designed for you! You will first explore the north of Vietnam, starting with the thousand-year-old capital of Hanoi, the magnificent Halong Bay, and the terrestrial Halong Bay. Then, you will journey down to the central region to visit the former imperial capital of Hue and the charming old town of Hoi An. Moving south, you'll travel up the Mekong River to Phnom Penh, the capital of Cambodia, before continuing to Siem Reap to discover the spectacular Angkor temples.
Vietnam tour
The Essentials
Price from
Contact us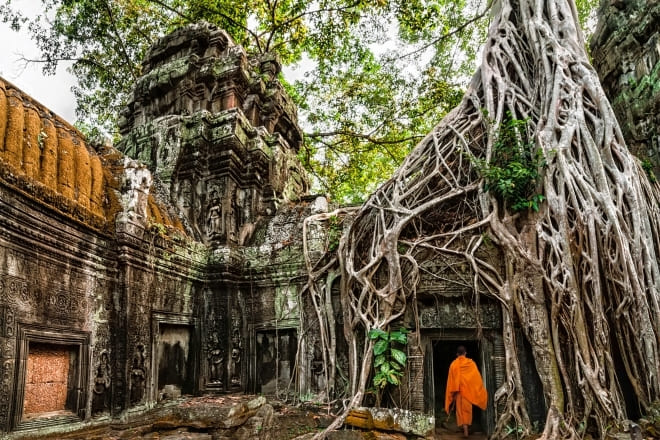 Uncover the charm of South Vietnam and the allure of Cambodia on this captivating journey. Explore vibrant cities, historic sites, and the enchanting landscapes of the Mekong Delta and the mighty Mekong River. From the bustling streets of Ho Chi Minh City to the ancient wonders of Angkor, experience the best of these two incredible destinations.
Vietnam tour
The Essentials
Price from
Contact us
A trip dedicated to exploring the natural and cultural beauty of Vietnam and Cambodia, offering an insightful way to compare the similarities and differences between these two neighboring countries.
Vietnam
The Essentials
Price from
Contact us
Trang VU, 36 years old
Travel Consultant
Need information about planning your trip ?
Considering personalizing your itinerary ?

100% designed to your preferences
Free quote with no commitment
Most frequently asked questions
1. Can we start the journey in Cambodia and finish it in Vietnam?
2. How to get to Cambodia from Vietnam?
3. What is the price of the trip?
4. Does the agency handle all the entry formalities for Vietnam and Cambodia?
5. Are international flights included in the quote?
6. Am I exempt from the visa? If not, how can I obtain it?