Vietnam in 12 Days: From the North to the South
Ho Chi Minh
Hoi An
Hue
Hanoi
Halong
Cu Chi Tunnels
Mekong Delta
12 days 11 nights
The must-sees
Price from
Contact us
This 12-day North-to-South itinerary is perfect for those who prefer to arrive via the capital, Hanoi, and depart from Ho Chi Minh City. It allows travelers to become well-acquainted with the S-shaped country by discovering its main cultural and natural riches.
Vietnam in 12 Days: From the North to the South
What unique experiences await during your trip ?
Explore the main tourist sites from south to north of the country.
Enjoy a cruise in Halong Bay, including a ride on a traditional junk boat.
Learn about the historic Cu Chi tunnels.
Experience the rich culture of the Mekong Delta region.
Strike a balance between guided tours, personal exploration, and relaxation.
Travel phases
Ho Chi Minh
Hoi An
Hue
Hanoi
Halong
Cu Chi Tunnels
Mekong Delta
DAY 1 Hanoi – arrival
Upon your arrival in Hanoi, the ancient capital with a history spanning a thousand years, you will be greeted by an English-speaking guide from Kampá Tour at the airport. They will assist with your transfer to a centrally located hotel, and your day's activities will be adjusted according to your arrival time. Begin your exploration of this historic city by visiting its key landmarks:
King Ly Thai To Square: Delve into the thousand-year history of the Vietnamese capital at this iconic square.
Lake of the Restored Sword: Discover the enchanting Lake of the Restored Sword, which features the Temple of Mount Jade and the Turtle Islet nestled in the heart of Hanoi.
Hanoi Old Quarter: Take a stroll through the Hanoi Old Quarter, known for its 36 corporation streets. Here, you can wander through streets dedicated to various crafts, each bearing the name of the goods produced and sold there. Be sure to visit Ma May Street and explore an old 'Tube' house, a characteristic example of traditional Hanoi architecture.
Enjoy some free time for relaxation.
Overnight stay at the hotel.
DAY 2 Half-day Hanoi City Tour (Join in)
Your journey will commence with our tour guide personally collecting you from your hotel. Depending on your preferences, you will have the option to choose between a luxurious limousine or an adventurous motorbike for your city exploration.
Today's itinerary encompasses several illustrious attractions:
Temple of Literature: This significant cultural and historical monument in Vietnam serves as a place of worship for students seeking blessings before their exams.
One Pillar Pagoda: An architectural and spiritual gem, widely recognized for its unique design, not only in Vietnam but also across Asia.
Ho Chi Minh Mausoleum: A mandatory stop where people come to pay their respects, express their gratitude, and immerse themselves in cultural and historical relics.
Tran Quoc Pagoda: Located by Hanoi's West Lake, this ancient religious structure seamlessly blends majesty, heritage, and elegance in its architectural prowess.
Upon concluding the sightseeing, you will be treated to an authentic Vietnamese lunch at a local restaurant. Subsequently, our guide will accompany you back to your hotel.
DAY 3 Halong Bay - Overnight on the Cruise
Embark on a journey to Halong Bay, often hailed as the most stunning bay in Vietnam and one of the most enchanting landscapes in all of Asia. Step aboard a traditional junk upon arrival and receive a warm welcome from the crew. Set sail for an unforgettable cruise across the bay, where you'll have the opportunity to explore the northern part of Halong Bay, known as Bai Tu Long:
We provide shared junks, typically smaller in size with 10 to 12 cabins, suitable for hosting around twenty passengers. Alternatively, you have the choice of selecting a private cruise on a smaller junk, offering one or a few cabins, for a truly unforgettable experience. Don't hesitate to get in touch with us if you're interested in this option.
Enjoy the breathtaking beauty of the picturesque islands and islets, each with its unique shapes resembling sails, dogs, roosters, and incense burners.
Explore the stunning caves of Halong Bay, including Thien Canh Son, which houses stalagmites and stalactites dating back several thousand years.
The cruise then continues to Cap La, where you can embark on a kayaking adventure and take a refreshing swim in the bay's pristine waters, weather permitting
End of the afternoon, relaxing on the upper deck of the junk.
Participation in a culinary demonstration on board, preparation of spring rolls or spring rolls.
Tasty seafood lunch and dinner.
Free evening for your personal rest and relaxation: card games, night fishing…
Night on board.
DAY 4 Halong Bay - Hanoi
Rise at dawn to savor a truly unique spectacle: the first rays of sunlight peering over the countless sugarloaf peaks of the bay, followed by a serene Tai Chi session on the terrace.
Tai Chi, the art of deep relaxation, involves performing a series of slow, flowing, and circular movements.
Enjoy lunch on the junk, then disembark and return to Hanoi.
DAY 5 Flight to Da Nang - Hoi An
On this final morning in Hanoi, your last stop before continuing your holiday adventure awaits. Depending on your flight schedule, our driver will be ready to assist you by collecting you from your hotel and ensuring a smooth transfer to Noi Bai International Airport for your flight to Da Nang.
Upon landing at Da Nang airport, our car will be at your service, ready to whisk you away to your Hoi An hotel.
Welcome to the tranquil town of Hoi An! Diverging from the bustling atmosphere of the capital city, Hoi An beckons with its unhurried pace of life and charming vintage architecture. Now, it's your time to unwind and relish in the leisurely atmosphere that defines this town.
DAY 6 Half-day Hoi An Ancient Town
Get ready for a walking tour today in Hoi An Ancient Town. There are plenty of exciting activities to explore during this half-day adventure.
Start by visiting ancient houses and famous sites with unique architecture, such as the Fujian Assembly Hall and the Japanese Covered Bridge.
Immerse yourself in the daily life of the locals and admire the charming yellow-painted buildings along the scenic riverbanks.
Make a stop at a handicraft store where you can see how traditional handmade products are created and purchase some as souvenirs.
Indulge in traditional Hoi An cuisine and savor local dishes. Don't forget to try the famous herbal drink called "Mot" to stay refreshed after your walk.
After the sightseeing tour, our guide will say goodbye, allowing you to explore the town on your own.
NOTE: The choice between a morning or afternoon departure depends on availability and your preference.
DAY 7 Hoi An - Hue Road Transfer
Following your morning breakfast, you'll have some leisure time to prepare your luggage before embarking on a road trip to Hue, the ancient capital. The journey typically spans approximately 2 hours by road.
Upon your arrival in Hue, the hotel staff will extend a warm welcome and assist you with the check-in process. The remainder of the day is at your disposal, allowing you the freedom to independently discover the city.
Meals: Breakfast
Accommodation: Hue Hotel
DAY 8 Half-day Hue City Tour
Departure for a city tour of Hue (Hue being the last imperial capital of Vietnam 1802-1945)
The Imperial City served as the residence and workplace for the 13 Nguyen kings for 143 years.
Explore the mausoleum of Minh Mang, the Emperor renowned for fathering 142 children with 43 concubines.
Visit Phu Mong village with its garden houses, an integral part of Hue's imperial heritage.
Discover the Thien Mu Pagoda, renowned as the most beautiful and frequently visited pagoda in Hue, or experience the serenity of Tu Hieu Pagoda, where the tombs of eunuchs from the Nguyen dynasty are located. Depending on the timing, you may have the opportunity to witness a monks' prayer session.
Explore Dong Ba Market, the largest and oldest market in Hue, where you can purchase local specialties such as conical hats and tunic dresses.
Night at the hotel.
DAY 9 Flight to Ho Chi Minh City
Say your goodbyes to Hue as we prepare for our journey to the bustling city of Ho Chi Minh. After a brief 1.5-hour flight from Phu Bai Airport, you'll find yourself in the heart of Ho Chi Minh City.
Once you've completed your hotel check-in, the choice is yours – you can either take a well-deserved nap or venture out to explore the city at your own pace.
DAY 10 Cu Chi Tunnels - Ho Chi Minh City Exploration
Morning:
Explore the underground Cu Chi Tunnels, a historic battlefield from the Indochina War located on the outskirts of the city. Upon arrival, descend into the subterranean world of tunnels stretching over 200 kilometers. These tunnels, with a width of 70 cm and a height of 90 cm, lead to various meeting rooms, kitchens, and even hospitals.
At noon, you'll enjoy a local restaurant lunch before returning to Ho Chi Minh City.
Afternoon:
Keep your energy up as you embark on a half-day city tour, visiting the city's must-see attractions.
Your first stop is the Independence Palace, where the Vietnamese Revolutionary Army achieved victory in 1975.
Your next destination is Saigon Notre Dame Cathedral and the Central Post Office. These landmarks are prime examples of French architecture in the city.
Continue your tour with a visit to the War Remnants Museum, which provides insights into the First Indochina War and the Vietnam War. The museum showcases compelling visuals depicting the futility and devastating effects of the conflicts.
As the sightseeing tour concludes, you will be dropped off at your hotel, giving you the freedom to explore the city at night.
NOTE: The Notre Dame Cathedral is currently undergoing renovations until 2027. You may be taken to visit the surrounding areas, such as the street book.
DAY 11 Mekong Delta Full day (SIC)
We depart for the Mekong Delta, a unique region in southern Vietnam.
Upon arrival in Ben Tre, a town nestled in the northern arms of the river, we embark on a boat journey to Mo Cay, a tranquil rural area renowned for its coconut industry. Here, coconut-based products such as coconut thread and activated coconut carbon are produced.
We explore the green island, covered with lush coconut plantations, either by bike or Xe loi (motorized cycle) along serene paths under the shade of coconut trees. These scenic routes offer a peaceful escape from mass tourism. We make stops at local farms to witness the creation of sweets and coconut brooms.
Our adventure continues with a peaceful rowboat ride through narrow waterways, enveloped by water palm trees, allowing us to immerse ourselves in the daily life of the delta.
Then you will go back to Ho Chi Minh City and relax for the rest of the day.
Hotel in Ho Chi Minh City
DAY 12 Ho Chi Minh Departure
This morning, savor a delightful breakfast at your hotel, take some time to prepare your belongings, and relish your final moments in Ho Chi Minh City.
Depending on your flight schedule, our driver will arrange your transfer to the airport.
Please note that the hotel's standard check-out time is at 12:00, but you have the option to request a late check-out for an additional fee.
Custom activities
Kampá Tour offers private tours with tailor-made services.
Trang VU, 36 years old
Travel Consultant
Are you considering this itinerary ?

Quick & relevant response within 48 hours
Free quote with no commitment
Tour Price
This price includes:
Accommodation for the entire circuit, in hotels or with locals
Travel according to the program by private car
English-speaking guide for the visits mentioned in the program
All activities mentioned in the program, including entrance fees to tourist sites
Economy class domestic flights with airport taxes included
Meals mentioned in the program
Bottle of water during guided tours (2 x 500ml/traveler/day)
Government taxes currently in force (VAT, etc.)
This price does not include:
International flights from your home
Visa fees, payable directly at the airport customs (see VISA)
Bank fees related to payment
Personal insurance
Personal beverages during meals: beer, Coca-Cola, fruit juice, etc.
Other meals not specified in the program
SIM card and mobile plans
Tips, personal expenses, and other services not mentioned in the "Our Included Services" section
Most frequently asked questions
1. What budget should I plan for a trip to Vietnam?
As an approximate guideline, the cost of a 2-week trip to Vietnam would be around 1450€ per person when traveling as a pair (excluding airfare). For a 3 or 4-week journey, please budget between 1900€ and 2500€ per person. If you're in a larger group (4 or 6 people), the trip will be more cost-effective. The price always varies depending on the duration and time of your stay, as well as your preferences (activities, services). Please leave us a quote request, and our travel advisor will provide you with more detailed information and a quote.
2. What is the 'customized travel' option?
3. How can I book my trip?
4. What is the price of the trip?
5. What are the best times to visit Vietnam?
6. Am I exempt from the visa? If not, how can I obtain it?
7. Can I make changes to the itinerary?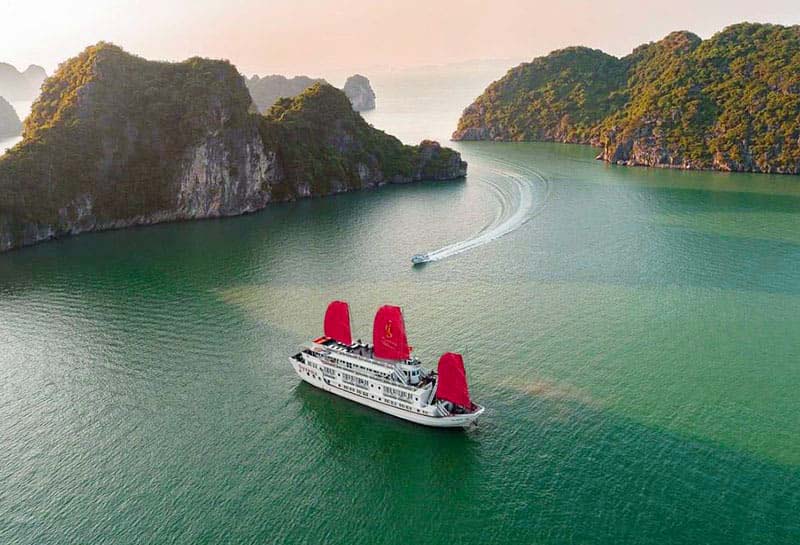 Thank you for your interest in:
Tour:

Vietnam in 12 Days: From the North to the South

Duration: 12 days 11 nights
Type: The must-sees
Please feel free to contact us if you have any questions or provide us with details about your project. Our advisor will contact you shortly.
Our information and quotes are completely free!
If you are unable to submit this form, please contact us directly at :