A week in Laos: Exploring serene Southeast Asian country
7 days, 6 nights
The Essentials
Price from
Contact us
Explore the picturesque landscapes and cultural wonders of Laos on our 7-day journey. Discover the serene beauty of Luang Prabang, from its historic city to breathtaking waterfalls. Immerse yourself in adventure with kayaking and spelunking in Vang Vieng, then travel to the charming capital city of Vientiane. An unforgettable week awaits in Southeast Asia. 
A week in Laos: Exploring serene Southeast Asian country
What unique experiences await during your trip ?
Luang Prabang's Cultural Charms: Explore the ancient city of Luang Prabang to experience its rich local culture.
Kuang Si Waterfalls' Natural Beauty: Be amazed by the serene Kuang Si Waterfalls, a breathtaking oasis.
Thrilling Vang Vieng Adventures: Get your adrenaline fix with kayaking and a visit to Tham Pou Kham Cave in Vang Vieng.
Scenic Train Journeys: Enjoy picturesque train rides between these amazing destinations, making your journey as memorable as the places you'll visit.
Day 1 Luang Prabang arrival
Upon arrival in Luang Prabang, the ancient capital of the Lanxang kingdom, you will receive a warm welcome from the local French-speaking guide. Afterward, you will check in at the hotel (with rooms available from 2:00 p.m.).
Your first day in the city will include visits to:
The Royal Palace Museum, constructed in 1904 during the French colonial era for King Sisavang Vong and his family.
Wat Mai Temple, renowned for its exquisite golden bas-reliefs and considered one of the city's most beautiful temples.
A climb to the top of Mount Phousi for a delightful exploration of the sacred and golden stupa, offering panoramic sunset views of the city and the Mekong River.
In the late afternoon, you will participate in a Baci ceremony with a local family. The Baci ceremony is a traditional Laotian ritual that symbolizes the spirituality of the country and provides participants with a deep understanding of Lao culture.
The day will conclude with dinner at a local family's home.
You will return to the town for the night in Luang Prabang.
Day 3 Luang Prabang - Kuang Si Waterfalls
After breakfast at the hotel, we will transfer directly to Kuang Si, the largest waterfall in the Luang Prabang area. The pools here are perfect for swimming and are highly popular among both tourists and locals. It is also possible to walk to the nearby village of Ban Thapene and explore the hidden waterfalls, which are rarely visited by other tourists. If you wish, you can take a short visit to the Bear Rescue Center, which houses several dozen animals rescued from the hands of poachers and traffickers.
On the way back to Luang Prabang, we will make a short visit to the Ock Pop Tock Craft Center. Here, weavers, spinners, and batik makers produce premium-quality fabrics. Free tours are offered every half hour.
You'll have a free evening to explore Luang Prabang.
Day 2 Luang Prabang - Pak Ou Caves
Option: Take a walk or bike ride through the city to observe the unique Laotian tradition of offering alms to monks on the roadside. Laos is the only Buddhist nation to preserve this ritual. Afterward, make a brief visit to the local morning market near the Royal Palace. At the market, you can find a variety of products, from rice and fresh vegetables to steamed fish, frogs, and the day's catch, all laid out on the ground – this is an integral part of the daily life of local people and provides a genuine taste of local culture.
Following breakfast, embark on a leisurely cruise upstream along the Mekong River, offering picturesque views of the tranquil countryside.
Arrive at the enigmatic Pak Ou Caves, a 16th-century cave monastery filled with thousands of Buddha images, situated 25 kilometers north of Luang Prabang within the limestone cliffs overlooking the Mekong.
Return to Luang Prabang, with a stop along the way at Ban Muang Keo, a village renowned for its traditional Lao rice whiskey distillation.
Next, visit Ban Xangkhong, the village of the Thai Lue people, known for their arts and crafts. You will also explore the neighboring village of Ban Xienglek, where traditional Saa paper is produced.
Overnight in Luang Prabang.
Day 4 Luang Prabang – Vang Vieng by Train
Following your hotel breakfast, your day begins with a visit to the Royal Palace Museum, housing a fascinating collection of artifacts. Our next destination is Wat Mai, a renowned temple featuring exquisite golden bas-reliefs, making it one of the town's most beautiful temples. Afterward, we will proceed to the train station for your journey to Vang Vieng. Upon arrival, you will be transferred to explore Tham Jang Cave.
Day 5 Vang Vieng – Kayaking - Tham Pou Kham Cave
Afterward, we'll travel to Khmu Village, located just 10km north of Vang Vieng. Here, you'll receive training from experienced guides, and then we'll embark on our paddling adventure down the Nam Song River. We'll return to the hotel in the late afternoon.
Day 6 Vang Vieng - Vientiane by train
Begin your day with an early breakfast at the hotel, followed by a transfer to the train station for a short journey to Vientiane. Upon arrival, we will embark on an exploration of the capital's major attractions, starting with the ancient Wat Sisaket. On our way to visit Lao's national icon, the revered That Luang Stupa, we'll make a brief stop en route to capture some photos of the impressive Patuxay Monument. After the tour, we'll return to the hotel for some relaxation.
Day 7 Vientiane departure
A day dedicated to discovering the most remarkable cultural sites and historical monuments of Vientiane:
Ho Phrakeo - a former royal temple dating back to the time of the Lane Xang kingdom, now transformed into a national museum of sacred art.
The "Buddha Museum" at Vat Sisaket – the city's oldest temple, housing over ten thousand Buddha statues.
Buddha Park – an enchanting collection of Buddhist and Hindu sculptures located on the meadows of the Mekong River.
After this exploration, you will be transferred to the airport for your departure flight.
This marks the end of our 7-day trip in Laos!
Trang VU, 36 years old
Travel Consultant
Are you considering this itinerary ?

Quick & relevant response within 48 hours
Free quote with no commitment
Tour Price
This price includes:
Accommodation for the entire circuit, in hotels or with locals
Travel according to the program by private car
English-speaking guide for the visits mentioned in the program
All activities mentioned in the program, including entrance fees to tourist sites
Economy class domestic flights with airport taxes included
Meals mentioned in the program
Bottle of water during guided tours (2 x 500ml/traveler/day)
Government taxes currently in force (VAT, etc.)
This price does not include:
International flights from your home
Visa fees, payable directly at the airport customs (see VISA)
Bank fees related to payment
Personal insurance
Personal beverages during meals: beer, Coca-Cola, fruit juice, etc.
Other meals not specified in the program
SIM card and mobile plans
Tips, personal expenses, and other services not mentioned in the "Our Included Services" section
Most frequently asked questions
1. What is the 'customized travel' option?
It is a formula in which your journey is designed according to your preferences for dates, duration of stay, services, while taking into account your interests and budget. A local advisor assists you in the trip's preparation and in its execution on-site (transportation, visits, accommodation, etc.). You benefit from an organized trip, tailored to your desires and constraints down to the smallest details.
2. How can I book my trip?
3. What is the price of the trip?
4. What are the dishes to try during the trip?
5. What type of vehicle is planned for my trip?
6. Can I make changes to the itinerary?
7. How can I make payments on-site? Which currencies are accepted?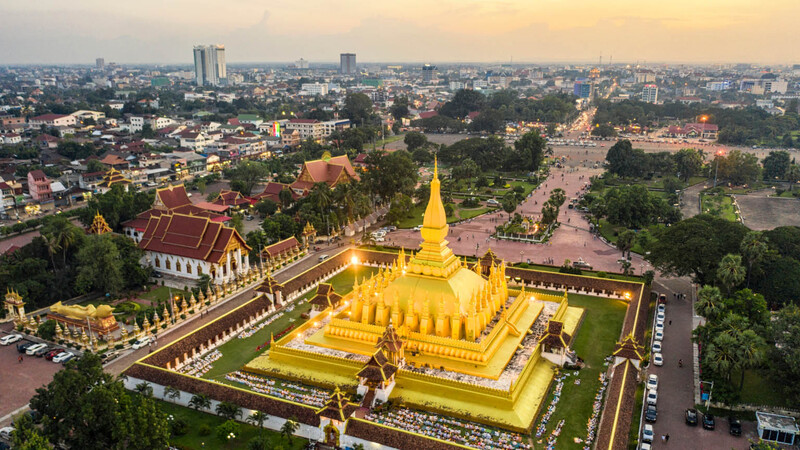 Thank you for your interest in:
Tour:

A week in Laos: Exploring serene Southeast Asian country

Duration: 7 days, 6 nights
Type: The Essentials
Please feel free to contact us if you have any questions or provide us with details about your project. Our advisor will contact you shortly.
Our information and quotes are completely free!
If you are unable to submit this form, please contact us directly at :