10 Days, 10 Colors: A Journey through Vietnam
hanoi
Ninh Binh
Baie d''Halong
Hoi An
Ho Chi Minh
MekongDelta
10 days 9 nights
The must-sees
Price from
Contact us
In this 10-day program, we have curated Vietnam's most unique and iconic landscapes, enabling you to maximize your exploration time and embark on an exceptional journey
10 Days, 10 Colors: A Journey through Vietnam
What unique experiences await during your trip ?
Explore the main tourist sites from south to north of the country.
Enjoy a cruise in Halong Bay, including a ride on a traditional junk boat.
Learn about the historic Cu Chi tunnels.
Experience the rich culture of the Mekong Delta region.
Discover Ha Long Bay on land
Strike a balance between guided tours, personal exploration, and relaxation.
Travel phases
hanoi
Ninh Binh
Baie d''Halong
Hoi An
Ho Chi Minh
MekongDelta
DAY 1 Ho Chi Minh - Arrival
Welcome to Ho Chi Minh City, Vietnam! You will arrive in Ho Chi Minh City, also known as Saigon, was once the capital of South Vietnam and is now the country's commercial capital. After your long flight, the remainder of this day is a great opportunity to rest and acclimate to the new time zone.
DAY 2 Ho Chi Minh City tour
Wake up feeling energized after a restful night's sleep at your luxurious hotel and enjoy a delicious breakfast before embarking on a full day tour with your private guide.
Ben Thanh market - symbol of the city.
Notre Dame Cathedral and the Central Post Office (built to the plans of Gustave Eiffel).
The Headquarters of the Popular Committee of Ho Chi Minh City - the former Marie Centrale, the most beautiful colonial building in the city.
The Museum of Traditional Medicine of Vietnam, discovery of traditional Vietnamese medicine, more than 3000 years old.
The Chinese district of Cho Lon (Chinatown) with the temple of the Heavenly Lady Thien Hau.
Explore the incredible underground network of Cu Chi,
DAY 3 Mekong Delta - Fly to Danang for Hoi An
Today, immerse yourself in the enchanting beauty of the Mekong Delta. Begin with a pleasant 2.5-hour car journey to Ben Tre. From there, embark on a private motorized boat, cruising along one of the Mekong's picturesque tributaries. Explore local treasures such as a coconut candy workshop, a brick-making facility, and a straw mat weaving workshop. Afterward, enjoy a delightful motor cart ride through lush fruit gardens and savor a tranquil garden restaurant lunch. In the afternoon, glide serenely along a peaceful canal shaded by nipa palm trees before returning to your boat.
Later in the day, we'll swiftly transport you to Danang airport for a convenient one-hour evening flight to Danang City, your gateway to Hoi An. Upon arrival at Danang airport, a warm welcome awaits you, and you'll be transferred to your Hoi An hotel. Check-in and unwind for a peaceful night's rest.
DAY 4 Half-day tour of Hoi An
Spend your morning accompanied by a local guide for a delightful exploration of Hoi An! Our adventure begins at 8:00 a.m. as we delve into the enchanting world of this beautifully preserved trading port. Discover the allure of its historic edifices, cultural crossroads, and local way of life. Admire the venerable Cam Pho communal house and the iconic Japanese Covered Bridge. Immerse yourself in the authenticity of the Quan Thang ancient house and the vibrant Fujian Assembly Hall. Venture into the bustling central market, where you'll witness the daily rhythms of the locals and encounter a variety of delectable culinary offerings.
But that's not the end of our journey! As a special highlight, you'll have the unique opportunity to master the art of crafting traditional lanterns. Guided by passionate artisans, you'll partake in every step of lantern creation, from shaping the frame to crafting your very own radiant lantern.
Following this unforgettable experience, the rest of your day is yours to explore the city further or return to your hotel at your leisure.
DAY 5 Hoi An - fly to Hanoi
Enjoy a leisurely morning in Hoi An, where you can choose to do some final activities in the charming old town or relax at the beautiful Cua Dai beach. As noon approaches, it's time to get ready for a short flight to Hanoi. Our team will warmly greet you and take you to your hotel, where you'll spend the night.
DAY 6 Hanoi City tour
Hanoi, a thousand-year-old capital located in the heart of northern Vietnam. Departure for the first visits to the city center to soak up the charm of the thousand-year-old capital:
King Ly Thai To square, discovery of the thousand-year-old history of the Vietnamese capital.
Ly Thai To is the founder of the Ly dynasty (1009-1225). It was he who transferred the capital from Hoa Lu to Hanoi in 1010
Lake of the Restored Sword with the temple of Mount Jade, the Turtle Islet, in the heart of Hanoi.
Explore the Hanoi Old Quarter with 36 corporation streets, where you can stroll through craft streets bearing the name of the goods that were produced and sold there. Don't forget to stop at Ma May Street and visit an old 'Tube' house, a characteristic feature of traditional Hanoi architecture.
This Old Quarter is located in the heart of Hanoi and is full of old houses, temples, bustling markets, artisan shops, and traditional restaurants. It is an emblematic place that testifies to the history and culture of the Vietnamese capital.
Discover the colonial heritage with French concessions: take a cycle rickshaw ride through the city to visit the Grand Théâtre, the Métropole hotel, the state bank, the Central Post Office… End your day with a relaxing night at the hotel
DAY 7 Hanoi - Ninh Binh (Halong bay on land - Hanoi
Departure for Ninh Binh – land of limestone rocks, sugar loaves and rice fields flooded by rivers and lakes all year round.
Arrival in Ninh Xuan, visit Mount Mua. Climbing a white staircase of 486 stone steps to the summit, this bell-shaped mountain will offer you a panoramic view of the Tam Coc region.
A limestone mountain located near the rivers and sugar loaves of Tam Coc. In the past, it was famous for its dance performances offered to the kings of the Tran dynasty (13th-14th century).
Then transfer to Tam Coc, bike ride and relax to discover this fabulous region.
A vast landscaped area including sugar loaf rock formations, rice fields and rivers. Boat trips on the Ngo Dong River, through the sugar loaves, will allow you to fully enjoy the lush surrounding nature.
In the afternoon, enjoy a boat trip along the Ngo Dong River to explore the beauty of Tam Coc. This meandering river takes you through lush rice fields, past picturesque sugar loaf hills, and beneath the three enchanting caves nestled at the base of towering limestone peaks.
At the end of the day, return to Hanoi and spend the night at your hotel.
DAY 8 Hanoi - Halong Bay
Embark on a journey to Halong Bay, often hailed as the most stunning bay in Vietnam and one of the most enchanting landscapes in all of Asia. Step aboard a traditional junk upon arrival and receive a warm welcome from the crew. Set sail for an unforgettable cruise across the bay, where you'll have the opportunity to explore the northern part of Halong Bay, known as Bai Tu Long:
We provide shared junks, typically smaller in size with 10 to 12 cabins, suitable for hosting around twenty passengers. Alternatively, you have the choice of selecting a private cruise on a smaller junk, offering one or a few cabins, for a truly unforgettable experience. Don't hesitate to get in touch with us if you're interested in this option.
Enjoy the breathtaking beauty of the picturesque islands and islets, each with its unique shapes resembling sails, dogs, roosters, and incense burners.
Explore the stunning caves of Halong Bay, including Thien Canh Son, which houses stalagmites and stalactites dating back several thousand years.
The cruise then continues to Cap La, where you can embark on a kayaking adventure and take a refreshing swim in the bay's pristine waters, weather permitting
End of the afternoon, relaxing on the upper deck of the junk.
Participation in a culinary demonstration on board, preparation of spring rolls or spring rolls.
Tasty seafood lunch and dinner.
Free evening for your personal rest and relaxation: card games, night fishing…
Night on board.
DAY 9 Halong Bay - Hanoi
Rise at dawn to savor a truly unique spectacle: the first rays of sunlight peering over the countless sugarloaf peaks of the bay, followed by a serene Tai Chi session on the terrace.
Tai Chi, the art of deep relaxation, involves performing a series of slow, flowing, and circular movements.
Enjoy lunch on the junk, then disembark and return to Hanoi.
DAY 10 Hanoi - departure
Our journey ends today. You can prepare for departure or explore the vibrant streets and markets for souvenirs. Our team will assist with your airport transfer. Reflect on your adventures and bid Vietnam farewell. Until next time!
Custom activities
Kampá Tour offers private tours with tailor-made services.
Trang VU, 36 years old
Travel Consultant
Are you considering this itinerary ?

Quick & relevant response within 48 hours
Free quote with no commitment
Tour Price
This price includes:
Accommodation for the entire circuit, in hotels or with locals
Travel according to the program by private car
English-speaking guide for the visits mentioned in the program
All activities mentioned in the program, including entrance fees to tourist sites
Economy class domestic flights with airport taxes included
Meals mentioned in the program
Bottle of water during guided tours (2 x 500ml/traveler/day)
Government taxes currently in force (VAT, etc.)
This price does not include:
International flights from your home
Visa fees, payable directly at the airport customs
Bank fees related to payment
Personal insurance
Personal beverages during meals: beer, Coca-Cola, fruit juice, etc.
Other meals not specified in the program
SIM card and mobile plans
Tips, personal expenses, and other services not mentioned in the "Our Included Services" section
Most frequently asked questions
1. What budget should I plan for a trip to Vietnam?
As an approximate guideline, the cost of a 2-week trip to Vietnam would be around 1450€ per person when traveling as a pair (excluding airfare). For a 3 or 4-week journey, please budget between 1900€ and 2500€ per person. If you're in a larger group (4 or 6 people), the trip will be more cost-effective. The price always varies depending on the duration and time of your stay, as well as your preferences (activities, services). Please leave us a quote request, and our travel advisor will provide you with more detailed information and a quote.
2. What is the 'customized travel' option?
3. How can I book my trip?
4. What is the price of the trip?
5. What are the best times to visit Vietnam?
6. Am I exempt from the visa? If not, how can I obtain it?
7. Can I make changes to the itinerary?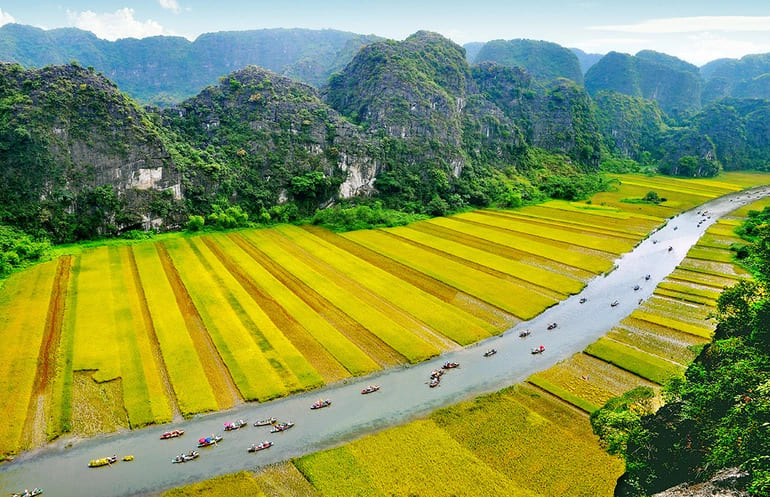 Thank you for your interest in:
Tour:

10 Days, 10 Colors: A Journey through Vietnam

Duration: 10 days 9 nights
Type: The must-sees
Please feel free to contact us if you have any questions or provide us with details about your project. Our advisor will contact you shortly.
Our information and quotes are completely free!
If you are unable to submit this form, please contact us directly at :