Combined tours
Why not consider a combined trip to Vietnam, Cambodia, and Laos? Vietnam is renowned for its breathtaking landscapes and rich cultural diversity. Cambodia, though small in size, boasts a rich civilization with the mythical and awe-inspiring temples of Angkor, a major worldwide tourist and religious attraction. Laos, on the other hand, is an authentic and peaceful country. We recommend taking advantage of the proximity of these countries to explore them together on a single trip. You can easily reach Cambodia by river (via the Mekong River) or by air from the South or Central regions of Vietnam. Additionally, it's quite straightforward to travel from Cambodia to Laos. Below, we present some ideas for your Vietnam, Cambodia, Laos combo tour.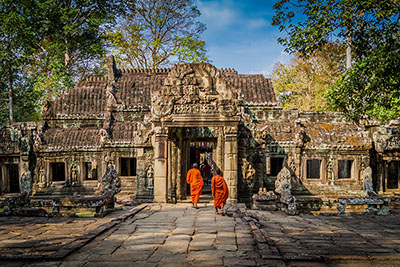 Essential Indochina
Begin an extraordinary 15-day adventure through Indochina, where you'll have the chance to discover the cultural and natural wonders that have been honored and safeguarded by UNESCO in Vietnam, Cambodia, and Laos. This immersive journey will lead you from the breathtaking landscapes of Halong Bay to the rich historical heritage of Hue, and from the awe-inspiring marvels of Angkor to the soulful heart of Laos, Luang Prabang. Our wide array of excursions will offer you an authentic and profound insight into these precious gems of Southeast Asia.
The Essentials
Price from
Contact us
View details
Peals of Vietnam and Cambodia tour
A trip dedicated to exploring the natural and cultural beauty of Vietnam and Cambodia, offering an insightful way to compare the similarities and differences between these two neighboring countries.
The Essentials
Price from
Contact us
View details
Grand tour over Indochina 21 days
This three-week tour of Vietnam, Laos, and Cambodia offers a comprehensive exploration of the rich heritage, diverse landscapes, and vibrant cultures of these neighboring countries. With ample time at your disposal, you'll have the opportunity to engage in a wide range of activities across various destinations, allowing you to gain profound firsthand knowledge of the region.
The Essentials
Price from
Contact us
View details
Trang VU, 36 years old
Travel Consultant
Need information about planning your trip ?
Considering personalizing your itinerary ?

100% designed to your preferences
Free quote with no commitment
Most frequently asked questions
1. What budget should I plan for a trip to Vietnam?
2. What is the 'customized travel' option?
3. How can I book my trip?
4. What is the price of the trip?
5. What are the best times to visit Vietnam?
6. Am I exempt from the visa? If not, how can I obtain it?
7. What are the dishes to try during the trip?