Nha Trang, 6 essential questions before planning your seaside trip in 2023
Nha Trang Bay has been recognized as one of the most beautiful bays in the world, bringing international fame to this Vietnamese city as a tourist destination. With its sublime beaches, its paradise islands, its varied aquatic life and its lively nightlife, Nha Trang has it all. Here is our selection of the 12 best activities to answer the question "What to do in Nha Trang?" for an unforgettable seaside stay.
Where is Nha Trang?
Nha Trang is a picturesque coastal city located on the south central coast of Vietnam. It is 1290 km from the capital Hanoi and approximately 450 km from Ho Chi Minh city. Nha Trang Bay is renowned for its system of islands and islets extending over more than 500 km2, home to 19 large and small islands offering landscapes that are both grandiose and poetic.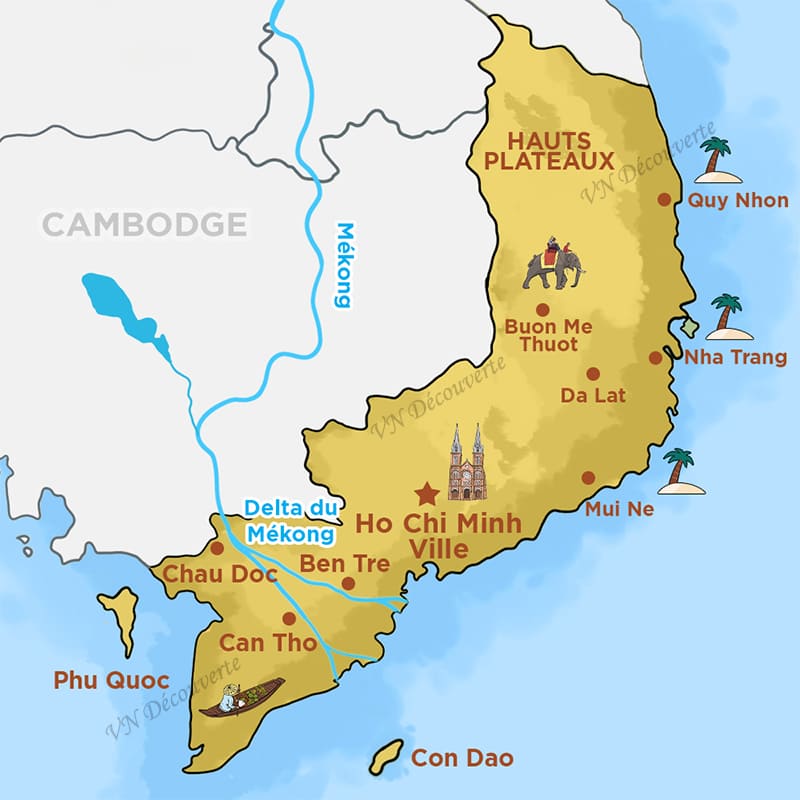 The largest island, Hon Tre, covers an area of ​​36 km2 and is located to the east of Nha Trang Bay, protecting the bay from wind and waves. These islands are not only blessed with magnificent landscapes on land, but also underwater.
Hon Mun is Vietnam's first marine park, with coral reefs housing unique marine flora and fauna, not only for Vietnam, but also for all of Southeast Asia. According to the Lonely Planet guide, Nha Trang is among the destinations with the most beautiful beaches in Vietnam.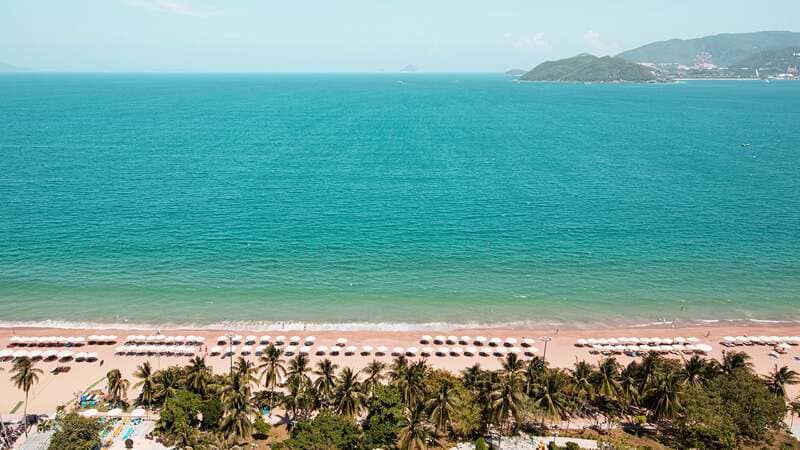 What to do and see in Nha Trang?
Take a boat trip
Taking a boat trip in Nha Trang is an unforgettable experience to explore the natural beauty of the bay and its islands. This excursion offers the opportunity to discover pristine white sand beaches, crystal clear waters and breathtaking landscapes. The islands and islets of Nha Trang Bay also offer grandiose and poetic landscapes, as well as a rich marine fauna and flora.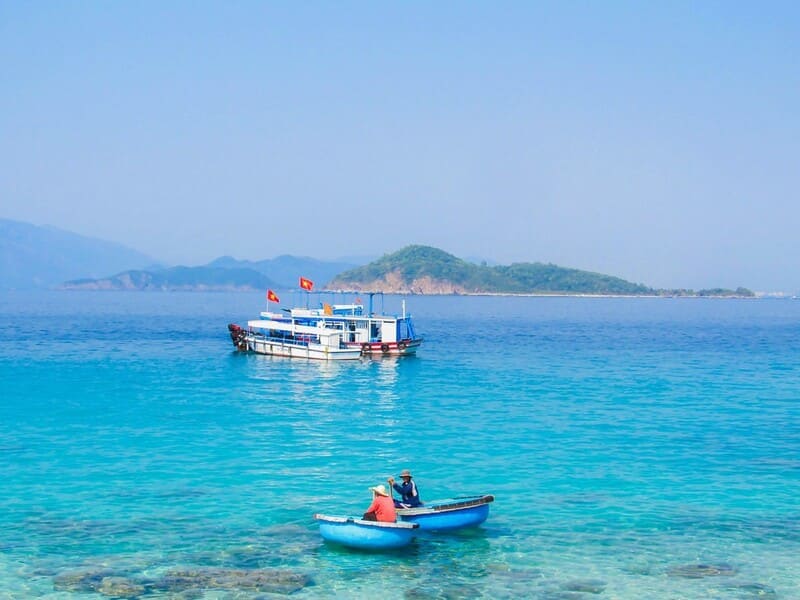 Among the islets to visit, we find Mun, Tam, Mieu and Tre, which offer exceptional landscapes. Mun Islet is famous for its marine park, Vietnam's first marine park, where you can admire corals, tropical fish and other incredible sea creatures. The islet of Tam is a true tropical paradise, with its white sand beaches and crystal clear turquoise waters. The islet of Mieu is renowned for its magnificent landscapes and unique rock formations.
Explore the seabed of Nha Trang
In Nha Trang, water activities are a must-do experience for those looking to explore the natural beauty of the area. In addition to taking a boat trip to visit the bay's islands and islets, water sports enthusiasts can participate in a variety of fun and exciting activities. Scuba diving or snorkeling is one of the best ways to discover the area's coral reefs and fascinating sea creatures. If you prefer to stay on the surface, you can try surfing, water skiing, windsurfing or jet skiing.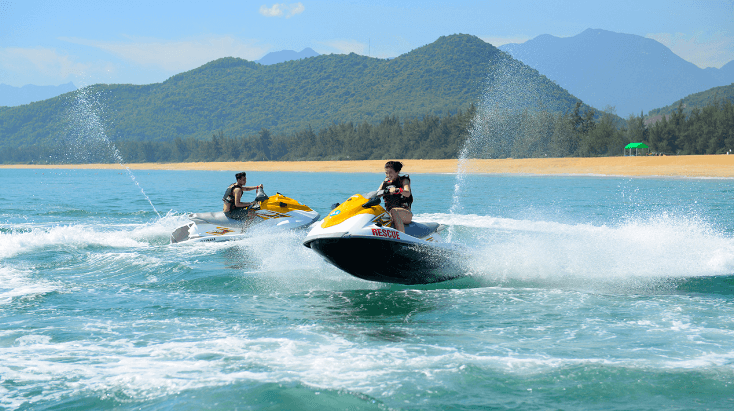 Nha Trang offers a variety of water activities for all tastes, from exciting water sports to thrilling underwater explorations. Whether you're an experienced diver or just looking to have fun on the water, you're sure to find something to enjoy in this beautiful coastal region of Vietnam.
Some best diving spots to mention:
From 10 to 15m deep: Hard Rock, Pipe Beach, Lobster Beach,...
From 15 to 30m deep: Fisherman bay, Moray Beach, Madonna Rock, South Rock, Whale Island, Big wall,...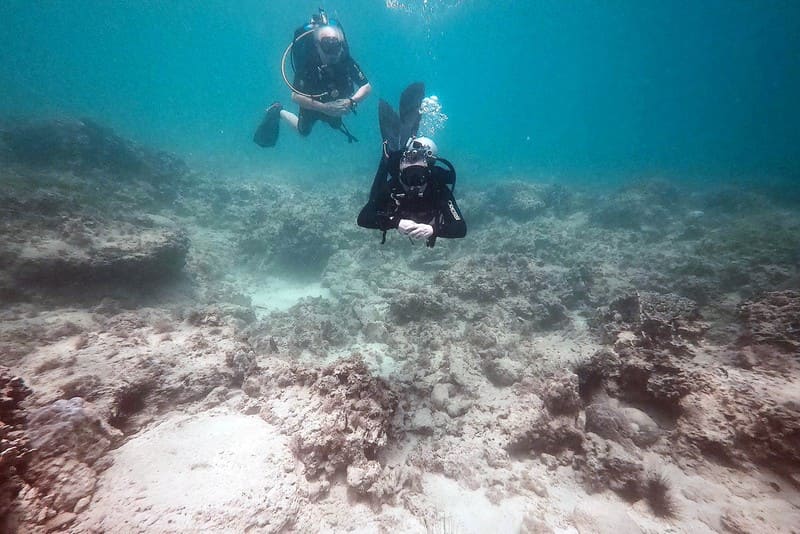 Night activities in Nha Trang
If you are looking for night activities in Nha Trang, you will not be disappointed. The city offers a multitude of options for all tastes and ages. You can stroll along the beach to enjoy the sea breeze and admire the city lights. Seaside restaurants and bars offer delicious dishes, as well as exotic drinks. For those looking for a livelier atmosphere, night clubs and discos are open until midnight. Whatever you choose, evenings in Nha Trang are unforgettable.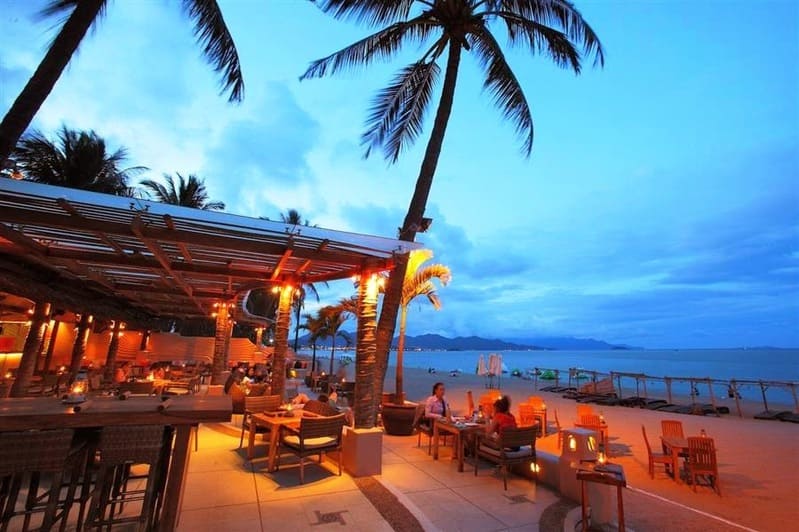 Cham Po Nagar Tour
When you visit Nha Trang Vietnam, be sure to discover Po Nagar Tower, a remarkable architectural and cultural site of the Cham culture, which is carefully preserved in central Vietnam. This tower is a remarkable testimony to the exceptional architecture of Champa and is built to honor different deities. You won't be able to help but be amazed by the beauty of this place.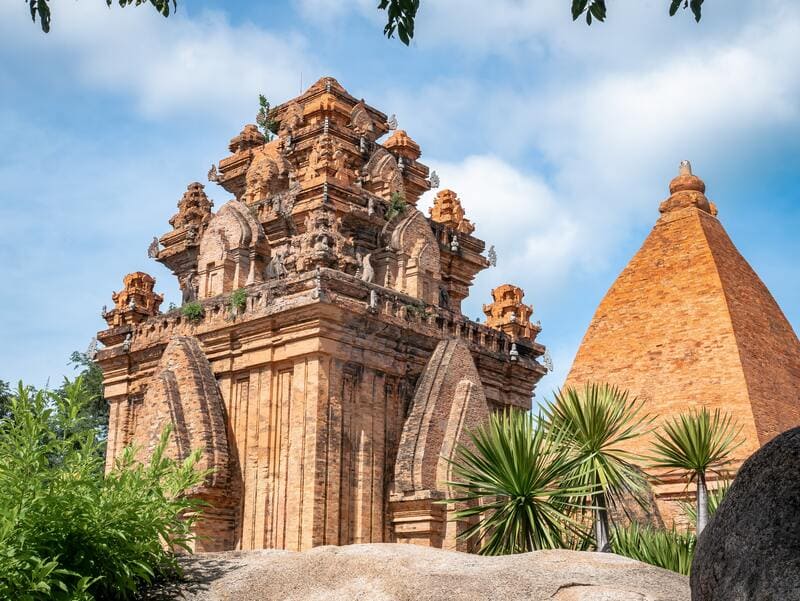 For travelers looking for a unique experience, don't miss the annual festival that enlivens this Po Nagar tower every year from March 20 to 23 of the lunar calendar. You will discover a lively and festive atmosphere, and will be able to enjoy many traditional live performances. This is an opportunity not to be missed to discover the richness of Cham culture and to immerse yourself in the lively and festive atmosphere of Nha Trang.
Entrance fees: $1 - $1.5 per person
Opening hours: Daily from 8:00 a.m. to 6:00 p.m.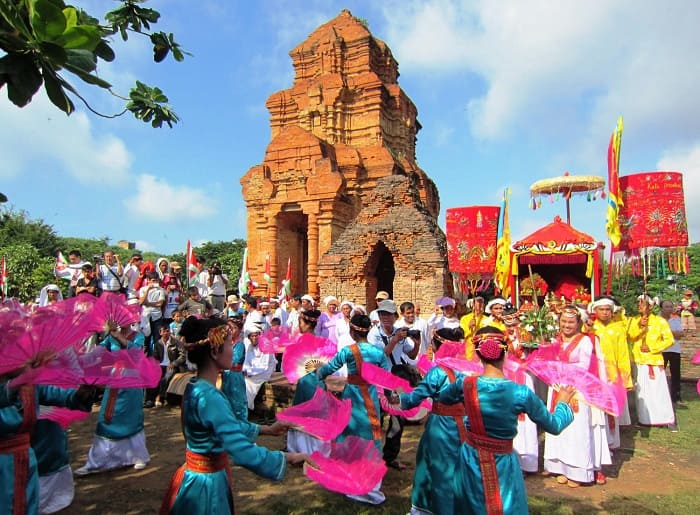 National Oceanographic Museum
The National Oceanographic Museum represents an exhibition of approximately 60,000 specimens of marine creatures, marine mammals, birds... and numerous fishing equipment and local boats. It is the most extensive collection of aquatic life in the Eastern Sea.
There are two floors to discover: on the 1st floor are the aquariums and the 2nd floor houses an 18 m long whale skeleton, an absolutely extraordinary sight to see.
Opening hours: Daily from 6:00 a.m. to 6:00 p.m.
Address: Number 1 Cau Da, Nha Trang, Vietnam
Entrance fee: $2 per person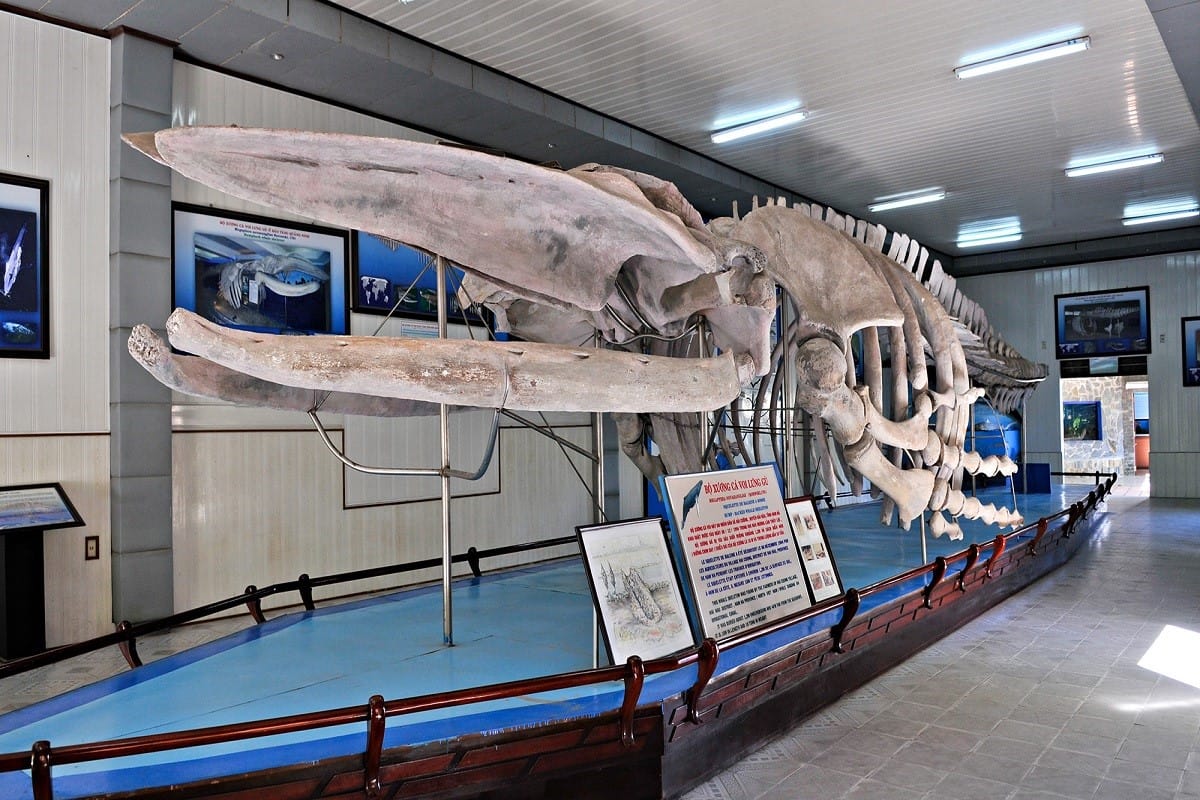 Relax on the beaches of Nha Trang
Nha Trang is known for its incredible white sand beaches that stretch along the city. Nha Trang also has a wide range of interesting accommodation and leisure activities that you can enjoy.
Recommended: Tran Phu Beach, Hon Chong Beach, Bai Tru Beach, Long Beach (Bai Dai Beach), Doc Let Beach, etc.
Dream beaches in Nha Trang
This beach is the most preferred because it is easily accessible. In particular, this beach is located in the city center, on Tran Phu Street which is full of a large number of hostels, restaurants and bars. Other leisure activities: bike rides, spa, meditation and yoga…
Located about 28 km from Tran Phu Beach, Bai Dai Beach is an ideal day trip from Nha Trang for those who love empty, pristine beaches. Here you have the chance to immerse in emerald water, taste delicious local seafood and beer.
Located 45 km north of the city, Doc Let deserves to be the most magnificent and untouched beach in Nha Trang. This site is home to an incredible white sand beach in the shade of lush palm trees.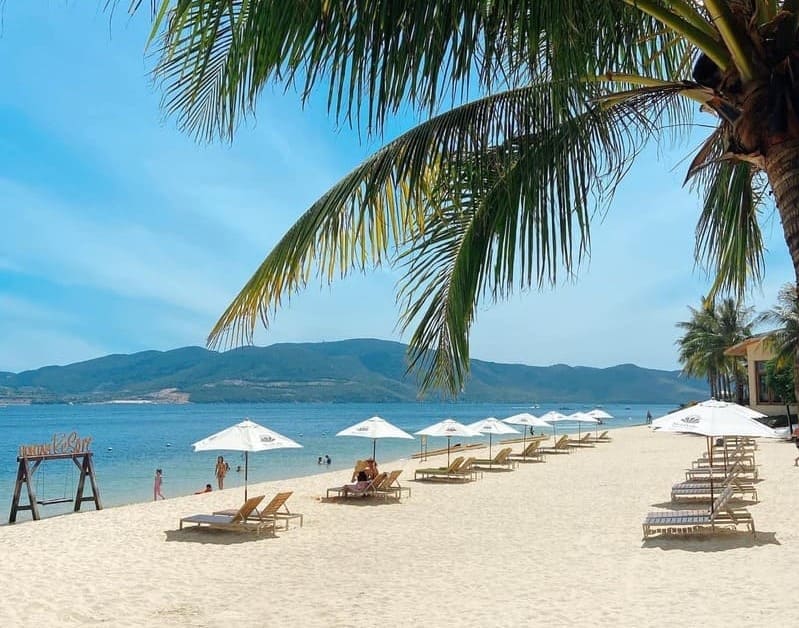 Have fun at Vinpearl Land
Vinpearl Land is the perfect choice for families with countless interesting indoor and outdoor games. To get to Vinpearl Land, you will need to take the Vinpearl Cable Car, the longest sea-crossing cable car in the world with a length of over 3 km. Your children will definitely be excited when they set foot in the "Disneyland of Vietnam".
Vinpearl Land Water Park is also a great place for children as well as adults looking to cool off and have fun in the water. With its many attractions and slides, it offers an unforgettable experience for young visitors who want to enjoy a day out with the family. You can indulge in thrills by sliding down the high-speed slides or tackling the waves in the wave pool.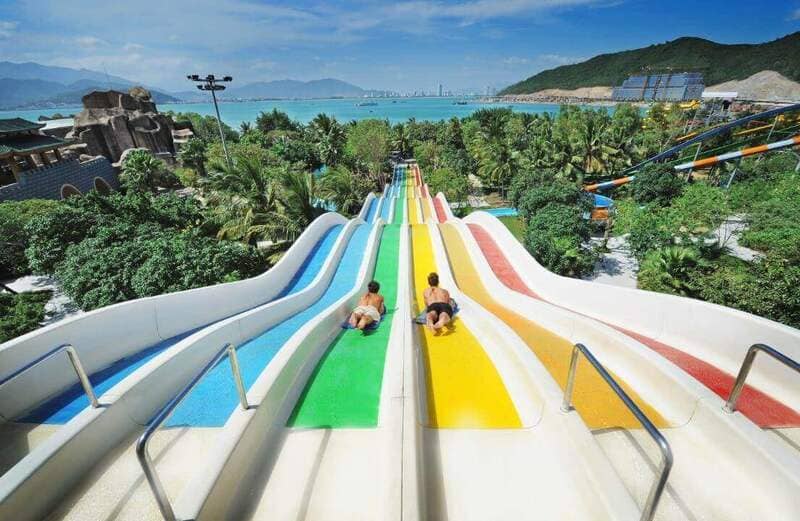 Parents can also relax in the comfortable lounge chairs and enjoy the sun while watching their children. With a wide variety of water activities, Vinpearl Land Water Park is a great destination for a day of family fun.
If you are a thrill and adventure seeker, ziplining at Vinpearl Land Nha Trang is an experience you must not miss. This activity will allow you to fly over breathtaking landscapes and immerse yourself in the beauty of the Nha Trang sea. The average price for Vinpearl Land 2023 ticket: $24 - $35
Visit the fishing village and the Tri Nguyen aquarium
If you prefer sights off the beaten track, head to the fishing village of Tri Nguyen. This site is truly an ideal destination to escape the summer heat and hustle and bustle of the city. The village is located on the waterfront and offers stunning views of the sea. You can admire the colorful fishing boats and fishing nets that are strung along the quays. You can also enjoy delicious meals prepared by local fishermen, using fresh fish and other seafood specialties.
Near the village, you can visit the Tri Nguyen Aquarium, a wonderful place to take your children to explore the underwater world. There you can closely observe a wide variety of fish and other marine creatures. The best way to get to Tri Nguyen fishing village is by local boat. You will be able to enjoy the view of the sea during your journey and arrive directly at the village.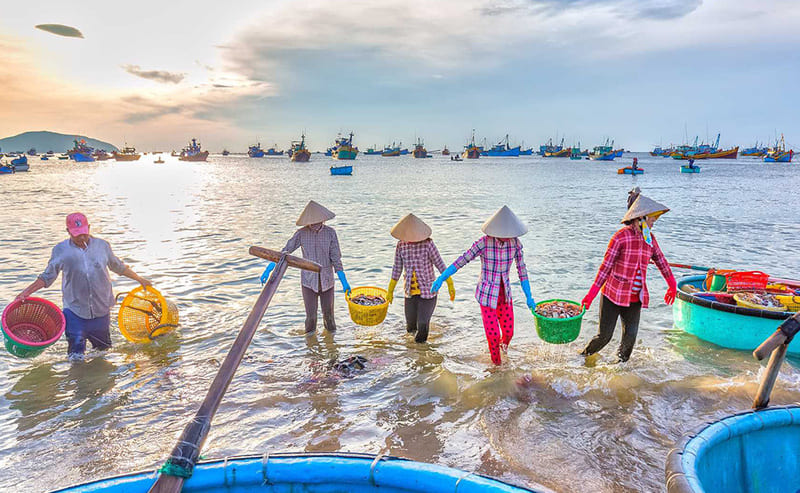 Admiration of the architecture of Nha Trang Cathedral
Built between 1928 and 1933, Nha Trang Cathedral is a jewel of French Gothic architecture in Vietnam. It is located on a small hill opposite the train station, offering a panoramic view of Nha Trang city.
Nha Trang Cathedral is a fascinating example of French Gothic architecture, with flying buttresses, rose windows and soaring spires. It is built of cement, a modern material for the time of its construction, but which gives it exceptional durability. The interior of the cathedral is just as impressive as the exterior, with colorful stained glass windows, marble statues, murals and carved wooden decorations.
Address: Intersection of Nguyen Trai Street and Thai Nguyen Street, Nha Trang Vietnam
Opening hours: Daily from 7:00 a.m. to 6:00 p.m.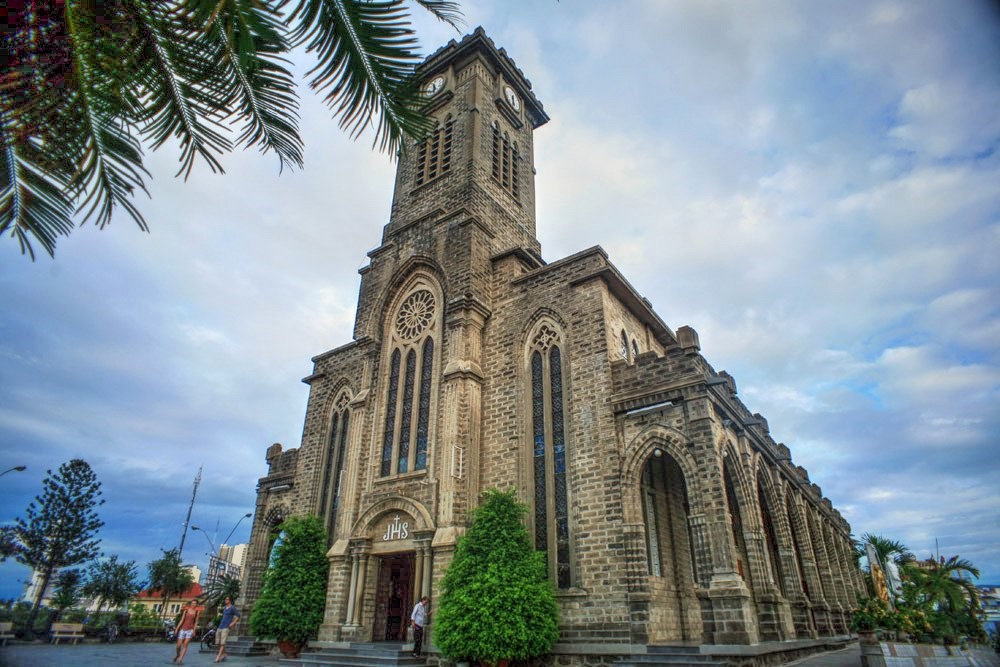 Long Son Pagoda
Long Son Pagoda is truly one of the best things to do in Nha Trang with its impressive Buddha statue located on the hillside. This statue is 24 meters high and is visible from the foot of the hill. Just 400 meters west of the station, Long Son Pagoda is easily accessible by taxi or on foot.
Opening hours: Every day from 7:30 a.m. to 11:30 a.m. and from 1:30 p.m. to 5:30 p.m.
Address: At the end of Xom Bong Bridge, 2 km from downtown Nha Trang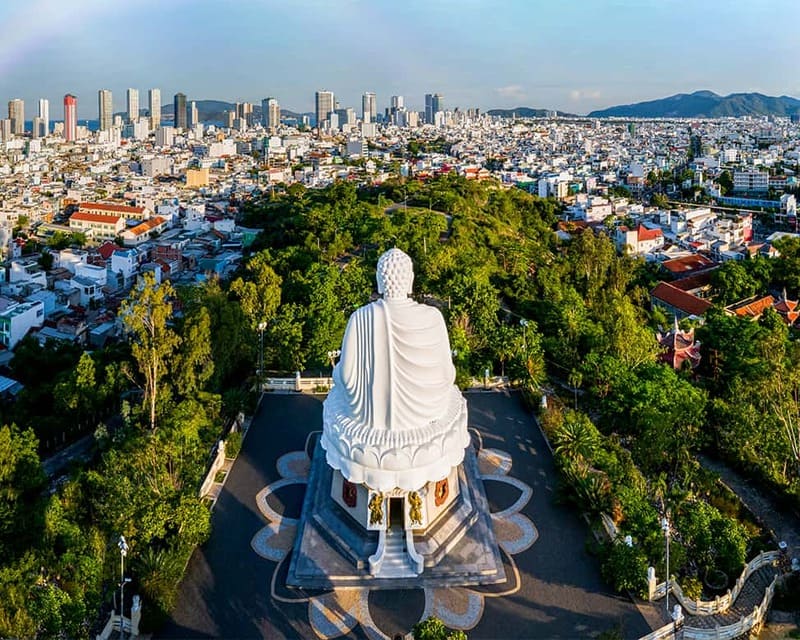 Mudbath
Are you looking to relax and take care of your body during your vacation in Nha Trang? Don't miss the unique mud bath experience! This activity, considered one of the city's must-sees, offers numerous health benefits.
Mud bathing can relieve joint pain, relax muscles, improve blood circulation, promote detoxification and even help with skin problems such as acne. Mud bathing is practiced in the region's natural thermal springs, known for their healing properties. During the session, you will be invited to immerse yourself in a warm, humid mud bath and then rest while the natural minerals work on your body. You can also enjoy a relaxing massage or other body treatments during your session. This is definitely a healthy activity to do in Nha Trang.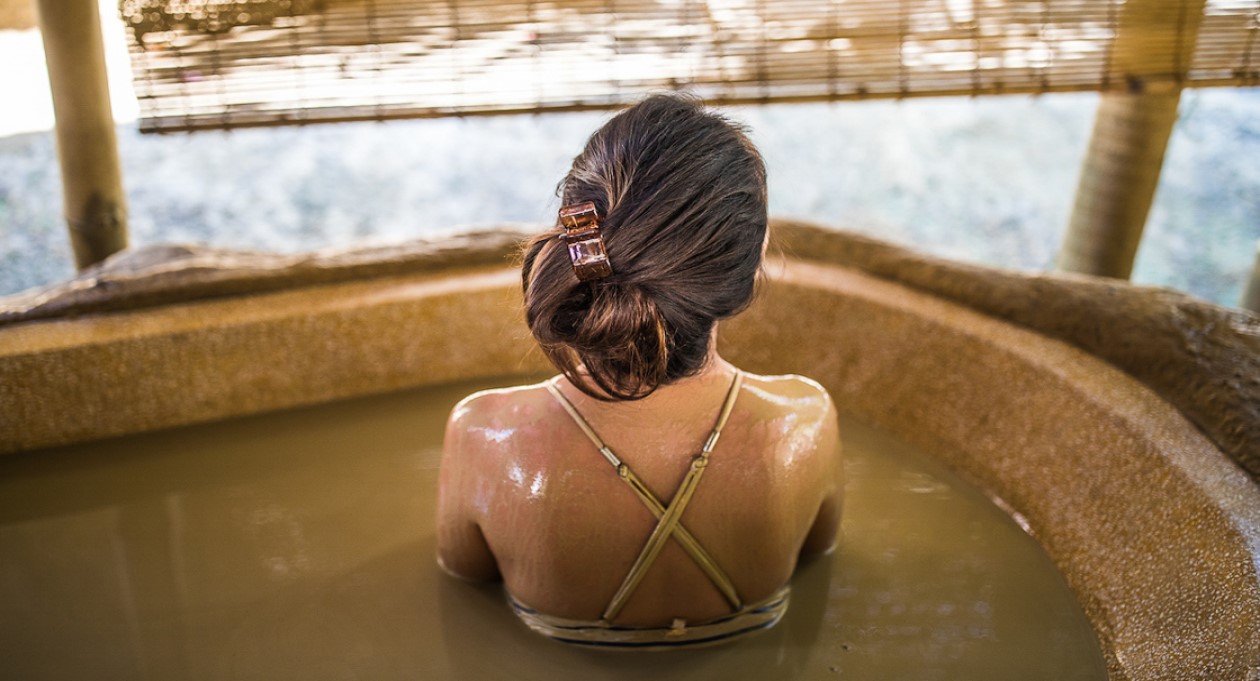 Take a hike in Nui Chua National Park
Located right next to Cam Ranh Beach, Nui Chua National Park should be on your itinerary if you're a hiking enthusiast. Nui Chua is an ecotourism destination which covers a total area of ​​24,300 hectares. The national park is home to 664 species of plants and 201 species of animals, including many rare species that are almost extinct.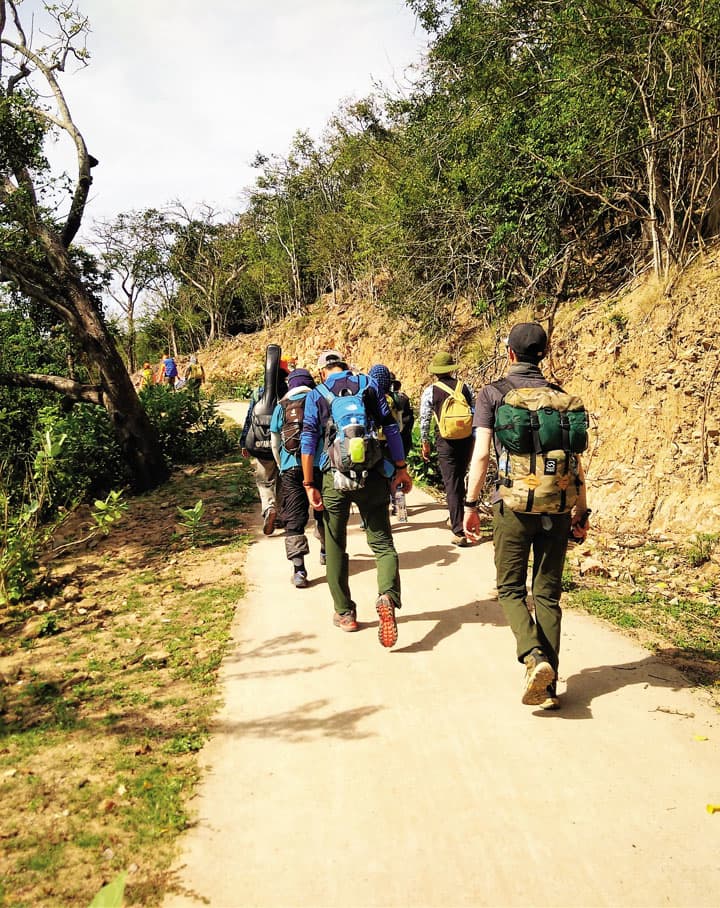 What are the culinary specialties of Nha Trang?
In Nha Trang, you have the opportunity to enjoy rustic and tasty cuisine. In addition to fresh seafood, you won't miss other specialties, such as "nem nuong", "goi ca mai", "bun cha ca"…
This dish is known and favorite in Nha Trang and throughout central Vietnam. The main ingredient of Nem nuong is grilled pork sausages. The Ninh Hoa district of Khanh Hoa is the most famous place for this specialty.
Pork sausages are flavored with garlic, fish sauce, sugar and black pepper. Sausages, all kinds of vegetables, slices of fragrant fruits and herbs are all wrapped in rice paper and then dipped in a bowl of wonderful sauce. This sauce is made from fish sauce, ground pork and lime juice.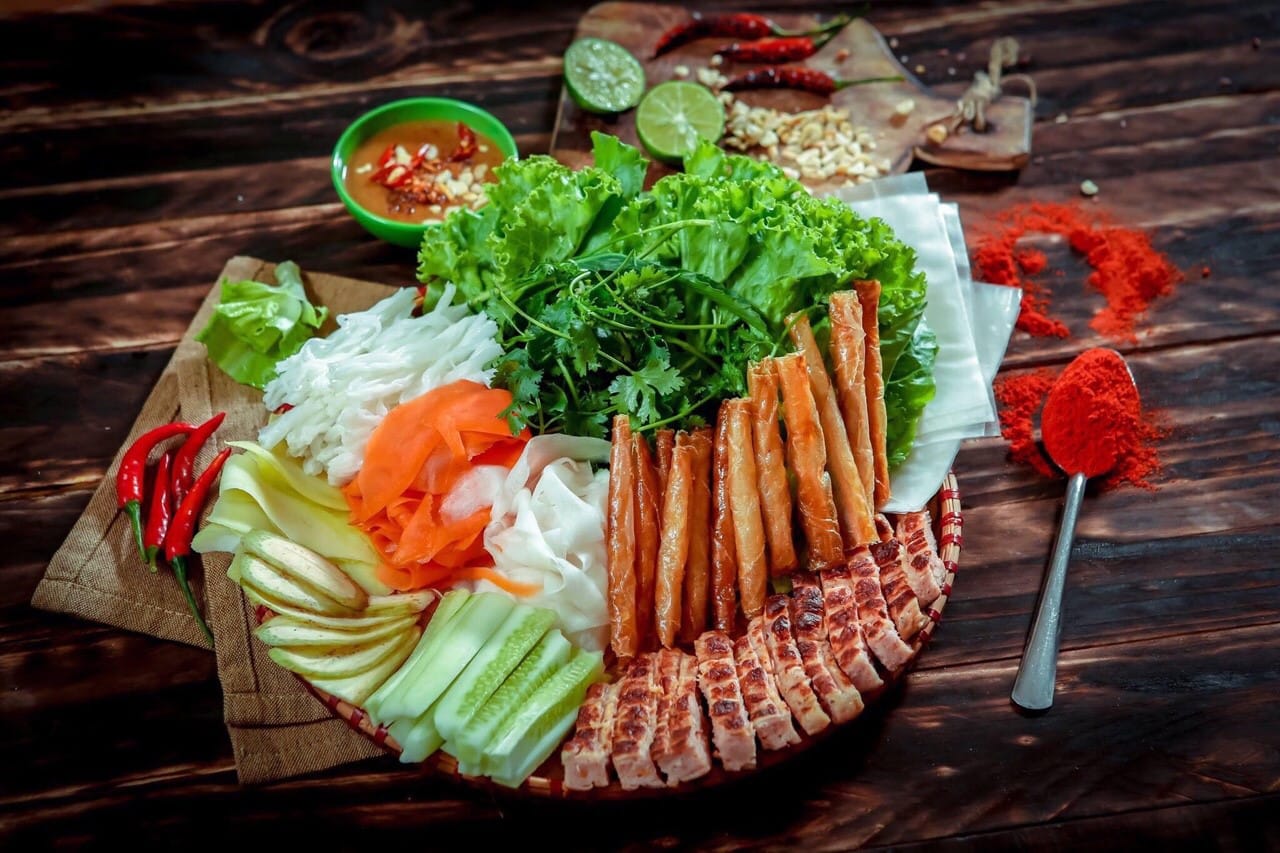 Goi ca mai (herring salad)
This is one of the best seafood dishes in Nha Trang, made with local herring fish. The dish requires a careful preparation process. The local herring is smaller than many other fish. The herrings used to make the salad should be freshly caught, with the bones removed, then marinated with lime juice, tamarind, sour fruits or vinegar. After a while, the fish is mixed with ground roasted peanuts, chopped onions and garlic, cilantro and perilla.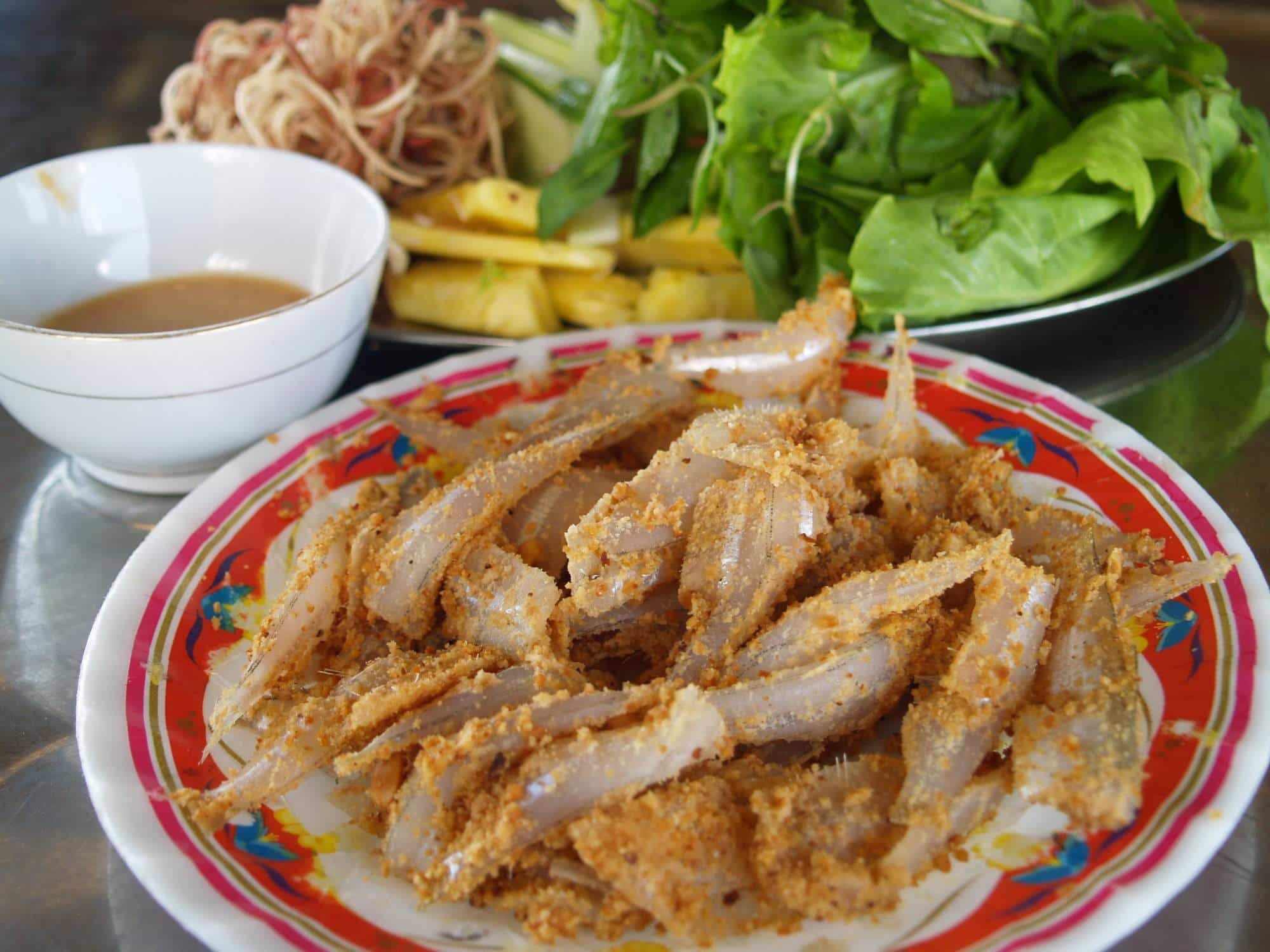 Bun cha ca (Rice noodles with grilled fish)
Bun cha ca can be eaten for any meal of the day, but best at breakfast and lunch. Noodle soup is served with grilled fish. This rather simple dish mainly focuses on flavorful and meaty grilled fish. Served with herbs, onions, sweet and sour broth, this dish will leave a great taste.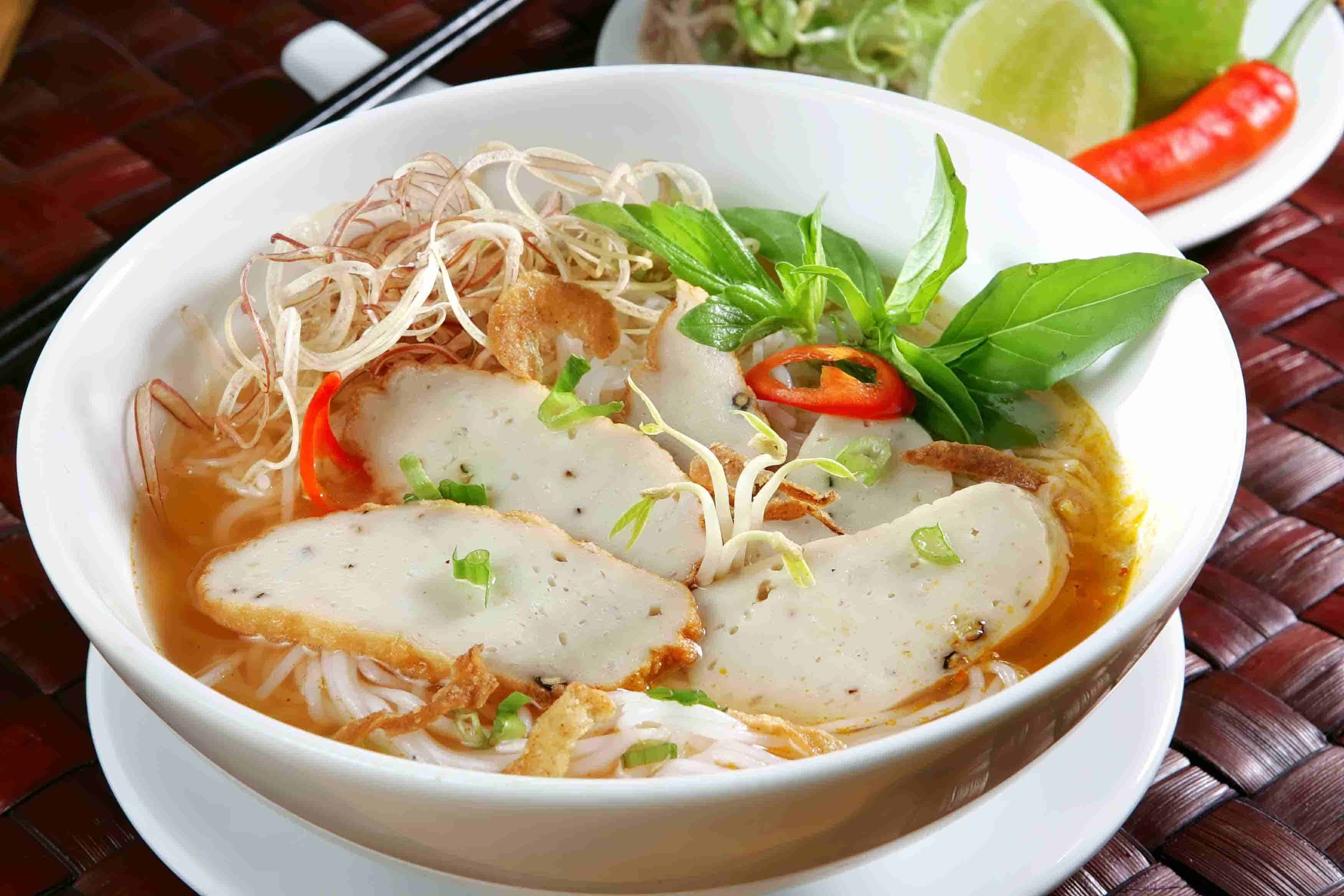 Bun sua (Rice noodles with jellyfish)
Are you ready for the most unique specialty in Nha Trang? This dish is similar to Bun cha ca but much more unique for its chopped jellyfish meat. It is served with grilled fish to create an exceptional taste that you can only find in Nha Trang. The jellyfish should be processed into thick pieces the size of two fingers or a thumb.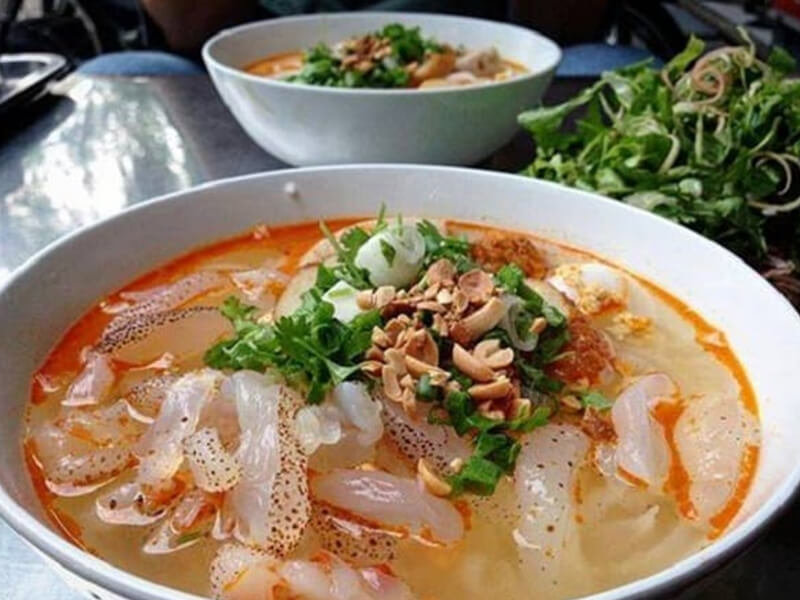 How to get to Nha Trang?
You can get to Nha Trang by plane, train and bus.
Khanh Hoa International Airport is not located in Nha Trang but in Cam Ranh, about 30 kilometers from Nha Trang, a 50-minute drive. You can take flights from Da Nang, Hanoi, Ho Chi Minh City to Cam Ranh.
Bus is the most preferred way as it is convenient and costs less than flying. The most reliable companies are TheSinhTourist, Phuong Trang and Hanh Café Open tour.
To benefit from assistance in planning your stay in Nha Trang, consider reserving a car through a travel agency. These agencies offer complete packages including round-trip transportation, which is convenient and recommended. Opting for a private car with driver is an optimal choice for free management of your time and peace of mind when traveling.
Nha Trang is located on the Reunification train route so many trains stop at Nha Trang station. It is recommended to check timetables and fares with the railway company before booking to get the best possible rate. (official website: dsvn.vn )
It is accessible from Saigon by a train journey of 8 to 9 hours. There are 6 trains per day on this line, which are operated by Vietnam Railways and Livitrans (SNT1 and SNT2).

(The information is for reference only. For exact timetable, please check the official website (dsvn.vn) of Vietnam Railways).
When are the best times to go to Nha Trang?
The climate in Nha Trang, Vietnam is pleasant throughout the year, with a dry season extending from January to August, without harsh winters. From April to June, temperatures are warmer and sunny, but not excessive. From September onwards, showers become sporadic, but they do not significantly affect tourist activities. From October to December there can be more rain and a cooler atmosphere. This is a time less crowded with tourists, ideal for those looking for a more peaceful vacation. However, you should remain vigilant as storms may occur.
In summary, the ideal time to visit Nha Trang in Vietnam is from January to August.
Where to stay in Nha Trang?
In Nha Trang, you have a wide range of accommodation options, from budget choices to luxury accommodations. It is crucial to choose carefully to ensure a pleasant experience during your visit. To do this, consult reputable hotel reservation sites such as Booking, Agoda, etc. Don't forget to take into account the opinions of other travelers regarding the establishment that interests you, and do not hesitate to directly contact the hotel of your choice to ensure all the details.
Among all the options available, we have selected three hotels particularly appreciated by our travelers:
V Hotel Nha Trang
Address: 8 Hung Vuong, Nha Trang, Vietnam
V Hotel Nha Trang is a modern and stylish hotel located in the heart of the city. With just 3 minutes of walking you can reach the beach, tourist attractions and shopping centers. The hotel has 100 elegant rooms and suites with large windows or private balconies offering stunning city views. Enjoy comfortable sleep, delicious breakfast and relax in the infinity pool with stunning views of Nha Trang Bay.
Queen Ann Hotel Nha Trang
Address: 100 Tran Phu, Loc Tho Ward, Nha Trang City
Queen Ann Hotel in Nha Trang is a well-located and quiet hotel, just 150 meters from the beach. The rooms are spacious and offer a partial view of the sea. The bathrooms are equipped with a shower and a bathtub offering a view of the sea, for a special moment of relaxation. The staff is very welcoming and available to respond to customer requests. Near the hotel, it is easy to rent a deckchair to enjoy the beach. Breakfast is excellent and offers a variety of choices to start the day off right.
Mia Nha Trang
Address: Bãi Dông, Cam Hải Đông village, Cam Lâm district, Khánh Hòa province, Vietnam
Nestled on the slopes of the coastal mountains, this resort is perched above a peaceful, sunny beach, surrounded by lush tropical gardens and bordered by sparkling, bountiful seas. Mia stands out for its serene beauty, tranquility, private spaces and exceptional hospitality.
With its spectacular location on the edge of cliffs, rolling gently over the hills and nestled in a secluded and peaceful bay, each panorama here offers an emotional experience of rare beauty.
Our last words,
Nha Trang is an exceptional destination for a vacation in Vietnam . Here you will find a multitude of exciting activities, magnificent beaches and immersion in Vietnamese culture. Don't miss this unforgettable travel experience.
---