Sapa Travel Guide 2023: Tips and Things to know for a successful trip
Sapa is an enchanting town nestled in the mountainous region of northwest Vietnam, enveloped by awe-inspiring natural beauty. Its verdant hills, rice terraces, and traditional ethnic minority villages captivate thousands of travelers each year. The town is also renowned for its consistently cool temperatures, offering a delightful respite from the scorching tropical climate found in other parts of the country.
In this article, we will delve into the must-visit attractions and activities in Sapa, Vietnam, to assist you in planning your journey and ensuring you make the most of your visit to this stunning region.
1. Where is Sapa Vietnam located?
Sapa is an enchanting town situated in Lao Cai province, nestled in the northwest of Vietnam. Located approximately 320 km from Hanoi and 450 km from Halong Bay, Sapa enjoys a picturesque geographical location within the Hoàng Liên Sơn mountain range. Sitting at an altitude of approximately 1,600 meters, this city was once deemed the summer capital of northern Vietnam during the French colonial era.
Sapa is cherished for its cool and misty ambiance, which lends it a mystical allure. Its mountainous vistas and stunning rice terraces draw numerous visitors in search of natural beauty and authenticity.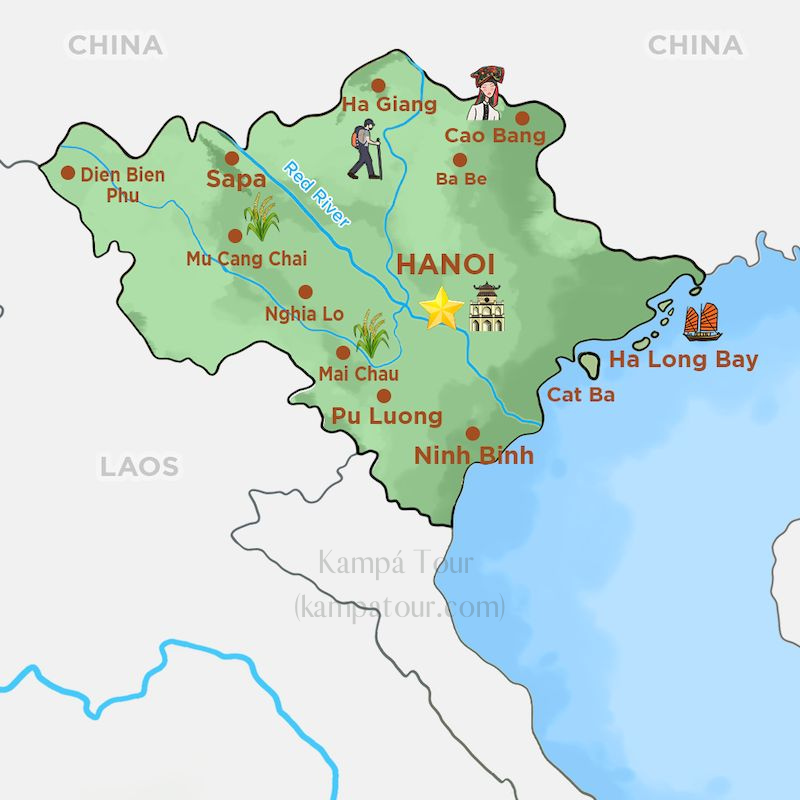 What does the name Sapa mean? 
"Sapa," as referred to by the local Hmong-speaking inhabitants, translates to "sandy beach." This name has historical significance in the region, as it was once a bustling sandy beach where various ethnic communities came together for trade and exchanges. With the arrival of the French in Vietnam, the town was referred to as "Chapa," utilizing the local language but in Latin transliteration. Subsequently, the Vietnamese pronounced this name as "Sapa," which is the present-day name of the city.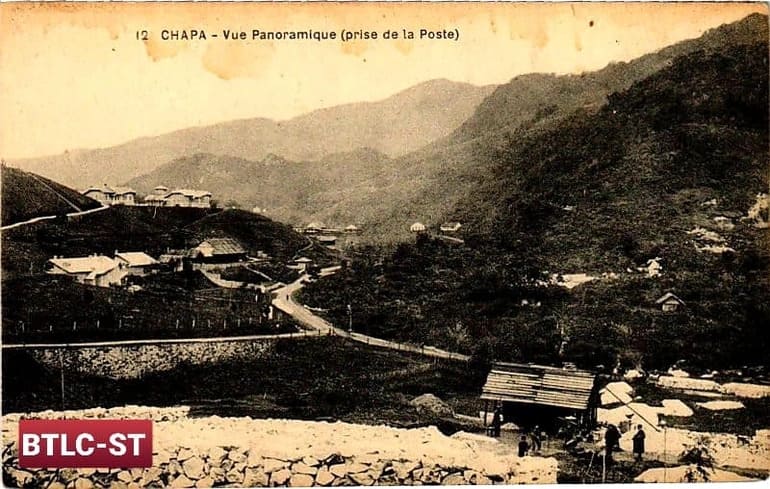 2. When is the best time to visit Sapa?
Sapa, like northern Vietnam, experiences four distinct seasons, with an average annual temperature of 15.4°C, reaching highs of 29.4°C and lows dropping below 0°C.
Winter, spanning from December to February, can be quite cold and marks a fallow period for the rice fields. For those who enjoy colder weather, Sapa during this time is perfect for experiencing the coldest part of the year and witnessing snowfall on the peaks.
Spring, from March to late May, sees increasing sunshine and pleasant temperatures. In early May, rice transplantation begins. This period is often considered the most beautiful season to visit Sapa due to its cool climate and vibrant blossoming flowers.
Summer, from June to September, offers the opportunity to witness the ripe and golden rice fields. The stunning view of these fields shining under the sun, filling the air with a pleasant aroma, is enchanting. Late August and early September mark the rice harvest season, making it an ideal time to admire Sapa's natural beauty and immerse yourself in the local culture of rice cultivation.
Autumn, from October to late November, brings an end to the rainy season and welcomes the return of the sun. Although it's not the season for rice fields, visiting Sapa during this time remains interesting, with opportunities for walks through ethnic villages to meet the locals.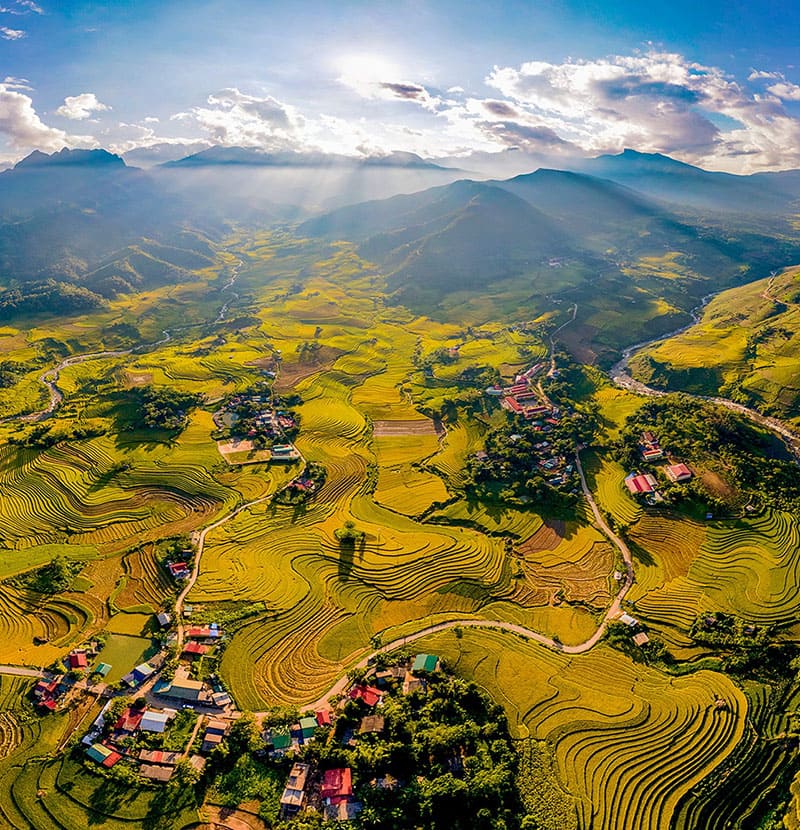 3. The Sapa map: which sites to visit absolutely?
If you're planning to visit the town of Sapa in the mountains of northern Vietnam, getting a map of the area is essential to help you plan your trip and choose the sites you want to visit. The map will provide you with an overview of the area, including hiking trails, local villages, and tourist attractions. This will enable you to better prepare your travel and accommodations, as well as plan your activities.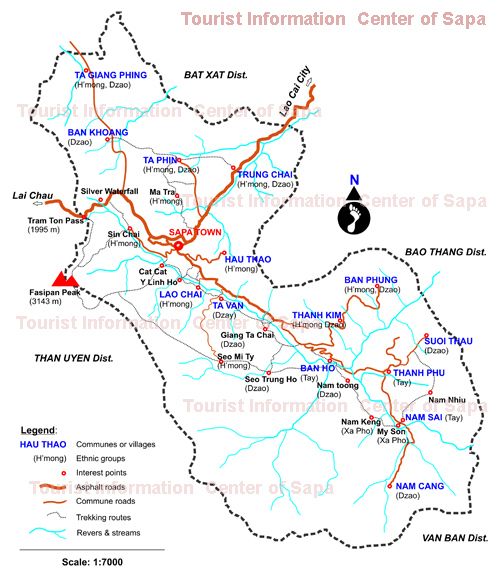 4. What to do and see in Sapa?
When you first arrive in Sapa, you can begin your exploration of the town with simple activities such as walking around the city center. You can visit the old stone church or simply take a stroll to explore the surroundings.
Sapa is renowned for its spectacular mountain scenery, colorful ethnic minorities, and tranquil ambiance, providing a pleasant escape from the hustle and bustle of the city. To explore Sapa in detail, hiking is the best way to discover the fabulous landscapes of Sapa's rice terraces and to meet the many ethnic minorities who inhabit the majestic mountains.
Several itineraries can be proposed to you, ranging from a simple, easy stroll to a more challenging trek lasting several days with nights spent with locals in remote villages. Your local travel agency will be able to organize your hike according to your preferences and your level of hiking experience.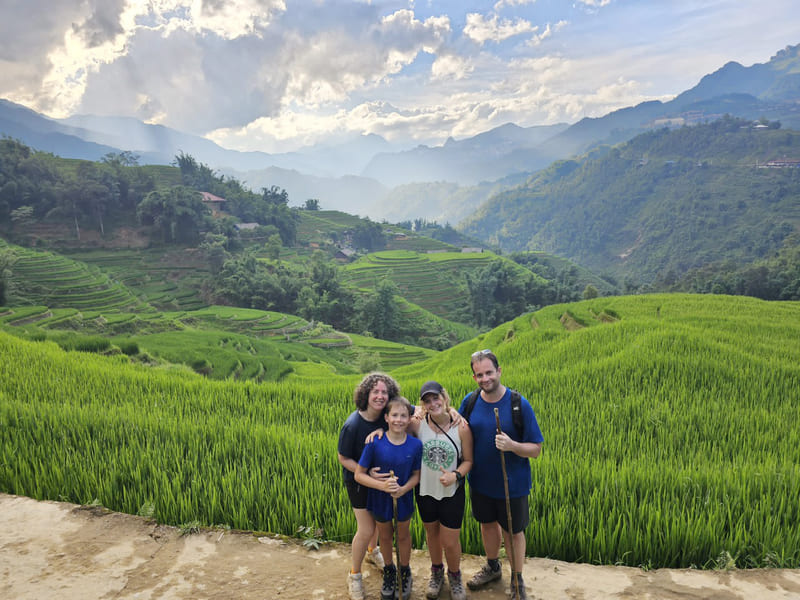 When traveling to Sapa, don't miss the opportunity to spend a night in a local homestay. This unique experience will allow you to fully immerse yourself in the local culture and discover local traditions, customs, and dishes in an unforgettable way. Families from the Hmong, Dao, Tay, and Giay ethnic groups, known for their legendary hospitality, will warmly welcome you into their traditional homes. Preparing dinner with the family and sharing the meal will create memorable moments during your Sapa trek. Sleeping with the locals will undoubtedly be a must-do activity.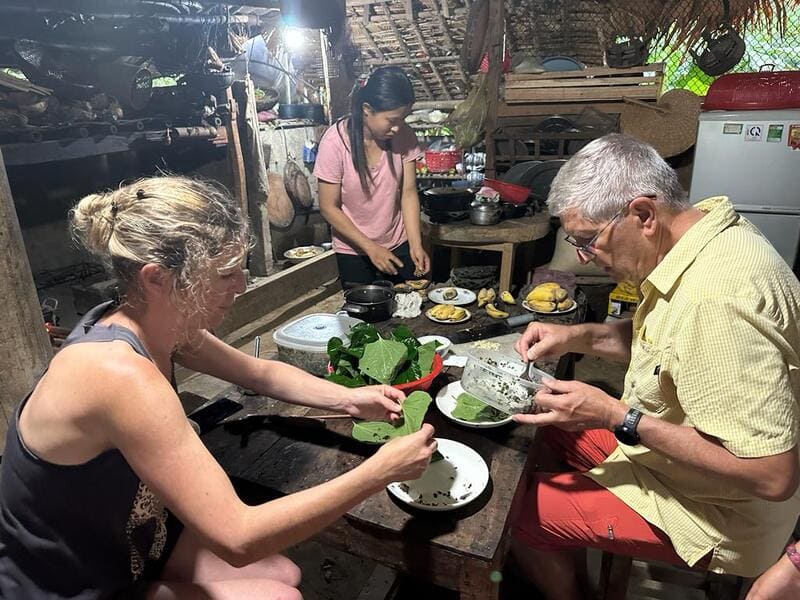 Discover the Roof of Indochina: The Ascent of Mount Fansipan
Exploring Fansipan is a unique adventure for nature enthusiasts and adventure seekers alike. This excursion offers the opportunity to conquer the highest peak in Indochina, Mount Fansipan. Located approximately 9 km from Sapa town in northern Vietnam, this 3,143-meter peak provides awe-inspiring panoramic views of the Muong Hoa Valley and the surrounding mountains.
The journey to the Fansipan Summit can be accomplished by cable car for those seeking a quicker experience, or through hiking for the more adventurous souls. The trek typically spans two days and one night, guiding you along picturesque mountain trails, through traditional tribal villages, and amidst breathtaking landscapes.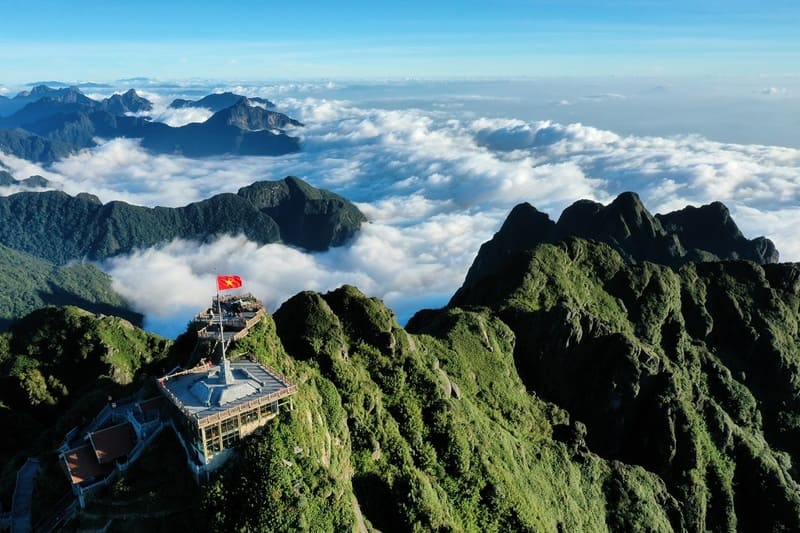 Upon reaching the summit, you'll witness a mesmerizing sunrise over the mountains, treating you to an unforgettable display of radiant sunbeams illuminating the distant peaks. It's a moment that will make you feel like you're above the clouds, as the lower mountains are often shrouded in mist.
Exploring Fansipan is an adventure not to be missed if you wish to discover the natural beauty of this region in Vietnam and partake in an unforgettable experience in the northern mountains.
5. What to visit around Sapa?
From Sapa, you can explore what makes the northern mountains so enchanting, including the captivating rice terraces and the skilled artisans who create this beauty (which is most splendid in September, during the harvest season). You'll also encounter the rich tapestry of some 30 ethnic minorities that extend far beyond Sapa and Lao Cai, of course.
We provide here a glimpse of what to do in Sapa, highlighting our favorite destinations. However, it's important to note that there are countless potential destinations to discover from Sapa.
The village of Ta Phin is a treasure trove that you absolutely must visit at least once. To reach it, you'll traverse some of the most beautiful rice terraces in the region. Upon arriving in the Red Dao ethnic minority village of Ta Phin... After spending a night with the locals, you can wander around the village and discover their brocade craftsmanship, a form of silk fabric or woven carpet intricately blended with gold or silver threads. These products are primarily exported to Hanoi and the Chinese border, but they can also be found in Vietnam and around the world.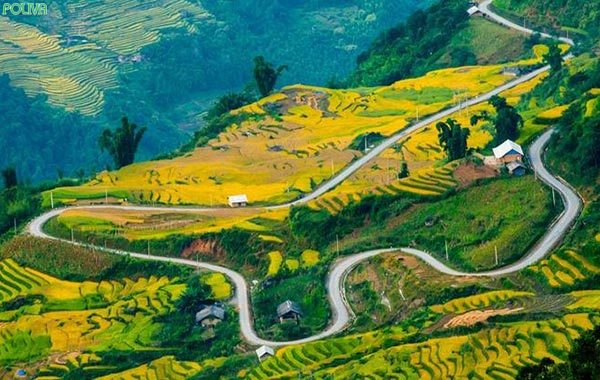 Situated approximately ten kilometers from Sapa, amidst the grandeur of rice terraces, the village of Ta Van is a highly sought-after destination for hikers who often spend the night in the homes of Hmong, Dao, or Giay people, complete with rooms, bathrooms with hot showers, mattresses, and mosquito nets. After an evening filled with camaraderie in the company of your hosts, you'll have the opportunity to return to Sapa or continue your trek through some of the most spectacular landscapes in northern Vietnam.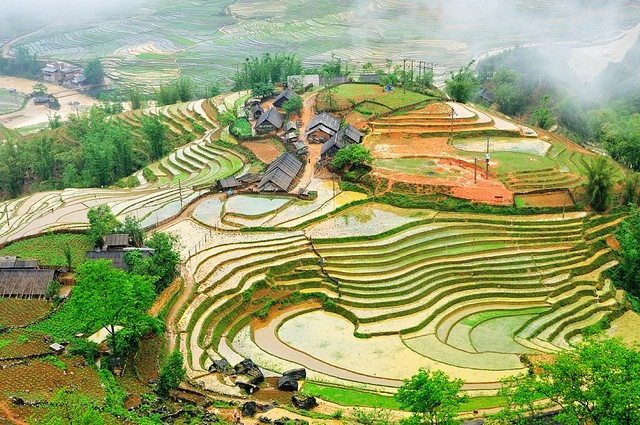 Cat Cat Village is nestled in the picturesque Muong Hoa Valley, a mere 3 kilometers from Sapa Town. Being a Hmong village, it is easily accessible and an ideal choice for travelers who prefer not to undertake extensive hikes. However, being the most visited village in Sapa Valley, Cat Cat can sometimes lack the authenticity found in other nearby villages.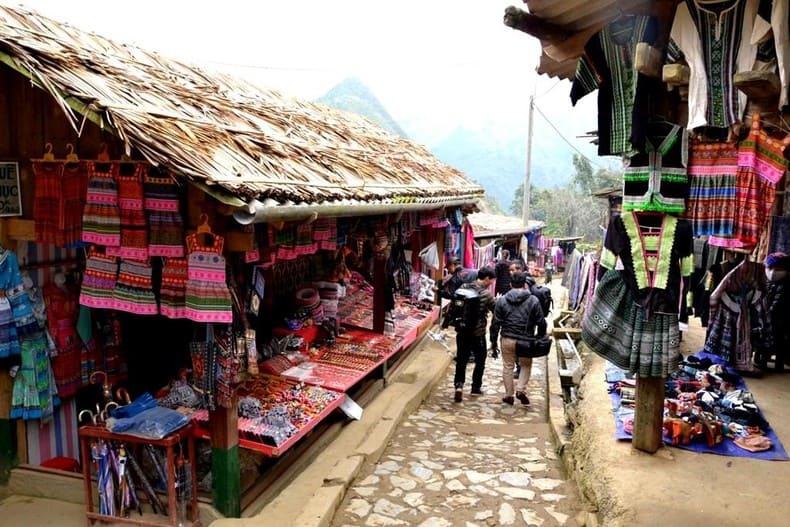 Explore the Traditional Ethnic Markets in Bac Ha
While Bac Ha is approximately 100 kilometers away from Sapa, the journey is certainly worthwhile. As you traverse the winding roads through hills and valleys, you'll be treated to breathtaking scenery, with cascading rice terraces and traditional villages nestled in the mountains. The Bac Ha region is home to a multitude of fascinating ethnic markets, with Bac Ha Market standing out as the largest and most impressive in the area. This open-air market takes shape as vendors arrive, and there's no formal entry point. Members of various ethnic minorities, including the Red Dao, Black Dao, Nhung, Tay, and Flower Hmong, travel for hours on foot or by motorbike to reach Bac Ha well before dawn to sell their products.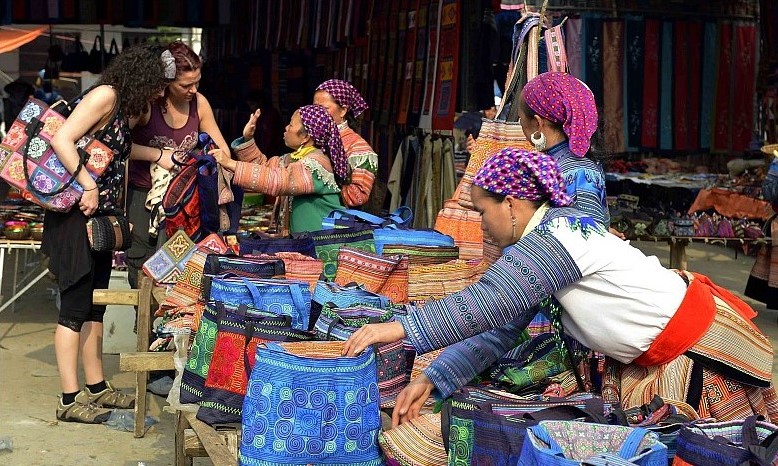 At the market, you can find a wide variety of food, clothing, and colorful fabrics. It's a true spectacle of colors and a unique opportunity for cultural encounters and mingling with different ethnic groups. To fully appreciate the vibrant traditional costumes that help distinguish between the various ethnicities present, it's advisable to arrive very early. After 10 a.m., the market begins to lose its liveliness. During holidays like Tet, it's advisable to check the market's opening schedule before planning your visit to Sapa.
Traditionally, the Bac Ha market is divided into two distinct sections. The first part is reserved for local ethnic minorities and features fabrics, clothing accessories, and women's adornments. However, these items are typically bulky and heavy, making them less suitable for tourists seeking souvenirs. This section is primarily for villagers to exchange their products. The second part is dedicated to souvenirs and handicraft items for tourists, including bracelets, hats, and wooden sculptures. It's important to note that Bac Ha Market is only open on Sundays, so careful planning is essential to make the most of your visit.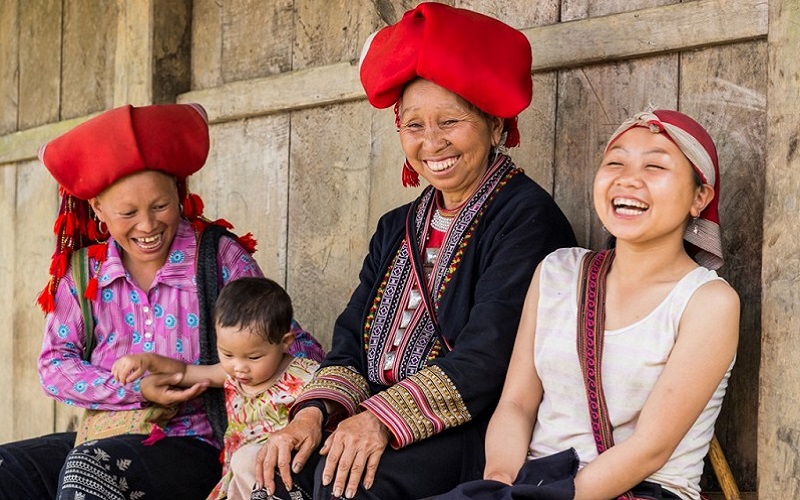 6. How to get to Sapa from Hanoi?
Please note that the train journey doesn't extend all the way to Sapa but concludes at the nearest station in Lao Cai province. From there, you'll need to arrange secondary transportation to reach Sapa, such as a car, taxi, or motorbike.
Hanoi - Lao Cai Train Service
There are two night trains connecting Hanoi to Lao Cai (SP1 and SP3) available each day, with additional services during peak periods. These trains offer two types of carriages: those operated by Vietnamese Railways and high-end carriages run by private companies. The train stations are located in Hanoi and Lao Cai, each with specific departure and arrival times. Ticket prices vary depending on the class, with an approximate starting price of $32.
Station Addresses:
Hanoi Station: 120 Le Duan Street, Hoan Kiem, Hanoi 
Lao Cai Station: Khanh Yen, Pho Moi, Lao Cai 
To purchase train tickets online in Vietnam, it is recommended to visit the official website of Vietnam Railways at https://dsvn.vn/.
Upon arriving in Lao Cai by train, you have several options to reach Sapa: taking a bus, using a hotel shuttle bus, hiring a taxi, or using a motorbike taxi.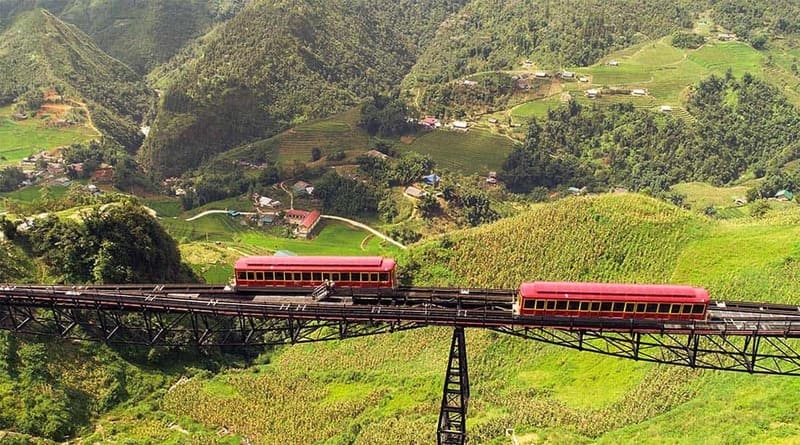 Hanoi – Sapa by Bus or Sleeper Bus
The quickest way to travel from Hanoi to Sapa is by bus, which typically takes between 4 to 6 hours due to a new highway. Buses operate throughout the day, and you have the option to choose a sleeper bus departing from My Dinh, Gia Lam, and Giap Bat bus stations.
Among the most renowned bus companies are Sao Viet, Ha Son Hai Van, Hung Thanh, Queen Cafe, and Fansipan Express Bus. These buses are well-appointed, offering clean blankets, electrical and USB ports, complimentary Wi-Fi, and drinking water.
Another option worth considering is booking a private car through a travel agency that can assist in planning your Sapa excursion. These agencies offer comprehensive packages that include round-trip transportation, providing a convenient and recommended choice.
7. Where to stay in Sapa?
In Sapa, you have a wide range of accommodation options, from budget choices to luxury accommodations. It's crucial to choose carefully to ensure a pleasant experience during your visit. To help with your decision, consult reputable hotel reservation sites such as Booking and Agoda, among others. Additionally, consider the reviews and opinions of fellow travelers who have stayed at the establishments that interest you. Don't hesitate to reach out directly to your chosen hotel to clarify any details. Among the various options available, here are three noteworthy places to consider in Sapa:
Address: Thanh Kim, Sa Pa, Lào Cai
Nestled in the heart of the majestic Sapa Mountains, this eco-friendly boutique hotel offers breathtaking views of the surrounding peaks. It is conveniently located near many hiking trails. The spacious and comfortable rooms feature a traditional design with modern amenities. The warm and welcoming staff are always ready to make your stay unforgettable.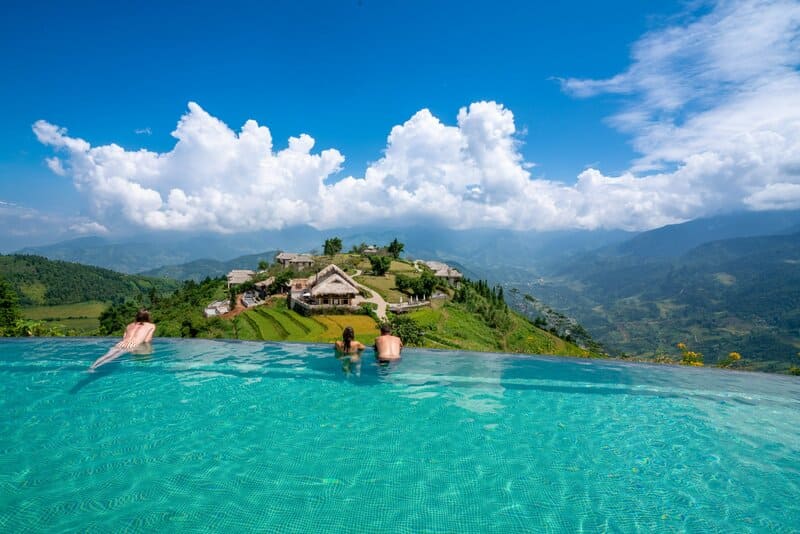 ALIANA Boutique Sapa Hotel & Spa 
Address: No.30 Hoàng Liên Street, Sa Pa, Lào Cai
Situated in central Sapa, this boutique hotel offers stylish and modern rooms with breathtaking views of the surrounding peaks. Additionally, it features a spa, restaurant, and an outdoor swimming pool that provides panoramic views of the mountainous landscape.
Address: Lao Chai Village, Sapa, Lao Cai
This property is set in a tranquil environment, surrounded by lush gardens and picturesque rice terraces. The rooms are constructed using wood and natural materials, and the hotel boasts an organic restaurant and a spa. It is committed to sustainable management practices, utilizing solar energy for electricity and hot water.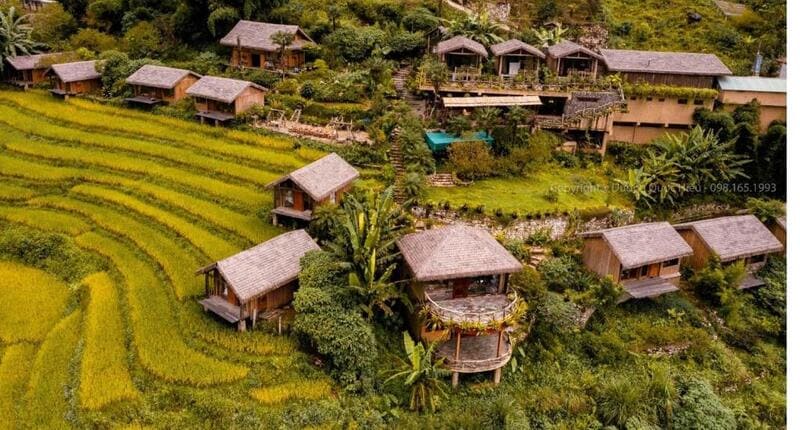 8. What attention is needed to make your trip successful?
When it comes to taking photos, it is advisable to do so discreetly in order not to disturb the peaceful atmosphere of the market. Avoid pointing your camera at a person for an extended period, as this can make people uncomfortable. It is also not recommended to ask for permission to take photos, as the language barrier can complicate communication.
People in the area tend to be reserved, especially the women. When visiting Sapa, there is no need to worry about violence or theft. Courtesy is essential and contributes to maintaining the peaceful atmosphere of the market. Dressing modestly and simply is recommended, but keep in mind that the altitude and weather might require clothing that allows your skin to breathe while also protecting you from rain or cool gusts of wind (such as an anorak, scarf, or gloves). Sturdy shoes are also highly recommended.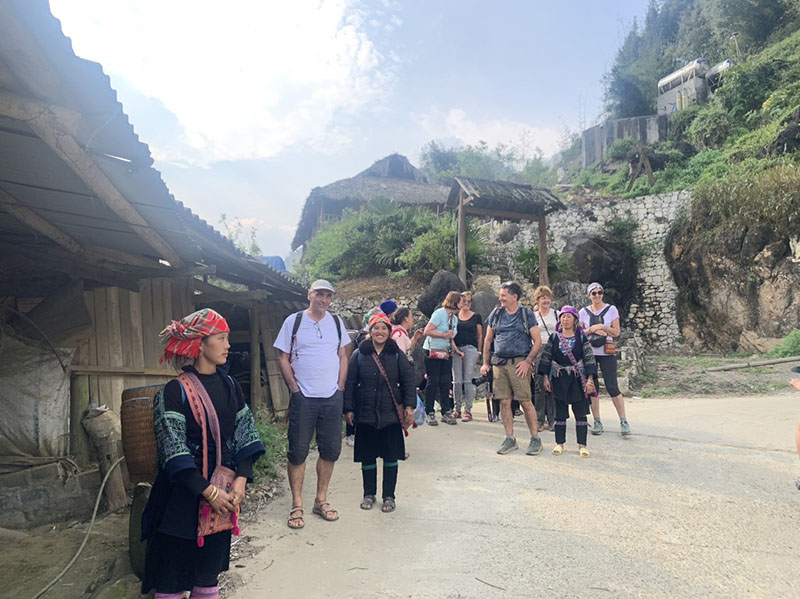 ✈️Other Must-Visit Places in Vietnam
---
Comments (1)
Leave your comment