Halong Bay on Land: 7 Essential Questions Before You Go!
Halong Bay on Land has been recognized by the prestigious Forbes magazine as one of the 23 best tourist destinations of 2023! But that's not all – this beautiful Vietnamese region has also secured the 7th spot in the top 10 friendliest destinations in the world, according to TripAdvisor travelers. You're probably wondering what makes Halong Bay on Land so exceptional and deserving of all this praise. Discover the answers to these 7 essential questions about Halong Bay on Land!
1. What is Halong Bay on land?
Halong Bay on Land, also known administratively as Ninh Binh, is a stunning destination that shares similarities with Halong Bay by sea. However, it possesses its own unique charm and offers an equally captivating natural experience.
Situated in an expansive landscape, Halong Bay on Land is a breathtaking sight. Its sugar loaf-shaped rock formations rise majestically above lush rice fields and tranquil streams.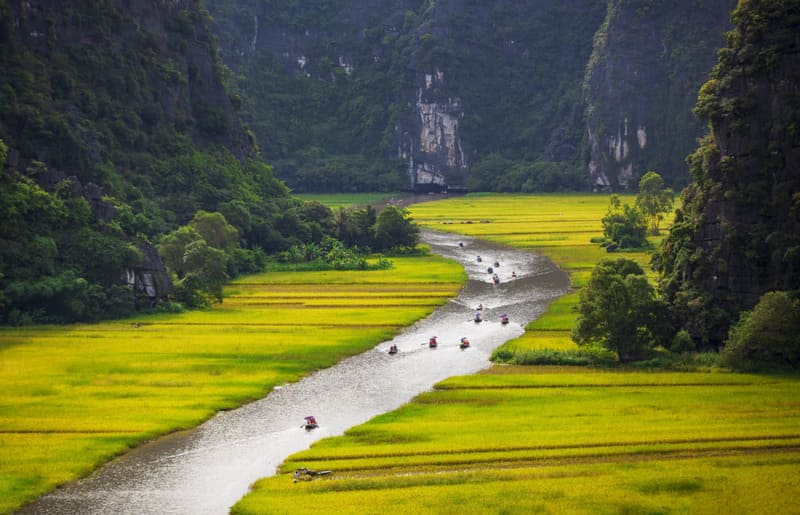 The scenery here may seem familiar, as scenes from famous films have been shot in this picturesque area. Notably, scenes from "Indochina," starring Catherine Deneuve, as well as the American blockbuster "Kong: Skull Island," were filmed here.
In addition to its appearances on the big screen, Halong Bay on Land is renowned for its iconic sites, such as Tam Coc, Trang An, and Van Long. These places offer an unforgettable experience aboard bamboo boats that wind through the waterways, providing breathtaking views of the surrounding rock formations and rice field landscapes.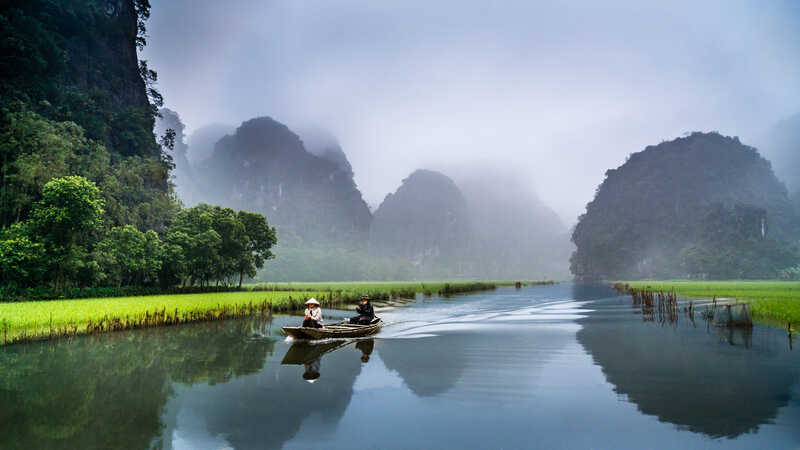 2. What is the difference between Halong Bay on land and Halong Bay?
Maritime Halong Bay is a large bay located in the northeast of Vietnam (Quang Ninh province), part of the Pacific Ocean. It is a vast expanse of water that is home to thousands of limestone peaks emerging majestically from the sea.
On the other hand, Halong Bay on land is situated on dry land, in the Red River delta, in the north of Vietnam (Ninh Binh province). It is distinguished by its sugarloaf-shaped rock formations that rise above the surrounding rice fields and streams.
Visiting maritime Halong Bay is generally done aboard large boats and lasts for 1 to 2 days, with one night spent on board. Travelers have the opportunity to explore islands and limestone peaks on cruises, visit caves, and participate in activities such as swimming and kayaking. It offers an immersive experience in the natural beauty of maritime Halong Bay.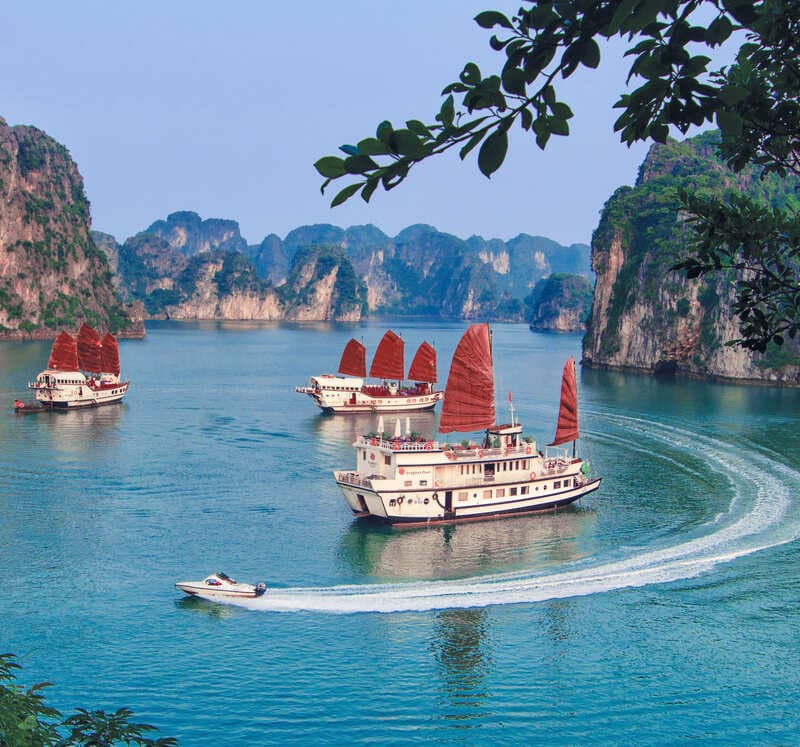 Conversely, visiting Halong Bay on land takes place using small boats operated by hand or on foot by local boatmen. This excursion is shorter, around 2 hours, but just as memorable. Visitors can explore rivers and sugarloaf landscapes, pass beneath natural caves, and admire the beautiful surrounding rice fields. After the boat ride, it is often possible to enjoy relaxing bike rides through the surrounding nature, adding an extra dimension to the experience.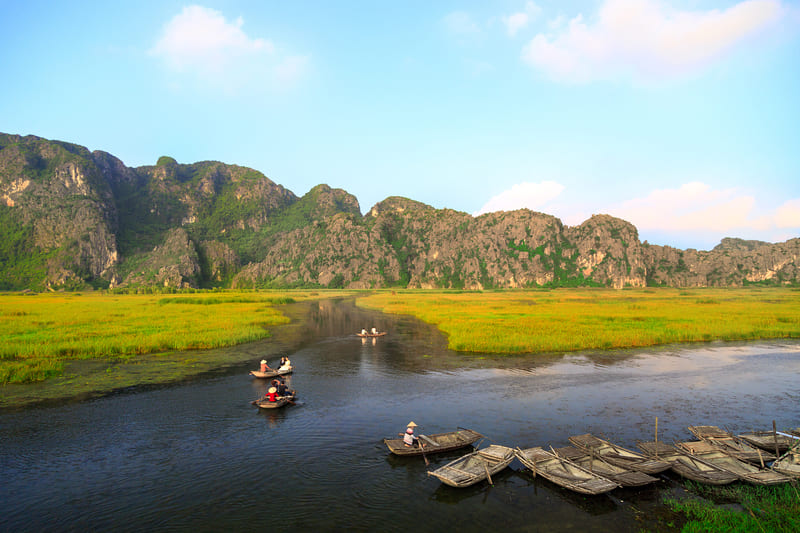 3. How to get to Halong Bay on land?
Halong Bay on land is located approximately a 2-hour drive south of Hanoi, covering a distance of about 100 km. It is also approximately a 3-hour drive southwest from maritime Halong Bay.
Here is a summary of the transportation options:
Hanoi, the capital of the country: 2 hours by road, 3 hours by evening train
Halong Bay (by sea): 3 hours by car
Pu Luong, a nature reserve: 3 hours by car
Hue, the former imperial city in the central region: an overnight train journey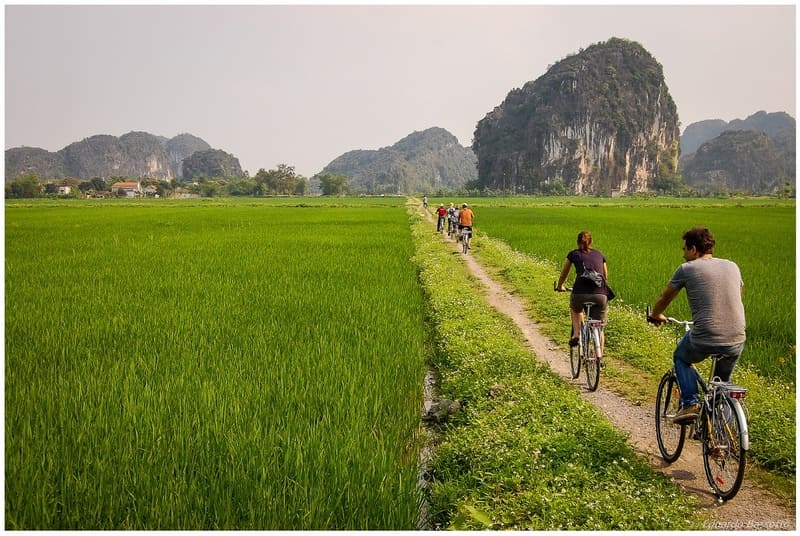 4. When are the best times to visit Halong Bay on land?
The best time to explore Halong Bay on land is undoubtedly from spring to summer, which spans from February to October, coinciding with the rice field season. During this period, the rice fields stretch as far as the eye can see, enveloping the karst peaks in lush greenery. The months of June and September, when the rice is harvested, offer the most spectacular landscapes. The surroundings are adorned in a vibrant and mesmerizing yellow hue, and the air is filled with the sweet fragrance of ripe rice fields, creating an unforgettable and serene ambiance. Summer is also when the lotus flowers bloom, adding to the stunning scenery with rolling rice fields and majestic lotus blossoms gracefully floating on the water.
The rest of the year is also a favorable time for excursions, as the region experiences fewer crowds, yet the landscapes retain their splendor.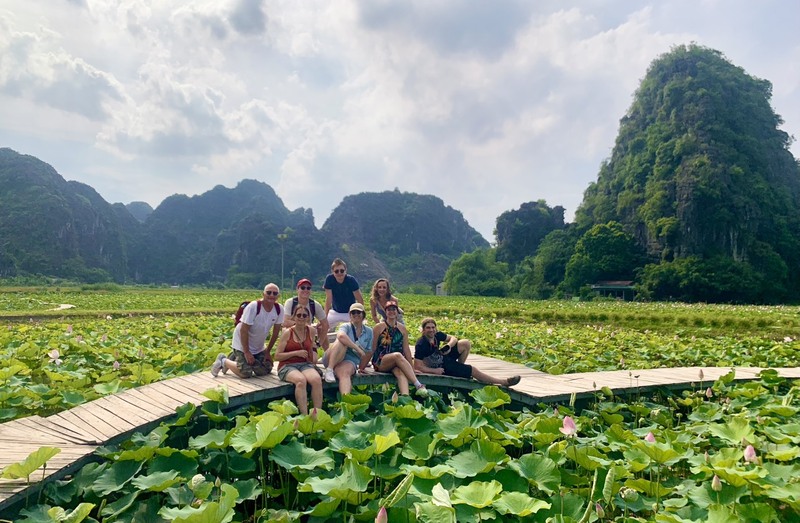 5. How long will it take to visit it?
Exploring Halong Bay on land requires at least a full day to fully savor its offerings. During your visit, you'll have the opportunity to embark on boat excursions in the breathtaking regions of Tam Coc, Trang An, and Van Long, renowned for their exceptional natural beauty. After meandering through these scenic waterways, you can further immerse yourself in the serene ambiance of the region by enjoying bicycle rides through the countryside and rice fields.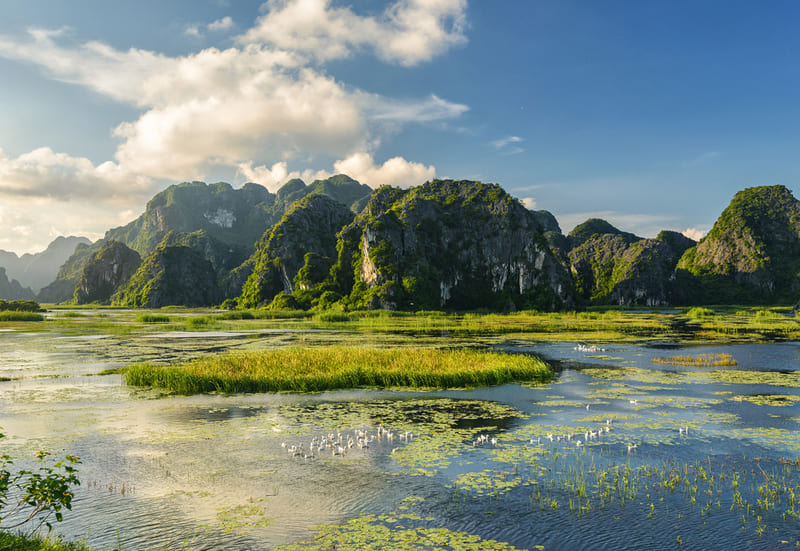 One unmissable activity is ascending Mount Mua, which promises breathtaking panoramic views of Tam Coc and the Ngo Dong River, often considered one of the most beautiful and poetic spots in the area.
In addition to exploring Halong Bay on land, comprehensive tours often include visits to Hoa Lu, the ancient imperial capital that thrived during the Dinh and Le dynasties from 990 to 1010. This destination offers a journey back in time, allowing you to delve into the history and cultural richness of Vietnam.
For those with more time to spare, a recommended duration is 2 to 3 days to fully savor Halong Bay on land. You can also incorporate visits to Cuc Phuong National Park and the stone cathedral of Phat Dien. Cuc Phuong National Park offers hiking trails through lush jungles and is renowned for its remarkable biodiversity. Conversely, the stone Phat Dien Cathedral stands as a magnificent neo-Gothic Catholic cathedral in Ninh Binh.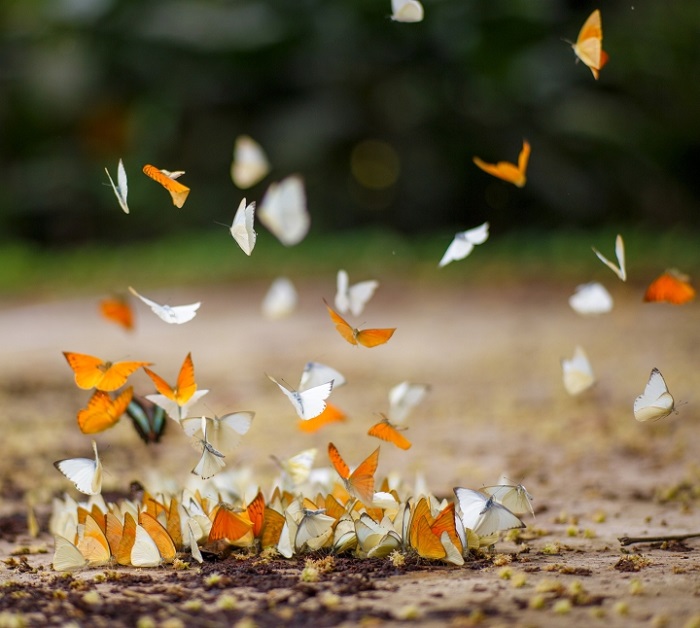 These sites will enhance your visit to Halong Bay on land, offering deeper exploration into the region's nature and culture.
6. How can land Halong Bay be combined with sea Halong Bay?
Due to its geographical location, Halong Bay on land, Halong Bay on sea, and the capital of Hanoi together form a popular tourist triangle. Travelers visiting Hanoi often start their journey in the Vietnamese capital before exploring the two bays. It is advisable to allocate at least one day and one night to explore Halong Bay on land before proceeding by bus or private car to Halong Bay by sea, where you can embark on a two-day and one-night cruise aboard a junk, a route commonly chosen by travelers.

You can also enhance your itinerary by including visits to Mai Chau and Pu Luong, two valleys and nature reserves located just a three-hour drive west of Halong Bay on land. In this scenario, the journey can commence in Hanoi, followed by a continuation to Pu Luong, where you can organize hikes through forests and rice terraces. Afterward, you can descend to Halong Bay on land, ultimately concluding the northern circuit with a relaxing cruise on Halong Bay.
This type of itinerary is highly favored by travelers seeking off-the-beaten-path experiences, as it combines the most remarkable sites of Northern Vietnam.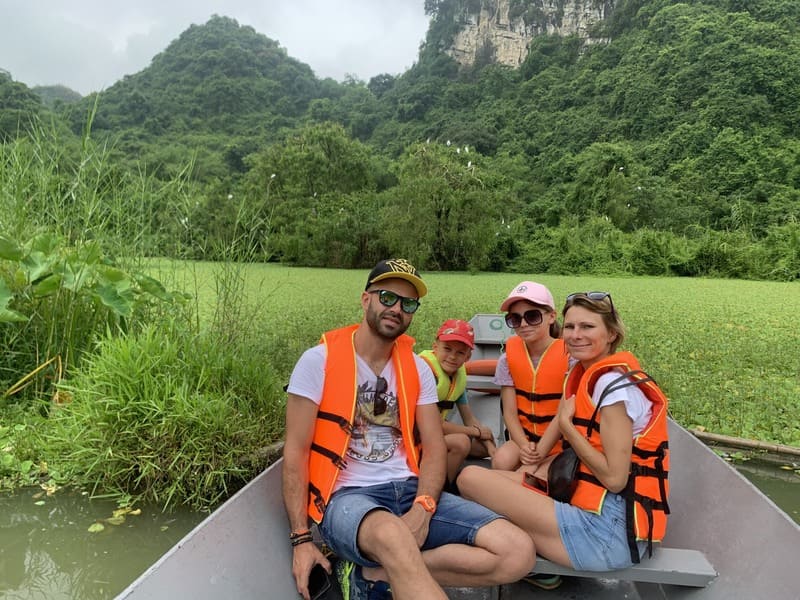 7. Where to stay on land in Halong Bay?
Beyond the city of Ninh Binh, the regions of Tam Coc, Trang An, and Van Long have managed to preserve their rural charm. You can find numerous small bungalow-style homestays, operated by local families, scattered throughout the area. These accommodations are perfect for budget-conscious travelers, with rates ranging from $25 to $35 per night. While the amenities are basic, the warm hospitality of the hosts more than compensates for it.
If you prefer a more standard level of comfort, consider staying at hotels like Nam Hoa or La Belle Vie, which boast convenient locations. With a slightly higher budget of $40 to $60 per night, you can choose options like Le Clos du Fil or Hidden Charm, both of which offer a delightful experience.
For those seeking a more luxurious stay, boutique hotels, lodges, or resorts such as Tam Coc Garden or Aravinda are excellent choices, with rates ranging from $80 to $150 per night.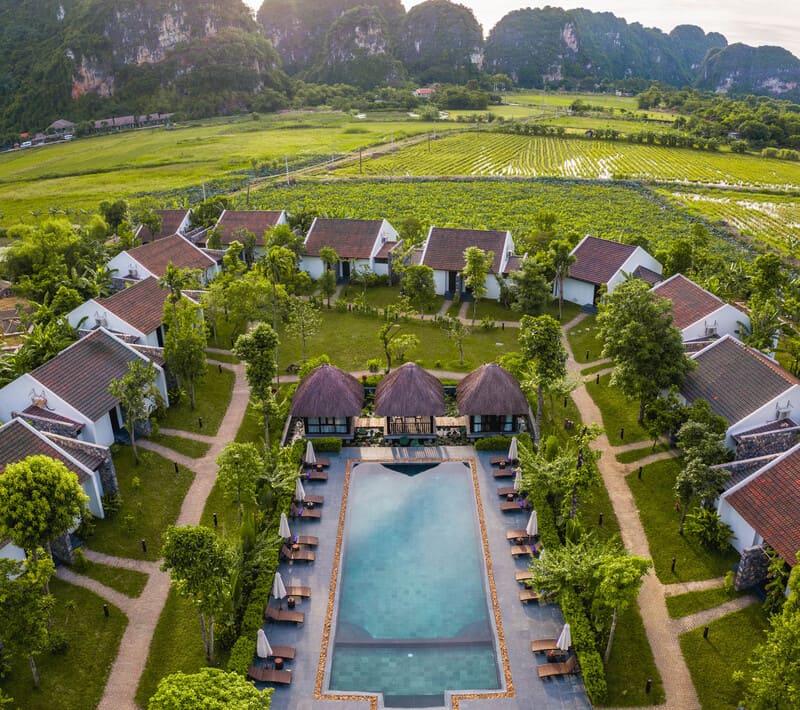 In conclusion
We hope that the information provided in this article has enhanced your understanding and perspective of Halong Bay on land. If you are interested in exploring the region's key attractions, uncovering the must-do activities, and accessing practical weather-related information, we cordially invite you to peruse our comprehensive guide: 'A Complete Guide for an Unforgettable Journey to Halong Bay on Land.
🚌 Explore some destinations nearby Halong Bay On Land:
---