Halong Bay travel guide: How to visit & Things to do 2023
Halong Bay epitomizes travel in Vietnam. This esteemed location stands at the pinnacle of must-visit destinations in this S-shaped country. Designated as a UNESCO natural heritage site and recognized as one of the seven wonders of the world, Halong Bay instills immense pride in the Vietnamese people. If you are considering a visit to this wonder of the world, this article is tailored for you! Join us as we unveil intriguing facts and provide all the essential information needed for a flawless visit to this remarkable site!
1. Where is Halong Bay?
Ha Long Bay is situated in Quang Ninh province, approximately 170 km northeast of the capital, Hanoi, and about 200 km from Ninh Binh, often referred to as 'the land of Ha Long Bay.'
As an integral part of the Gulf of Tonkin (Pacific Ocean), Ha Long Bay shares its borders with neighboring areas, including Bai Tu Long Bay to the northeast and the Cat Ba Islands to the southwest. To the west and northwest, it is connected to the mainland by a coastline spanning approximately 120 km.
Covering an expansive area of 1,500 km², Ha Long Bay is adorned with nearly 2,000 islands, both large and small. This enchanting location boasts a breathtaking landscape, featuring numerous limestone islands cloaked in lush vegetation, creating a spectacular vista to explore and admire.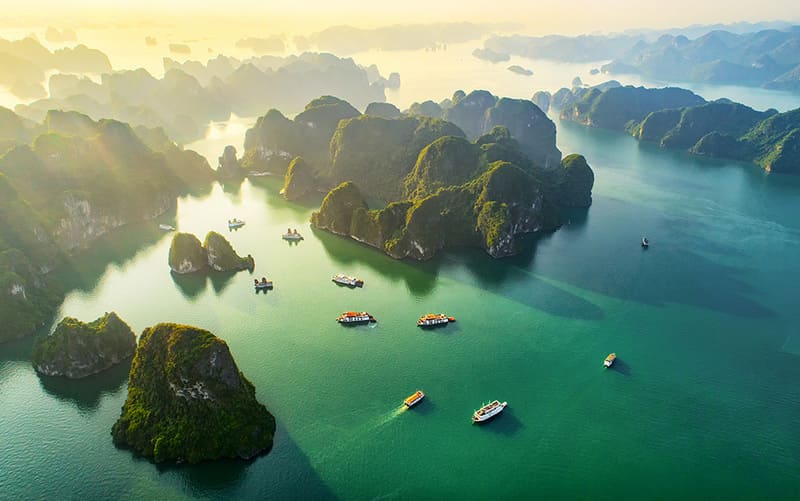 2. What is the meaning of "Ha Long" in the name of Halong Bay?
In the name 'Halong Bay,' 'Ha Long' means 'descending dragon' in French. The captivating history of the Vietnamese nation is intricately tied to sacred creatures, most notably the Dragon. Halong Bay derives its name from the legend of the dragons that descended to aid the Vietnamese in their battle against foreign invaders, safeguarding their homeland.
According to the legend, in support of the Vietnamese against the invaders, a Mother Dragon, accompanied by her baby dragons, released countless pearls that transformed into magnificent stone islands, obstructing enemy ships. The location where the Mother Dragon descended from the sky into the sea was named "Ha Long".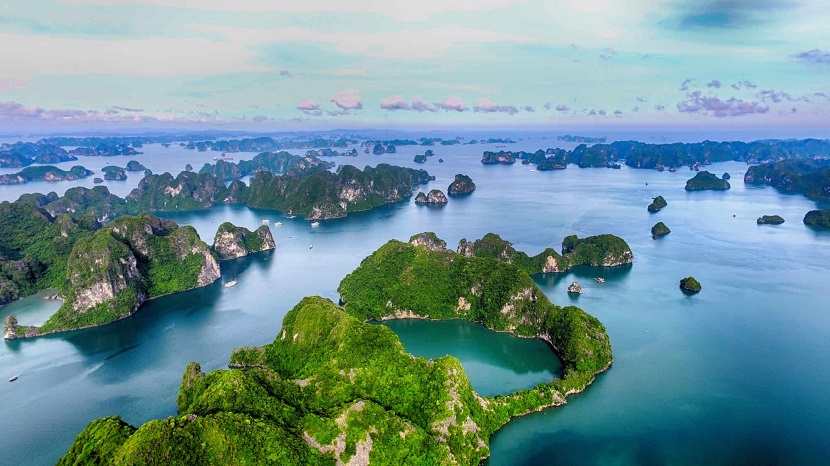 3. What is the ideal season for this destination?
Visiting Halong Bay is possible year-round. The best times to explore Halong Bay are from March to June and from September to November. During these periods, temperatures are ideal, ranging from 25 to 30°C, with sunny weather and moderate humidity. This is the perfect time to fully enjoy outdoor activities and explore the bay's breathtaking landscapes.
July and August are warmer months, with frequent sunshine (offering magnificent views of the bay), but occasional storms can disrupt visits and cruises for 1-2 days.
On the other hand, from December to the end of February, temperatures are cooler, ranging from 15°C to 20°C, with dry but occasionally chilly and foggy weather. This period is less suitable for seaside activities due to intermittent fog; however, it provides a tranquil and serene ambiance and sees fewer tourists compared to the peak season.
4. How to get there ?
Halong Bay is easily accessible by road from Hanoi, just a 3-hour drive, as well as from Ninh Binh, also known as 'Halong Bay on land,' which is approximately 3.5 hours away. Most tourists opt to explore Halong Bay from these two primary access points.
5. What to do and see in Halong Bay?
As one of the most captivating sites in the country, Halong Bay offers a wide range of activities.
Embarking on a cruise aboard a junk is the ultimate way to immerse yourself in the wonders of Halong Bay. This activity is an absolute must for discovering the beauty of this region. Cruising on a junk provides a unique opportunity to take in the breathtaking panorama of Halong Bay. Relaxing on the upper deck of the junk while gazing at the splendid scenery is a favorite pastime among travelers. During this experience, you'll have the freedom to marvel at the thousands of limestone islands and islets emerging from the emerald waters of the bay, all adorned with lush tropical jungle.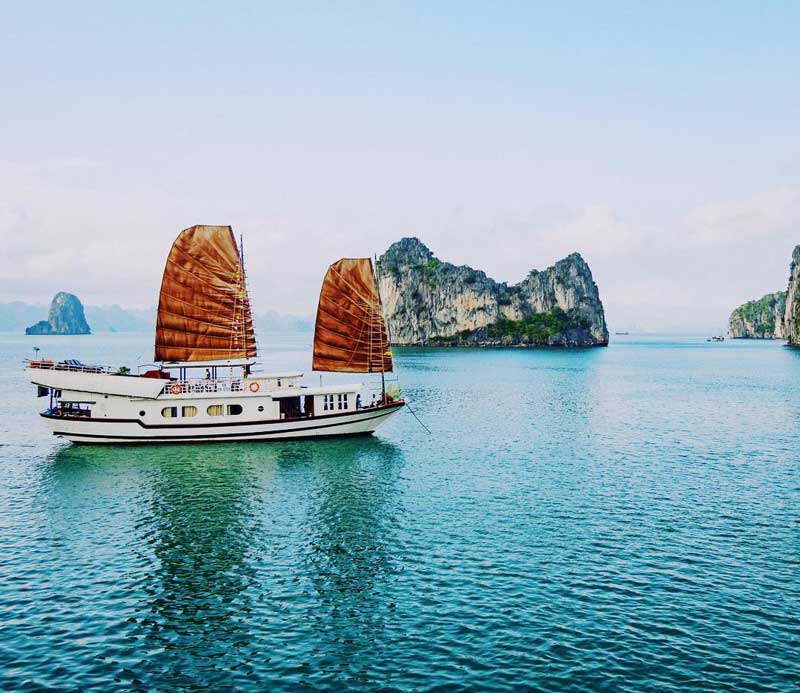 Explore the Thousand-Year-Old Caves
Halong Bay has been designated by UNESCO as a World Natural Heritage site due to its geological and geomorphological significance. This location serves as an outstanding example of mature karst topography in the region. Its humid tropical climate has been shaped and molded by the sea over time, resulting in rocky islands adorned with caves of exceptional beauty.
The stalactites found within the caves of Halong Bay showcase incredible diversity in terms of shape, size, color, composition, and purity. Among the renowned caves, you'll find Thien Canh Son Cave, Sung Sot Cave (also known as the 'Surprise Cave'), and Me Cung Cave, which houses a large blue lake surrounded by mountains. The bay of Halong offers a splendid array of natural landscapes, all waiting to be explored.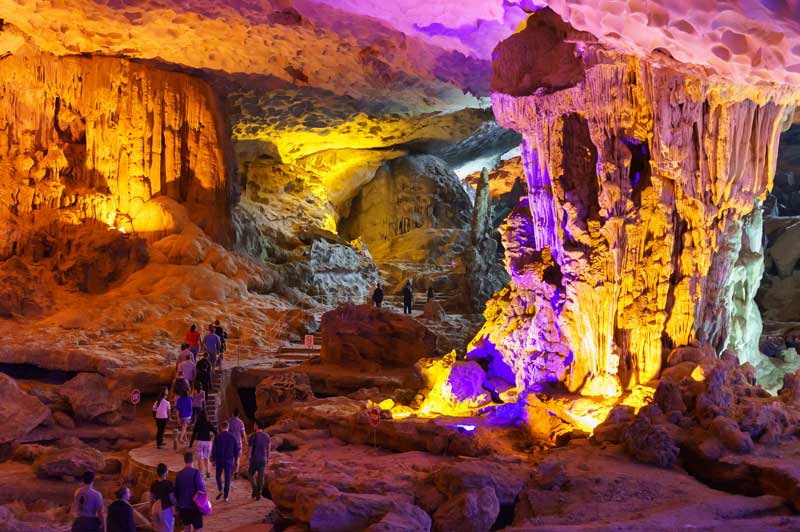 Admire the Beauty of Halong Bay by Seaplane
Witness and explore the magnificence of the bay from a seaplane—an innovative activity that captures the interest of numerous tourists. Gazing from above, one can grasp the entire panorama of Ha Long Bay, vast and exceptionally vibrant. The entire bay unfolds before your eyes, revealing the natural splendor of myriad islands, both large and small. Amidst the magical emerald green of the sea, you'll spot green oases and pristine white sandy beaches nestled beneath the mountains. These thousands of islands stand out brightly and beautifully.
This is not your ordinary flight; visitors can also experience the unique sensation of taking off from the water while indulging in intimate and luxurious onboard service. The Halong Bay seaplane excursion lasts approximately 25 minutes but leaves tourists with invaluable and unforgettable memories.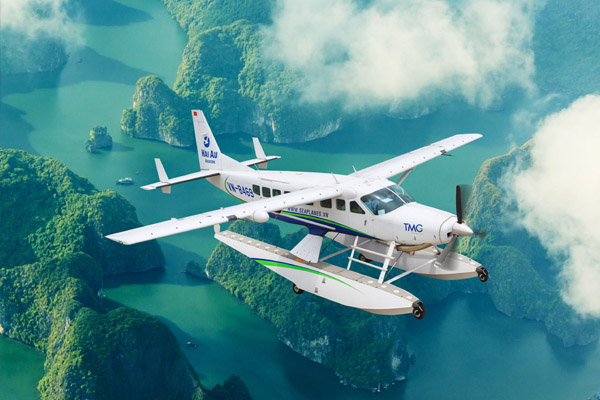 Savor Fresh Seafood and Fish
During your stay in Halong Bay, seize the opportunity to treat yourself to a delectable seafood feast! You'll have the chance to relish freshly caught fish and seafood during your meals: shrimp, squid, crabs, clams, shellfish, and much more.
For an authentic experience, visit the floating village, where you can savor fish and seafood directly from the fishermen, delivering unforgettable flavors. Allow yourself to be enchanted by the freshness of local ingredients and the meticulous preparation of dishes that showcase the marine delights of Halong Bay!
6. What is a cruise on Halong Bay like?
Cruises typically commence boarding at the port around noon, with departure times ranging from 12:30 p.m. to 1 p.m. on the first day and conclude before noon the following day, with arrival times spanning from 11 a.m. to 11:30 a.m. You will have approximately 23-24 hours on board to fully relish the beauty of the bay. If you desire more relaxation, consider opting for a 3-day, 2-night cruise, which offers an extended duration on board.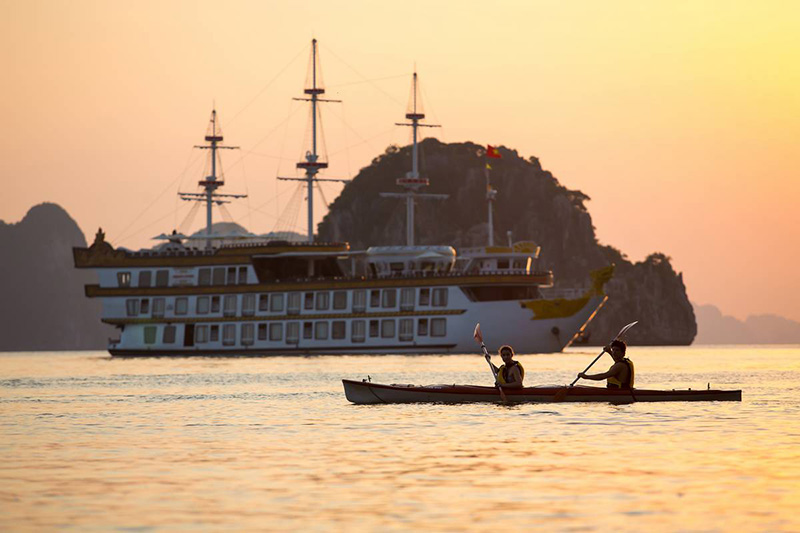 Spending the night on the junk allows you to partake in magical moments: witnessing a breathtaking sunset followed by an enchanting sunrise. Guests can indulge in a candlelit dinner or participate in a traditional cooking class. Most importantly, you will have ample time to marvel at this natural jewel in all its glory.
Here are the main activities during the Halong Bay cruise:
Enjoy Breathtaking Panoramas
One of the most cherished activities for travelers during the cruise is the opportunity to relax on the upper deck of the junk while taking in the splendid panorama before them. You can peacefully gaze at the thousands of limestone islands and islets emerging from the emerald waters of the bay. The vastness of this picturesque landscape offers a true visual escape.
The boat will anchor at carefully selected locations, providing you with the chance to engage in additional activities, such as kayaking, to explore the bay's most hidden corners. You can also visit floating fish farms, learn about traditional cage fish farming, and interact with fishermen and local residents.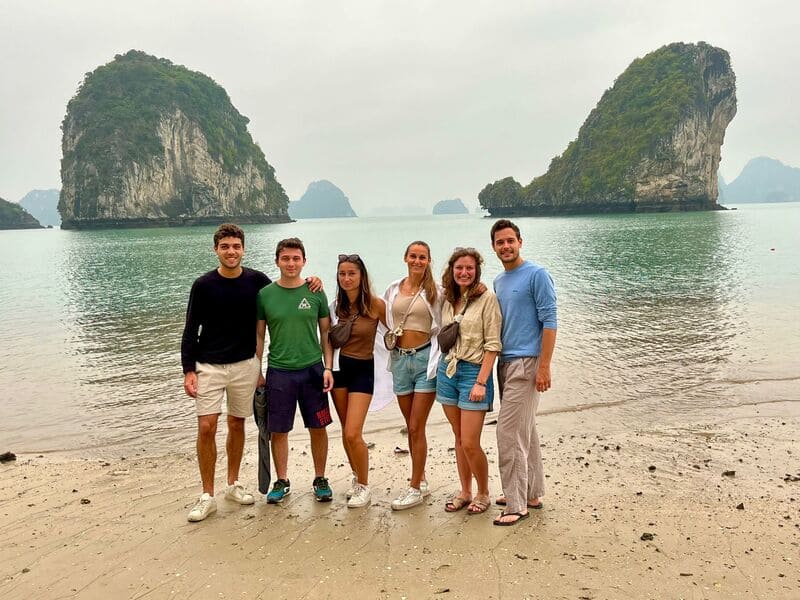 Furthermore, you'll have the opportunity to disembark on charming small islands to swim in the sea, experience moments of serenity, and relax on the fine sandy beaches. The gentle sound of the waves will soothe your senses as you savor the breathtaking views of the surrounding islands, allowing you to fully connect with nature.
Indulge in On-Board Services and Entertainment
A cruise in Halong Bay promises an unforgettable experience with top-notch services and delightful entertainment. The warm welcome commences as soon as you step aboard the junk, where a welcome cocktail awaits you. An engaging program has been meticulously planned to ensure this cruise is a truly memorable one.
Delight in delectable dishes expertly prepared by talented chefs. In the morning, partake in tai chi, a serene practice featuring slow and harmonious movements, perfect for starting your day on a positive note.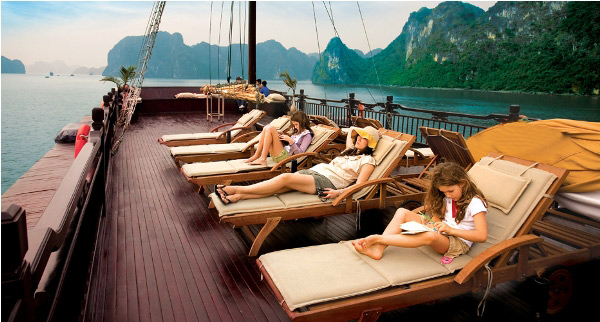 You can also expand your culinary skills by learning how to make egg rolls or spring rolls. Alternatively, engage in night angling or squid fishing to enrich your stay with captivating activities.
Explore Halong Bay by Kayak
Kayaking to explore the bay is a highly recommended activity for travelers during the cruise. The junks are well-equipped to ensure your kayaking experience is comfortable and enjoyable. This activity offers a unique and authentic way to discover Ha Long Bay, far more immersive than simply sitting on a junk and observing. Even if you don't know how to swim, you can safely engage in this exhilarating activity. Moreover, children aged 5 to 10 can also partake in kayaking when accompanied by adults, making it accessible to all travelers.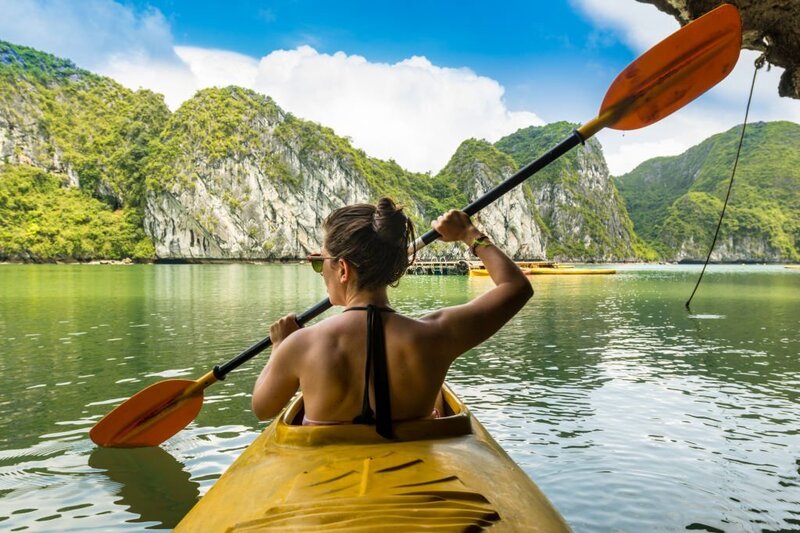 Imagine getting up close to the stalactites and limestone formations that have evolved over millions of years in the midst of this vast ocean, all adorned with lush green vegetation.
7. What are the tips for a successful cruise?
When choosing a Halong Bay cruise, several questions arise: How long should it be? Which part of the bay should you explore? What type of junk should you select? Here are some tips to ensure this magnificent experience is a success.
Halong, Bai Tu Long, or Lan Ha: Which Bay to Choose for Your Cruise? 
This magnificent natural wonder is actually divided into three distinct areas: the north (Bai Tu Long Bay), the central part (Halong Bay), and the south (Lan Ha Bay).
In terms of landscapes, there is no significant difference among these areas, as they are all composed of thousands of islands and islets. When it comes to activities, cruises in all three bays offer nearly identical experiences, including the opportunity to admire stunning landscapes, go kayaking, and visit caves or floating villages.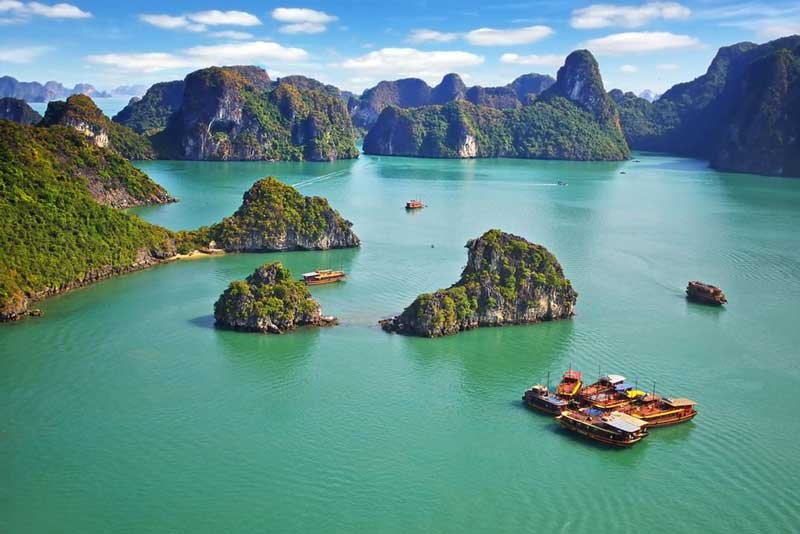 However, the choice of one bay over the others will depend on your specific interests. Here is some information about what each bay can offer you to help you make your cruise selection.
Option 1: Halong Bay (Central Part)
Cruises in the central part of Halong Bay are recommended for active travelers who enjoy a lively atmosphere. This area is also suitable for short-term cruises (day cruises) because it is the most accessible part of the bay.
Here, you can marvel at magnificent ancient caves, with the most famous ones being Sung Sot, Ti Top, and Thien Cung...
Option 2: Bai Tu Long Bay
If you seek tranquility and prefer smaller junks, then a cruise in the breathtaking Bai Tu Long Bay is ideal for you. Less frequented than its more famous counterpart, Halong Bay, Bai Tu Long Bay is equally enchanting and will captivate you with its extraordinary marine karsts and pristine white sandy beaches.
Option 3: Lan Ha Bay and Cat Ba Island
Compared to the central part of Halong Bay, Lan Ha Bay is also less crowded. This is where larger boats with more spacious and modern cabins depart.
While it may not have as many caves as the central part, Lan Ha Bay cruises offer the opportunity to explore Cat Ba Island by visiting a cave nestled amidst the lush green landscapes of Cat Ba National Park.
What Is the Recommended Duration? 
There are two types of cruises: daily cruises and those with one (or more) night(s) on board.
Daily cruises on Halong Bay: These can be done in 4, 6, or 8 hours. While these short cruises provide a panoramic view of the bay, they are considered tiring and a bit too brief to fully savor the magnificence of this bay. Additionally, the visits are less interesting, and the itineraries tend to be very touristy.
Cruises with at least 1 night on board: This type of excursion is highly recommended for all types of travelers because it not only offers a wider range of activities but also provides relaxing moments while admiring the enchanting beauty of this site. The junks offer a wide selection of cruise durations: 1 night, 2 nights, or even 3 nights on board. Among these options, the 2-day, 1-night cruise is the most popular choice among our travelers
Which Junk to Choose?
 The cruise in Halong Bay is conducted aboard boats and junks, often of the traditional type, offering a complete immersion to explore this extraordinary place.
You can choose from various options, ranging from small shared junks with 10 to 12 cabins, accommodating about twenty people, to the possibility of booking a private cruise aboard a small junk with one or a few cabins, for experiencing unforgettable moments.
For those who prefer privacy, a private junk is undoubtedly the best choice. There's nothing more wonderful than a private cruise in this legendary bay, which allows you to navigate peacefully through its lesser-known corners. You'll discover a magical landscape aboard a charming traditional-style junk. It will undoubtedly be a UNIQUE experience that you won't find anywhere else.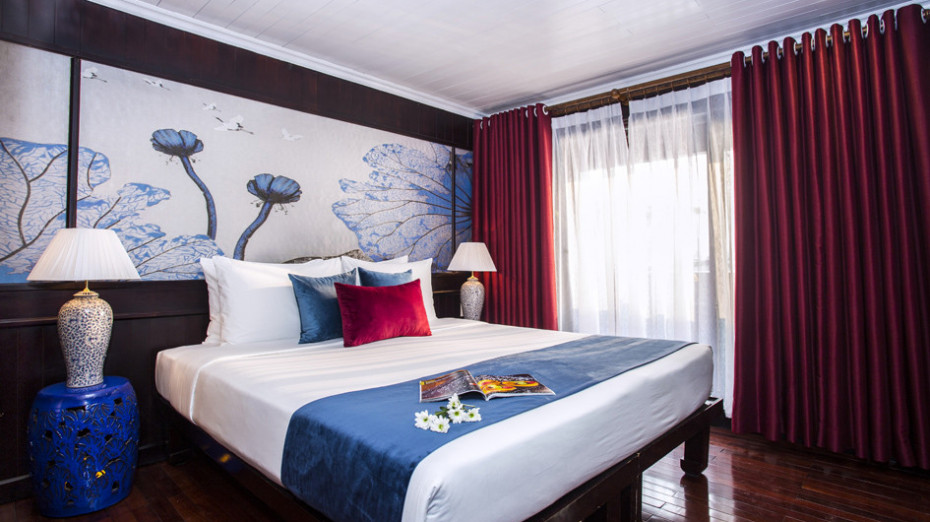 In conclusion
Halong Bay is a magnificent and comprehensive natural site, offering a wide range of tours and activities just waiting for you. Regardless of the time you choose to visit, Halong Bay promises unforgettable moments and breathtaking landscapes. Don't delay any longer; come and explore the splendor of Halong Bay!
✈️Explore other attractions in the north of Vietnam:
---
Comments (1)
Leave your comment