Saigon or Ho Chi Minh City, what name should you use for this city?
Traveling to the capital of South Vietnam can be an interesting experience as some call the big city "Ho Chi Minh City", while others call it "Saigon". Even the airport code is SGN, but the signs on the way to the city center proudly welcome you to Ho Chi Minh City. Why does this city have two names and what is the story behind each of them? Saigon or Ho Chi Minh City: which is correct?
Discover the intriguing history of this fascinating city and learn which name is most commonly used to refer to it today.
Where is Ho Chi Minh City?
Ho Chi Minh City, located in southern Vietnam, stretches along the banks of the Saigon River. It is 1,100 kilometers from the capital Hanoi and about 930 kilometers from Da Nang, the capital of the central region of Vietnam. This metropolis also borders the Mekong Delta. Formerly known as Saigon, Ho Chi Minh City now occupies the role of economic capital of the country.
This cosmopolitan city truly embodies a melting pot of Vietnamese, Chinese and Western cultures, a diversity that is fully expressed through its sumptuous and highly symbolic architecture.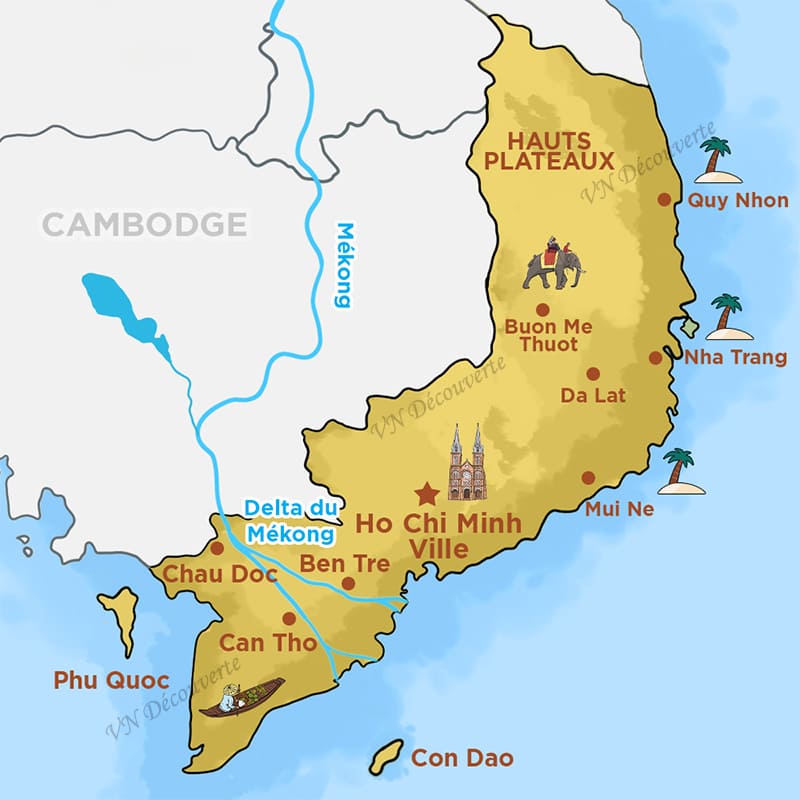 What does Ho Chi Minh City look like?
Ho Chi Minh is the most dynamic city in Vietnam. In terms of infrastructure, it is a place that brings together the most modern buildings, skyscrapers in Vietnam, with the new skyscraper symbol, Landmark, which has 81 floors. It ranks 17th in the list of tallest skyscrapers in the world. Although Ho Chi Minh City has always preserved historical and cultural traces for centuries, the most remarkable ambiance when thinking of Ho Chi Minh City is always "modern". It is quite different compared to Hanoi , the thousand-year-old capital of Vietnam, which has an older and more traditional ambiance.
In terms of humanity, the inhabitants of Ho Chi Minh City, nicknamed the "Saigonese", stand out for their always warm welcome and friendly nature. This unique characteristic differentiates them from residents of the north and center, whose discreet charm and deep-rooted traditions bring a unique richness to Vietnamese diversity.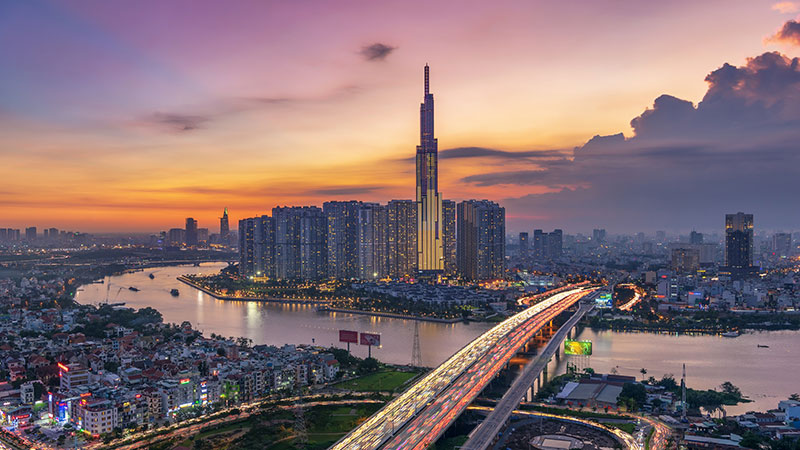 When are the best times to visit Ho Chi Minh City?
A visit to Ho Chi Minh City is possible throughout the year, thanks to the sunny and warm weather that predominates in this region of southern Vietnam. However, to fully optimize your stay in this magnificent part of the country, it is important to note that the year is punctuated by two distinct seasons:
The dry season, from December to the end of April, which is characterized by beautiful sunny days and very rare precipitation.
The wet season, from May to the end of November, which is characterized by strong heat and intense but brief, rather refreshing rains.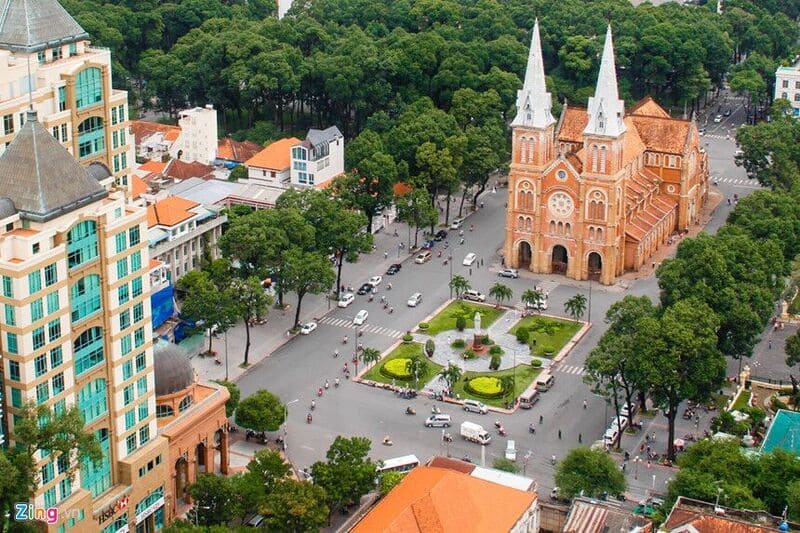 How to get to Ho Chi Minh City?
If you are planning to travel to Ho Chi Minh City, be aware that most French, Swiss and Belgian travelers,... book plane tickets with airlines such as Vietnam Airlines and Air France. These companies offer daily direct flights from Paris to Ho Chi Minh City.
Other airlines such as Qatar Airways, Emirates, Thai Airways and Singapore Airlines also offer flights, but with a stopover. If you are traveling from Canada, Japan Airlines and China Airlines are often chosen, with a stopover in Tokyo or Shanghai.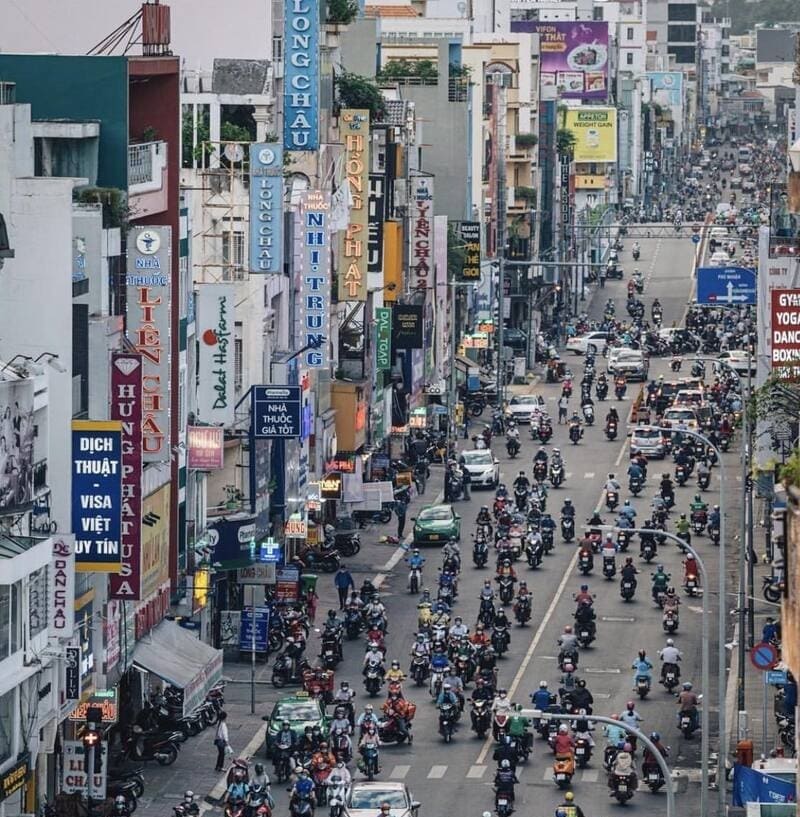 How to get around Ho Chi Minh City?
To get around Ho Chi Minh City, foreign visitors have several options, including local bus, taxi, transportation apps like Grab Bike and Gojek.
Local buses are cheap, but it can be difficult to understand timetables and routes if you don't speak Vietnamese. It's true that taxis can cost a little more, but they also offer a convenient door-to-door service for getting around Ho Chi Minh City. However, it is important to watch out for scams that can arise when taking a taxi. We therefore recommend using transportation apps. Find out more about: How to get around Vietnam?
Grab Bike and Gojek are very popular in Ho Chi Minh City for getting around because these transportation apps are convenient, affordable, and help avoid scams. There are two types of vehicles available: motorcycles and cars. It's important to make sure your phone is unlocked to work with foreign SIM cards, as you will need a stable and fast internet connection to use these apps. You can buy a Vietnamese SIM card in many mobile phone stores in Ho Chi Minh City.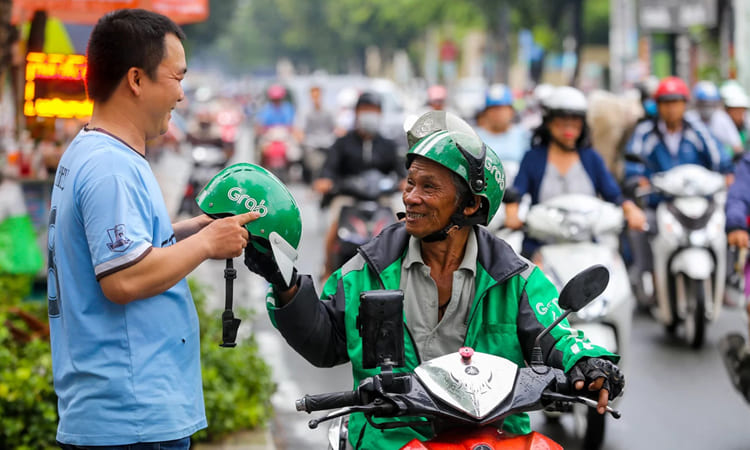 What to see and do in Ho Chi Minh City?
Ben Thanh Market is a symbol of Ho Chi Minh City. It is the largest historic covered market in the city. Visiting it is an experience that will allow you to soak up the excitement of this charming city. We enjoy strolling between its lively stalls to find and bargain for everything: souvenirs, curiosities, food, clothes... You can even eat there like real Saigonese a good dish of Com tam or another culinary specialty.
Looking up, you can observe its original architecture dating from the beginning of the 20th century, notably its main entrance with its historic tower topped by a large clock. Ben Thanh Market is an extraordinary cultural, shopping and culinary experience.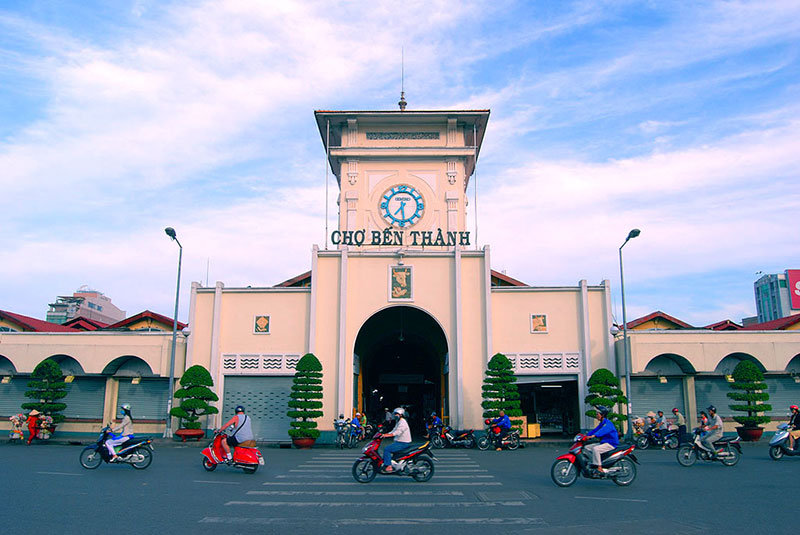 French colonial heritage and historical remains
The vestiges of the Indochinese colonial era in Vietnam are very present in the streets of Ho Chi Minh city and bear witness to the colonial history of the French in Saigon. On Nguyen Hue Avenue, you can admire the Ho Chi Minh City City Hall, currently the headquarters of the People's Committee, with its classic French-style architecture and its flower garden from the beginning of the 20th century.
Also worth seeing is the Saigon Municipal Theater ( Saigon Opera), located on Dong Khoi Street, formerly known as Catinat Street. It was the old Saigon Opera House in the 20th century which was strongly impacted by the twists and turns of colonization and war. It was built in 1897 in an architectural style inspired by the French and Italian Renaissance. The building was once used as a cultural center for French settlers, with shows and events for the European community. After years of neglect, it was renovated and is now a performance venue for Vietnamese and international artists.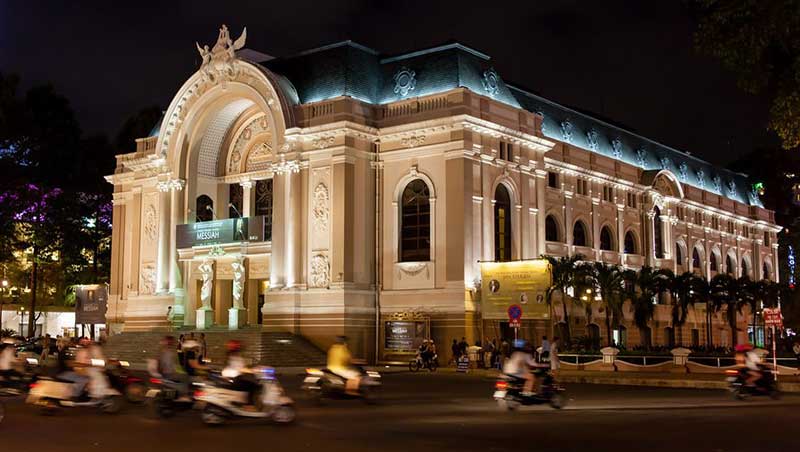 The Continental Hotel, opened in 1878, is a notable French colonial-era building also located on Dong Khoi Street in Ho Chi Minh City. It was once a popular meeting place for French settlers and travelers international. The hotel has hosted many famous people such as French writer Andre Malraux and Graham Greene, the author of the famous novel "The Quiet American", as well as political figures such as Jacques Chirac, former mayor of Paris and president of France.
The famous Continental Hotel in Saigon became even more famous thanks to its appearance in several key scenes of the film "Indochine" directed by Régi Wargnier. This film was shown worldwide in 1992 and won two major film awards: the Oscar and the Golden Globe. In 2002, the timeless beauty of the Saigon Continental Hotel shone once again in the film "The Quiet American" directed by Phillip Noyce.
Then head to Saigon Notre-Dame Cathedral, the city's most iconic landmark. Built during the second half of the 19th century, the cathedral is distinguished by its neo-Romanesque architectural style and its bell tower with 6 beautiful bells, produced by the Bollée foundry, famous for having manufactured the bells of the Sacré-Cœur in Paris . However, it is important to note that Notre-Dame Cathedral is currently undergoing renovation. Extensive scaffolding has been installed around the building, preventing visitors from having a full view of the cathedral.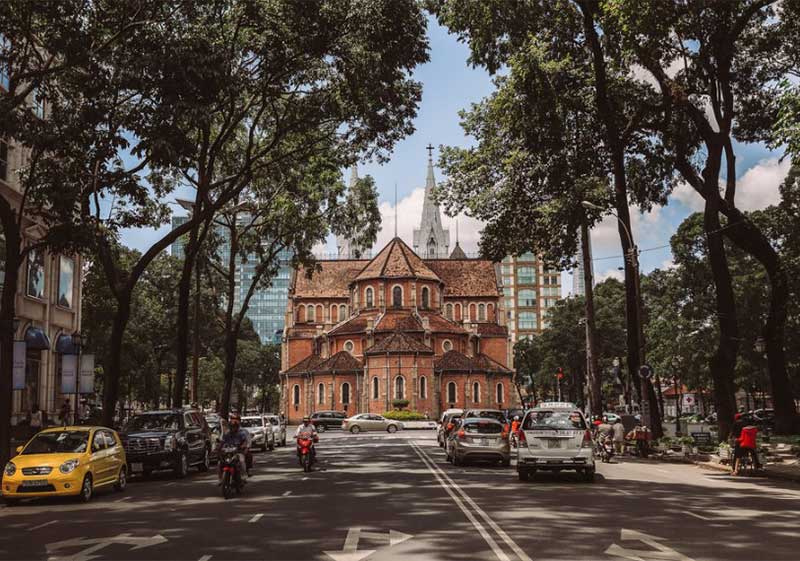 Finally, very close to the Notre-Dame Cathedral of Saigon, we discover the imposing historic central post office of Saigon, whose metal frame was built according to the plans of Gustave Eiffel. Built from 1886 to 1891, it is one of the oldest buildings in Ho Chi Minh city. It is a unique architectural gem with its European-Asian style and impressive old giant clock at the main entrance.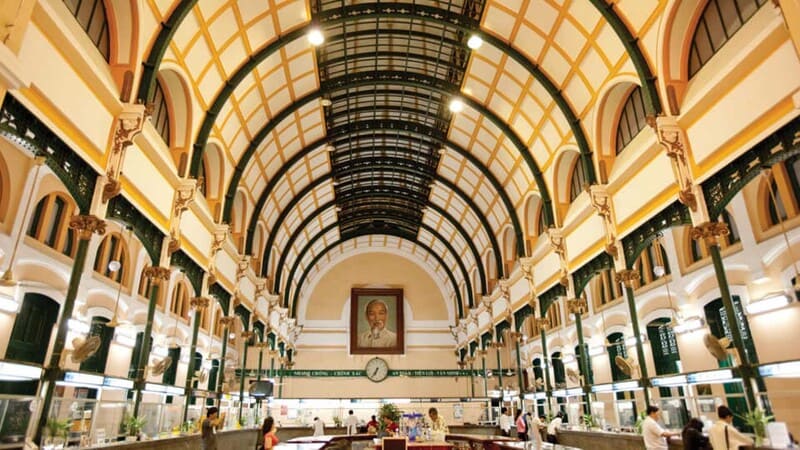 Chinatown, also known as Cho Lon, is an iconic place not to be missed during your visit to Ho Chi Minh City. This neighborhood spans districts 5, 6 and 11 and was founded by Chinese who immigrated to Vietnam in the 17th century.
Cho Lon is a city within a city, a veritable anthill that will amaze you. This district was once the place of opium dens and dance halls during the colonial era, made famous in Marguerite Duras' novel, "The Lover". Today, it has become the city's major commercial center, with many traditional stalls decorated with Chinese ideograms and very lively markets. Be sure to visit the aesthetic temples and pagodas such as Thien Hau Temple, Tam Son Hoi Quan and Quan Am Pagoda.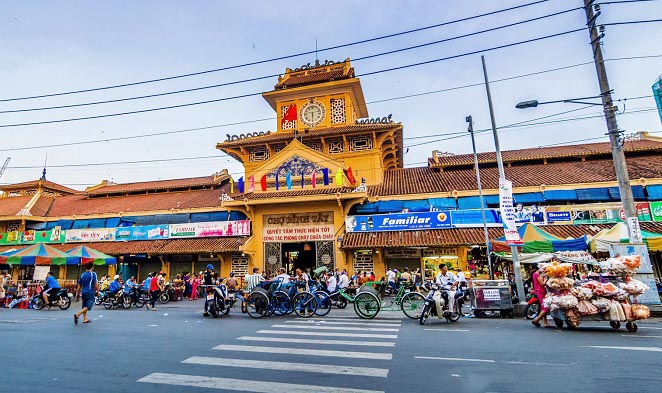 In the heart of this atypical district, you will have the opportunity to visit the beautiful Thien Hau pagoda drowned in the smoke of continually burning incense. This Chinese-style temple is dedicated to worshiping the Chinese sea goddess. It is the oldest temple in Saigon having been originally built by Chinese immigrants from Guangzhou in 1760.
Another Cantonese pagoda in the heart of Ho Chi Minh City, the Jade Emperor Pagoda is undoubtedly an unusual place not to be missed. Inside is a maze of rooms, each with its own array of intricate woodwork and statues, depicting scenes from Taoist and Buddhist myths. True to its name, the temple is decorated with green ceramic tiles in every corner.
The Reunification Palace in Ho Chi Minh City
Also called the Independence Palace, discovering the Reunification Palace in Ho Chi Minh City is one of the must-see attractions during your stay in Ho Chi Minh City. This prestigious building steeped in history is both a museum retracing the living environment of former Vietnamese leaders pro-United States and the former presidential palace of South Vietnam. This building was famous for having been the heart of a historic event which was covered by the international media in 1975: the forceful entry of a North Vietnamese tank, symbolizing the end of the conflict with the United States and the independence of Vietnam.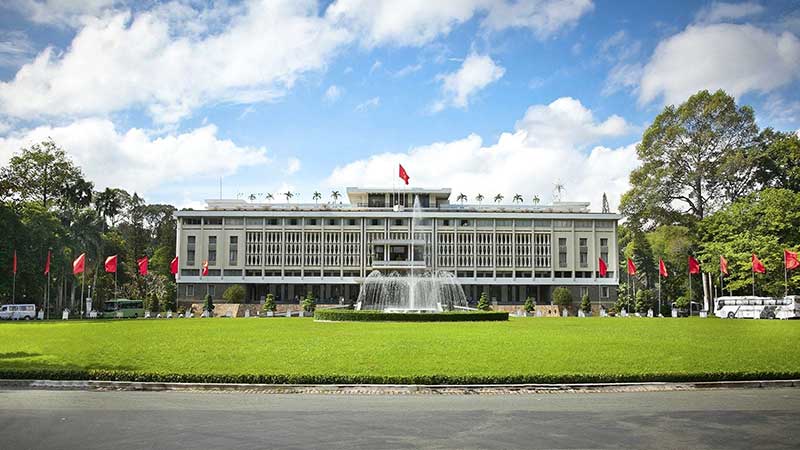 The museums of Ho Chi Minh City
Ho Chi Minh City is home to some very interesting museums that will fascinate history lovers. The War Remnants Museum is an essential stopover to understand Vietnam and its contemporary history. This museum brings together more than 1,500 documents, objects, photos and archive videos, as well as a collection of tanks, planes and weapons. Its goal is to retrace the atrocities of the American-Vietnamese Vietnam War so that the unimaginable is not forgotten and does not happen again.
Also worth discovering is the Fito Museum - Museum of Traditional Medicine of Vietnam. A collection of more than 3,000 objects linked to traditional Vietnamese medicine from the Stone Age to the present day is presented there: recipes for natural medicinal remedies, exhibitions of plants and medicinal alcohols.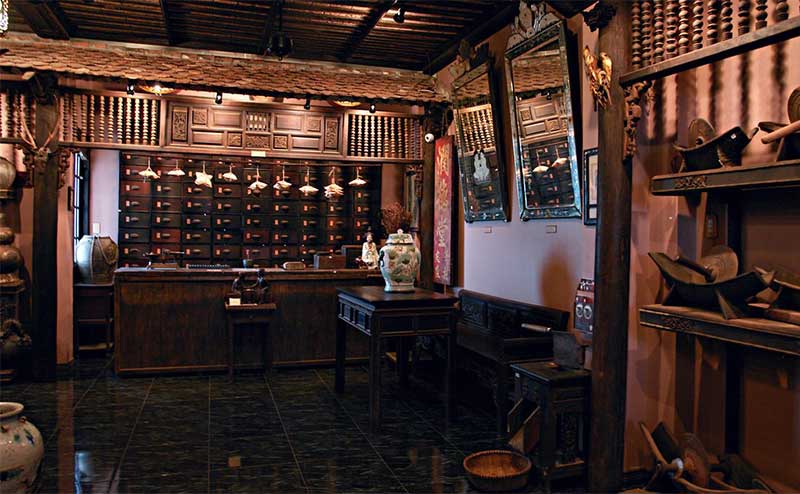 Nguyen Hue Pedestrian Street
Nguyen Hue Street is a wide promenade in the middle of downtown District 1. This pedestrian zone is surrounded by beautiful French colonial architectural marvels like the People's Committee, the Rex Hotel, and a luxury shopping mall.
Don't forget to visit Café Apartment 42, an iconic building on the pedestrian street. This 10-story old building is a complex of artistic boutiques, fashion boutiques and cafes. Many cafes in the building also offer panoramic views of the city. Finally, end your day in style by watching the sunset from Bach Dang Pier, located at the other end of Nguyen Hue Street, which offers a magnificent view of the Saigon River.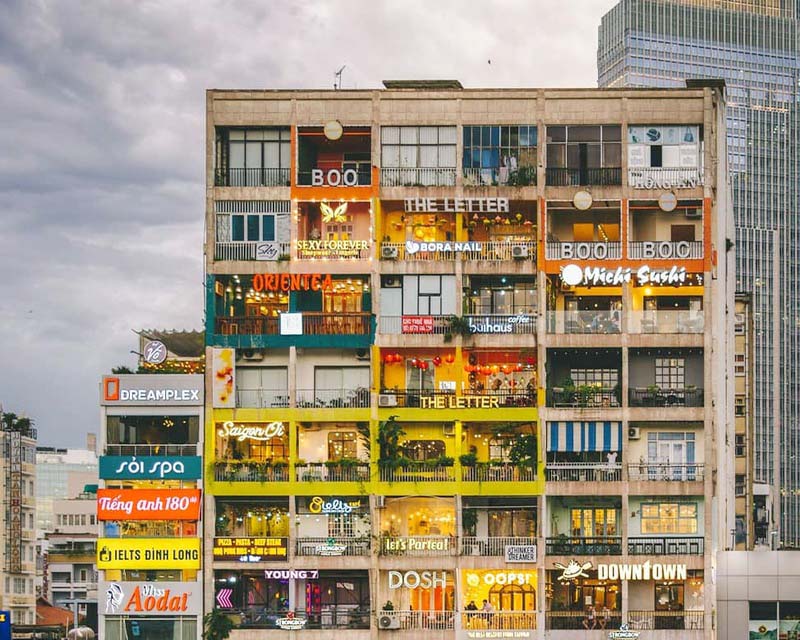 If you want to explore Ho Chi Minh city in an original way, we recommend taking the "Sai Gon water bus". This river shuttle service allows you to experience the city from a different perspective, navigating the Sai Gon River. In addition, the price is very affordable, with a fare of only 15,000 VND for a one-way ticket or 30,000 VND for a round trip, or around €1.2.
The departure pier is located downtown, close to the Liberty Central Saigon Riverside Hotel and the famous Nguyen Hue Walking Street, making it an easily accessible activity for travelers. The "Sai Gon water bus" offers you a breathtaking view of the city's historic buildings and its modern skyscrapers. You will also be able to admire the daily life of the inhabitants who work and travel along the river. This experience is a unique opportunity to discover the city differently, while enjoying a moment of relaxation and tranquility on the water.
Tortue Lake, located in the 3rd district of Saigon, is a popular place for local young people to meet, chat and have a good time with friends in the evenings and weekends. This visit will allow you to discover the daily life of local youth and learn more about their culture. The lake is surrounded by trees and offers a cool and pleasant atmosphere, ideal for a short walk even if you are in downtown Saigon.
Turtle Lake is located near two popular tourist sites in Saigon: Saigon Notre Dame Cathedral and The War Remnants Museum . This makes it a great place to visit for a fun-filled day, where you can explore the city's history and culture, then relax in a peaceful setting surrounded by trees.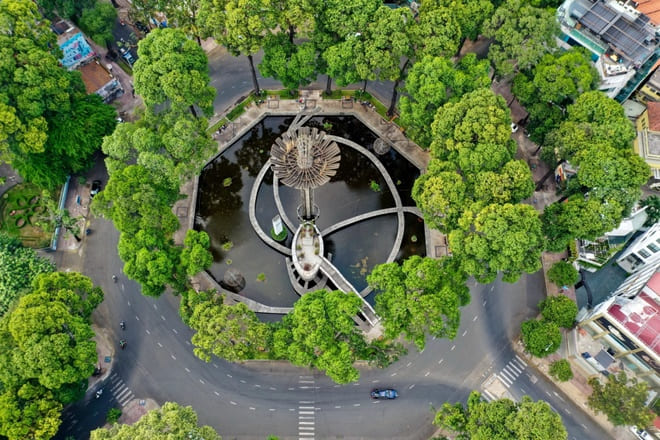 Dinner cruise on the Saigon River
A dinner cruise on the Saigon River is an unforgettable experience in Ho Chi Minh City. You can admire the city lit up at night while enjoying delicious local dishes. The boats are tastefully decorated and offer a romantic and peaceful ambiance. This activity is ideal for couples on their honeymoon or for a special evening with friends or family. Be sure to book in advance to guarantee your place on board.
Below are some highly recommended cruise restaurants in Saigon: Saigon Princess Cruise, Bonsai Cruise, Indochina Junk (The Pearl of the Orient), Indochina Queen Cruise.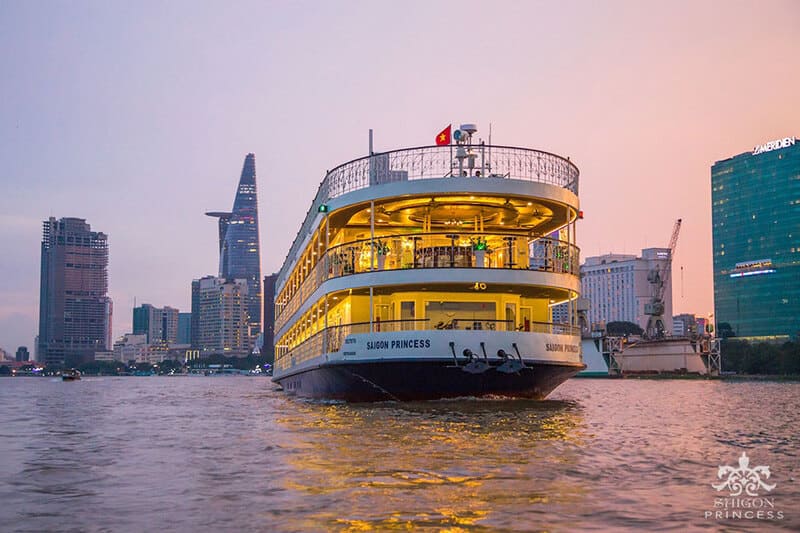 Nightlife in Ho Chi Minh City
Ho Chi Minh City is renowned for offering the best nightlife in Vietnam. Party people and fans of music scenes will be delighted. Here, the choice is vast! From beer bars to cocktail bars, trendy nightclubs, prestigious casinos, renowned jazz clubs and eclectic music scenes, bustling Bui Vien Street has it all. Saigon is a city that never sleeps.
For visitors preferring peace and quiet, another way to discover the city at night is to (re)discover the historical monuments lit by the glow of street lamps, and to enjoy a dinner cruise on the Saigon River, or a panoramic view over the skyscrapers of Ho Chi Minh City, promising you a romantic evening. As for shopping enthusiasts, Ben Thanh Night Market is the perfect place to visit.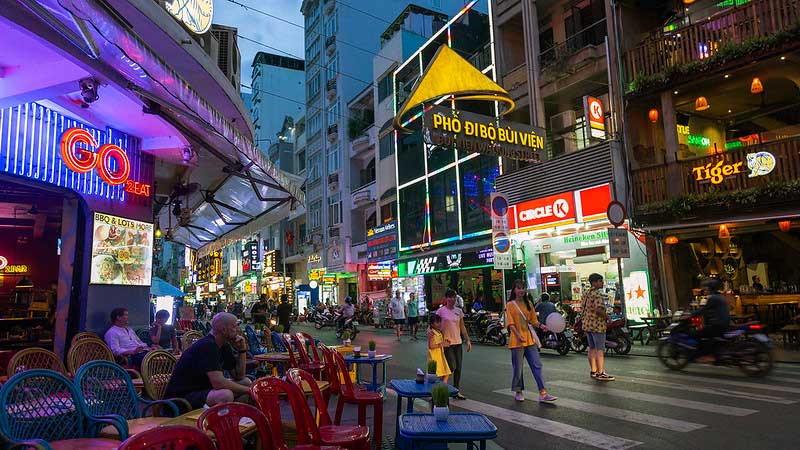 You also need to know how to get away from the city to discover certain places of interest which have made Ho Chi Minh City's tourist reputation. The amazing Cu Chi Tunnels , located an hour's drive from the city center, is one such exciting site to discover and an integral part of the city's history. They were dug by communist independence guerrillas to fight against the French and then the Americans.
These consist of more than 200 kilometers of cramped tunnels, which in some cases do not exceed 60-70 centimeters in width and 80-90 centimeters in height. During a visit to the Cu Chi Tunnels, you can discover the dormitories, kitchens, meeting rooms and dispensaries where Viet Cong fighters and their families lived.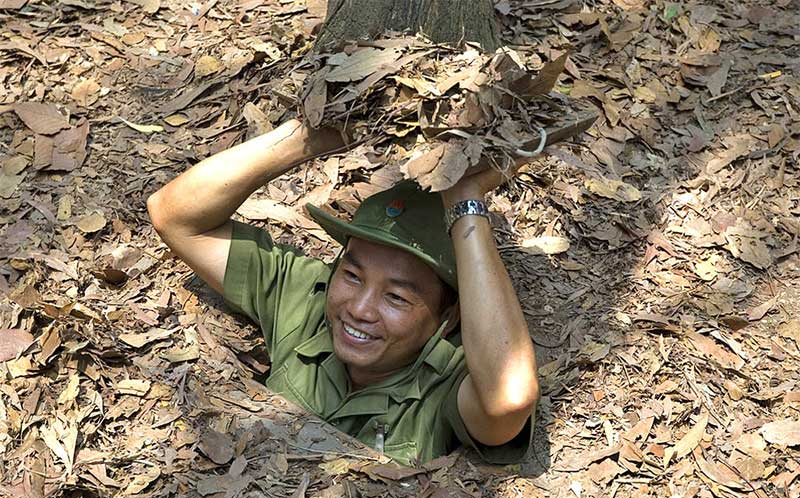 The pagodas and temples of Ho Chi Minh city
Ho Chi Minh City is full of numerous architecturally magnificent Buddhist temples and pagodas, some of which date back centuries. Located in the heart of the city center in District 3, Vinh Nghiem Pagoda is one of the most impressive pagodas with its harmonious design between Vietnamese and Japanese architecture. It serves as a center for Buddhist beliefs and practices, while also being one of the finest spiritual attractions for tourists to visit and explore in Saigon.
Located in District 9 on a hill near the Dong Nai River, Buu Long Temple is also a religious center not to be missed. Blending architectural styles from India, Myanmar, Laos, Thailand and of course Vietnam, this temple is mesmerizing with its stupa masterpiece, Gotama Cetiya. Being one of the largest stupas in Vietnam, it consists of 5 towers of different shapes and sizes as well as a 7-story main tower in the center.
What culinary specialties should you absolutely try in Ho Chi Minh City?
Explore Ho Chi Minh City's vibrant culinary scene, which captures the essence of southern Vietnam. Among the iconic dishes that will take you to the heart of this dynamic metropolis, don't miss the opportunity to savor the delicious Com tam Saigon, a flavorful grilled rice garnished with succulent meats. Also immerse yourself in the unique experience of Hu tieu, a soup that embodies the soul of southern Vietnam.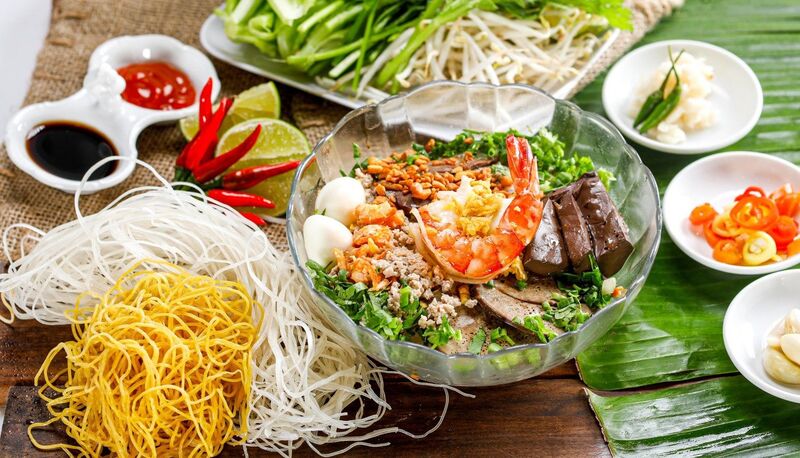 Banh mi, a perfect fusion of French baguette and local flavors, will make you melt with pleasure with every bite. But the gastronomic adventure doesn't stop there! Don't miss other culinary treasures, such as Goi cuon, delicious fresh and light spring rolls, as well as sweet desserts often enhanced with a touch of coconut milk characteristic of southern cuisine.
Whether you're looking for authentic street delights or more refined experiences, Ho Chi Minh City offers an endless variety of choices, from affordable culinary pleasures to the most luxurious experiences.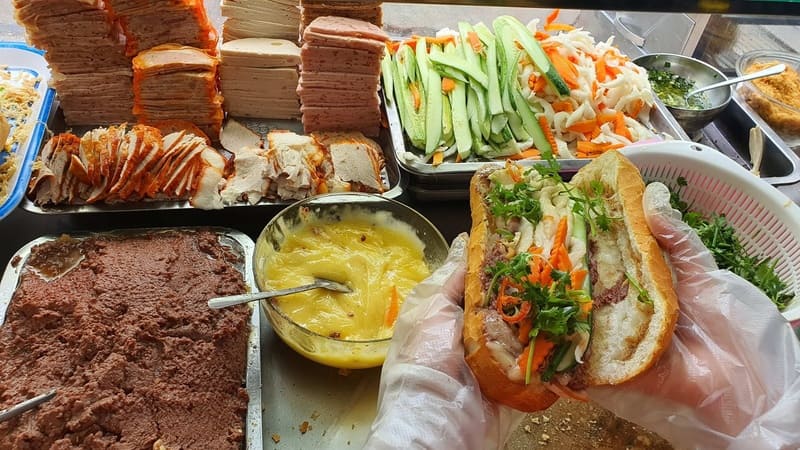 What sites can be combined with a visit to Ho Chi Minh City?
Going back towards the Cambodian border, we reach the Cao Dai temple in the town of Tay Ninh, located approximately 95 km west of Ho Chi Minh City. It takes about 2 hours to get there by car or motorbike.
This city is the seat of Caodaism, a religion bringing together the main ancestral spiritualities from the Far East to the West. Its cathedral is a fascinating mix of pagoda and Catholic church, like this community inspired by Buddhism and Christianity. It was born barely a century ago and has the particularity of having designated the great Victor Hugo as one of its apostles.
During your stay in southern Vietnam, consider traveling to the Mekong Delta region from Ho Chi Minh City. This is the perfect excursion to combine a nature stay with a visit to the southern metropolis. On the program: boat trip through the maze of arroyos and countless canals, bike ride through green rice fields, majestic nature where coconut trees reign, visit to workshops manufacturing coconut products, discovery of traditional villages of the Cham and Khmer ethnic groups, and exploration of the floating markets of the Mekong Delta.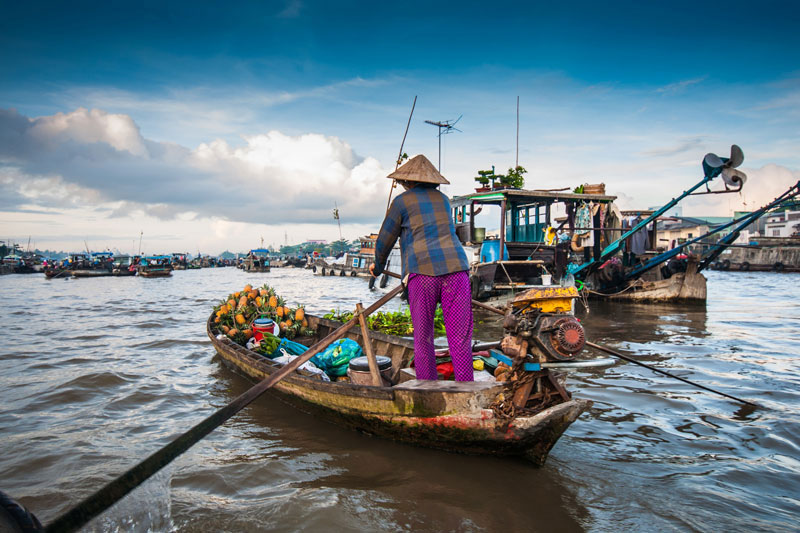 Just 1 hour away by plane from Ho Chi Minh City are the tropical beaches of Phu Quoc Island . This island is like a postcard with its heavenly beaches of fine white sand under the coconut trees, its blue waters teeming with fish, its small huts and beach bars... The island is full of activities: masks and snorkels, boat trips offshore, visit authentic fishing villages by bike, water sports, hiking in the national park, visit pepper plantations, an artisanal Vietnamese Nuoc Man sauce factory... there's never a dull moment in Phu Quoc!
Our last words,
Ho Chi Minh City: a must-see destination during your trip to Vietnam. We hope that this comprehensive guide to Ho Chi Minh City will help you plan your stay optimally. Another fascinating fact about this metropolis is linked to its dual names, Ho Chi Minh City and Saigon. But why these two names and what stories are hidden behind each of them? If this arouses your interest, we invite you to discover all the details in our following article: Saigon or Ho Chi Minh City, which name to use for this city?
---