The 5-Day Must-Sees of Cambodia Tour
Hanoi
Ha Long bay
Ninh Binh
Hue
Hoi An
Ho Chi Minh
Mekong Delta
Phnom Penh
Siem Reap
15 days 14 nights
The Essentials
Price from
Contact us
Embark on a 5-day Cambodian adventure that will immerse you in the magic of Angkor's ancient temples in Siem Reap. From there, journey to the vibrant streets of Phnom Penh, exploring the heart of the nation's culture and history. It's a captivating voyage through Cambodia's most iconic destinations.
The 5-Day Must-Sees of Cambodia Tour
What unique experiences await during your trip ?
Angkor Temple Marvels: Discover the awe-inspiring Angkor temples, including the famous Angkor Wat.
Siem Reap's Richness: Immerse yourself in the cultural tapestry of Siem Reap, with its vibrant markets and local charm.
Grand and Petit Circuit: Explore diverse temples and architectural wonders on the Grand and Petit Circuits.
Phnom Penh Insights: Uncover Cambodia's history and culture in the bustling capital of Phnom Penh.
Local Experiences: Engage with Cambodian traditions, savor authentic cuisine, and connect with local communities for an enriching journey.
Travel phases
Hanoi
Ha Long bay
Ninh Binh
Hue
Hoi An
Ho Chi Minh
Mekong Delta
Phnom Penh
Siem Reap
Day 1 Siem Reap Arrival - free time
Upon landing at Siem Reap airport, your guide welcomes your family warmly before a driver escorts you to your Siem Reap hotel. After checking in, you have the day to unwind, whether by relaxing or witnessing the captivating Angkor Wat Temple sunset, a true Khmer architectural masterpiece.
Stay overnight in Siem Reap.
Day 2 Siem Reap - Angkor Temple Discovery
Morning: Explore Angkor's Main Sites by local remok (tuk tuk):
Begin at Angkor Thom, featuring the iconic South Gate adorned with carved elephants and faces.
Angkor Wat temples, dedicated to Vishnu, the supreme god of Hinduism, are considered the masterpieces of Khmer art and architecture.
Visit the mesmerizing Bayon Temple, known for its 39 enigmatic towers.
Wander the former Royal Palace grounds to uncover hidden temples.
Afternoon: Discover the countryside and local life:
Explore a nearby market, learning basic Khmer greetings.
Journey through picturesque villages and rice fields.
Visit an evening street market and fairground for a taste of local life.
Overnight in Siem Reap.
Day 3 Siem Reap, large and Small Temples
Morning dedicated to discovering small and large temples:
Explore Banteay Srei temple (Citadel of Women), the highly sacred temples of Takeo, Banteay Kdei, and the impressive temple of Ta Prohm—an abandoned Buddhist monastery overgrown with trees and its gigantic snake-like roots (Ta Prohm, famous from the 'Tomb Raider' movie, with jungle-covered ruins).
Enjoy a free afternoon for relaxation in Siem Reap or indulge in the Siem Reap night market.
Day 4 Siem Reap - Phnom Penh
Travel to Phnom Penh in a private car without a guide, passing through Kompong Cham, which translates to 'port of the Chams.'
Arrive in Phnom Penh late in the morning and check in at the hotel.
In the afternoon, embark on a boat trip followed by a bicycle ride to Koh Dach Island.
Return to the hotel at the end of the day, with an opportunity to witness the beautiful sunset over the Mekong River.
Spend the night at the hotel.
Day 5 Phnom Penh city tour - Departure
Day dedicated to exploring Phnom Penh, the Cambodian capital:
Begin at Wat Phnom, the Buddhist temple that gave birth to Phnom Penh in the 14th century.
Visit the Royal Palace, which has served as the residence and workplace of the Norodom kings since 1870. Also, explore the Silver Pagoda, one of the country's most unique pagodas, known for its floor entirely paved with silver slabs, a gift from the French king, Napoleon III.
Explore the Apsara Association, an art school that trains deprived children.
Visit the Toul Sleng Genocide Museum, formerly a school converted into a prison where thousands of Cambodian women were detained and tortured during the Khmer Rouge regime.
Depending on your flight schedule, you'll be transferred to the airport for your return journey.
This marks the conclusion of our services!
Trang VU, 36 years old
Travel Consultant
Are you considering this itinerary ?

Quick & relevant response within 48 hours
Free quote with no commitment
Tour Price
This price includes:
Accommodation for the entire circuit, in hotels or with locals
Travel according to the program by private car
English-speaking guide for the visits mentioned in the program
All activities mentioned in the program, including entrance fees to tourist sites
Economy class domestic flights with airport taxes included
Meals mentioned in the program
Bottle of water during guided tours (2 x 500ml/traveler/day)
Government taxes currently in force (VAT, etc.)
This price does not include:
International flights from your home
Visa fees, payable directly at the airport customs (see VISA)
Bank fees related to payment
Personal insurance
Personal beverages during meals: beer, Coca-Cola, fruit juice, etc.
Other meals not specified in the program
SIM card and mobile plans
Tips, personal expenses, and other services not mentioned in the "Our Included Services" section
Most frequently asked questions
1. What are the Cambodian visa requirements?
As for the Cambodian entry visa, no special procedure is required. You can obtain it directly from Cambodian authorities upon your arrival at Siem Reap airport or the Chau Doc border crossing in Phnom Penh. However, you will need to provide 2 passport-sized photos in addition to your passport and a fee of 30-35 USD per person.
2. What is the best time to visit Cambodia?
3. Can one reach Cambodia by air?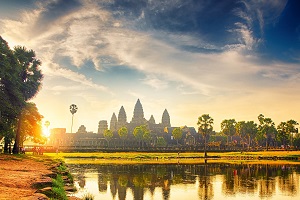 Thank you for your interest in:
Tour:

The 5-Day Must-Sees of Cambodia Tour

Duration: 15 days 14 nights
Type: The Essentials
Please feel free to contact us if you have any questions or provide us with details about your project. Our advisor will contact you shortly.
Our information and quotes are completely free!
If you are unable to submit this form, please contact us directly at :