Vietnam Cambodia Laos tour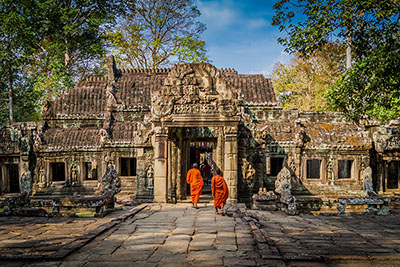 Begin an extraordinary 15-day adventure through Indochina, where you'll have the chance to discover the cultural and natural wonders that have been honored and safeguarded by UNESCO in Vietnam, Cambodia, and Laos. This immersive journey will lead you from the breathtaking landscapes of Halong Bay to the rich historical heritage of Hue, and from the awe-inspiring marvels of Angkor to the soulful heart of Laos, Luang Prabang. Our wide array of excursions will offer you an authentic and profound insight into these precious gems of Southeast Asia.
Vietnam tour
The Essentials
Price from
Contact us
This three-week tour of Vietnam, Laos, and Cambodia offers a comprehensive exploration of the rich heritage, diverse landscapes, and vibrant cultures of these neighboring countries. With ample time at your disposal, you'll have the opportunity to engage in a wide range of activities across various destinations, allowing you to gain profound firsthand knowledge of the region.
Vietnam
The Essentials
Price from
Contact us
Experience a 20-day journey like no other as you traverse Hanoi, Halong Bay, Hoi An, Ho Chi Minh City, the Mekong Delta, Phnom Penh, Siem Reap, and Luang Prabang. Discover the heart and soul of Vietnam, Cambodia, and Laos with a meticulously curated itinerary. From the bustling city streets to serene natural wonders, this adventure offers a diverse range of experiences. Embark on this unforgettable expedition through Southeast Asia.
Laos tour
The Essentials
Price from
Contact us
Trang VU, 36 years old
Travel Consultant
Need information about planning your trip ?
Considering personalizing your itinerary ?

100% designed to your preferences
Free quote with no commitment
Most frequently asked questions
1. Can we start the journey in Cambodia and finish it in Vietnam?
2. What are the 'must-visit' sites during a trip to Vietnam?
3. Can I choose the travel date?
4. What type of vehicle is planned for my trip?
5. Is there any specific vaccination required for our trip?
6. How much does a SIM card cost?