Combined Tours
Dive into a tapestry of discovery with our combined tours that seamlessly weave together the cultural gems of Cambodia and its neighboring nations. From the majestic temples of Angkor to the vibrant landscapes of neighboring countries, our thoughtfully curated itineraries promise an immersive exploration of the diverse wonders that define this corner of Southeast Asia.
From Halong Bay to Angkor Temples in 15 Days
You only have 15 days but want to visit two countries, Vietnam and Cambodia? This 15-day Vietnam-Cambodia tour is designed for you! You will first explore the north of Vietnam, starting with the thousand-year-old capital of Hanoi, the magnificent Halong Bay, and the terrestrial Halong Bay. Then, you will journey down to the central region to visit the former imperial capital of Hue and the charming old town of Hoi An. Moving south, you'll travel up the Mekong River to Phnom Penh, the capital of Cambodia, before continuing to Siem Reap to discover the spectacular Angkor temples.
The Essentials
Price from
Contact us
View details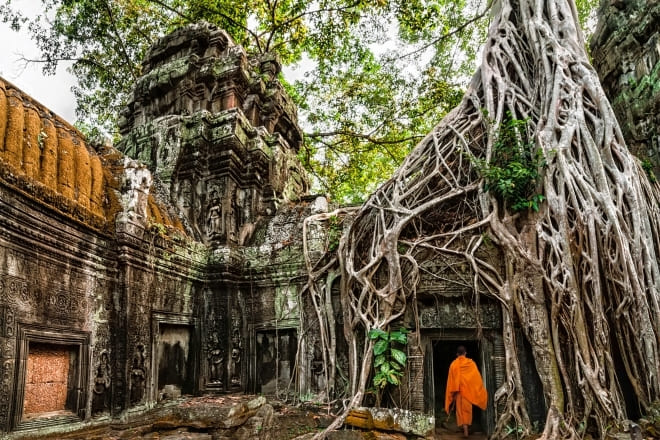 South Vietnam & Must-See Cambodia
Uncover the charm of South Vietnam and the allure of Cambodia on this captivating journey. Explore vibrant cities, historic sites, and the enchanting landscapes of the Mekong Delta and the mighty Mekong River. From the bustling streets of Ho Chi Minh City to the ancient wonders of Angkor, experience the best of these two incredible destinations.
The Essentials
Price from
Contact us
View details
Trang VU, 36 years old
Travel Consultant
Need information about planning your trip ?
Considering personalizing your itinerary ?

100% designed to your preferences
Free quote with no commitment