Da Nang: 7 questions before visiting the most pleasant city in Vietnam
If you're looking to combine natural, cultural, and beach experiences, Danang is the perfect place for a relaxing, immersive, and captivating vacation! This vibrant city, situated between Hue and Hoi An, two stunning UNESCO-listed destinations, boasts a breathtaking coastline and remarkable cultural heritage. During your trip to Vietnam, consider making a stop in this city, as its appeal extends beyond beach pleasures. Wondering what to do and see in Danang? Follow this guide to the 14 best must-try activities to make the most of your stay in central Vietnam.
Where is Da Nang located?
Da Nang is located in the heart of Vietnam, between the national capital Hanoi and the southern metropolis of Ho Chi Minh City, approximately an hour's flight from each. As a popular beach destination, it occupies a central place on the Central Heritage Road, surrounded by three globally recognized cultural sites: approximately 100 km away is the imperial city of Hue; 30 km away is the charming old town of Hoi An; and 50 km away is the My Son Hindu temple complex, built by the Champa civilization.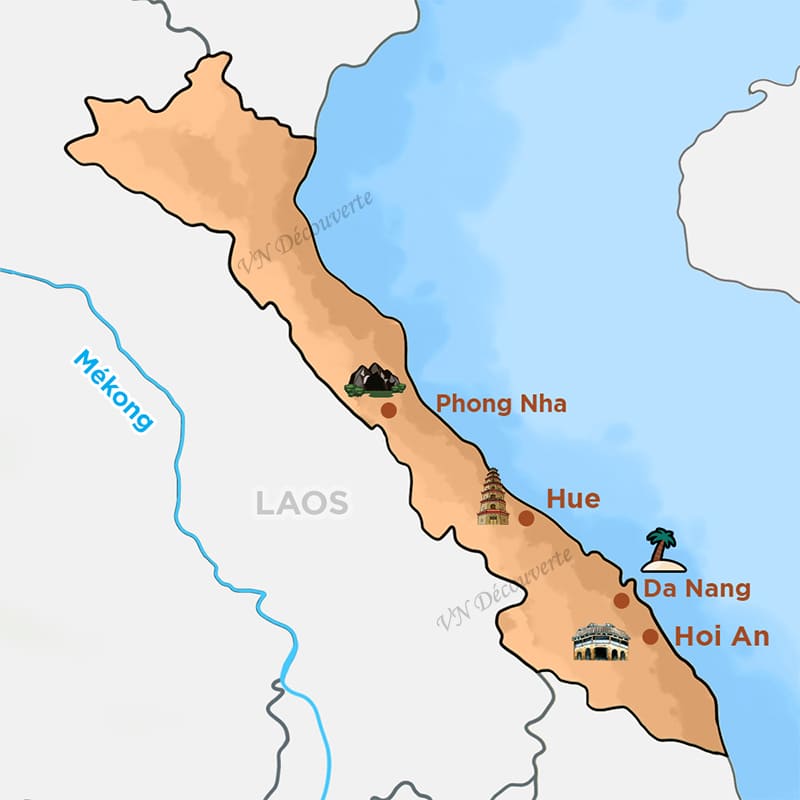 Why is Da Nang considered the most liveable city in Vietnam?
Da Nang stands out as the most conducive city to a fulfilling life in Vietnam due to an exceptional combination of factors. With its splendid beaches with crystal blue waters and enchanting natural setting, Da Nang attracts travelers seeking beach relaxation and exciting cultural explorations.
Moreover, its welcoming and warm culture enhances its charm, while its exceptionally clean environment makes it one of the Vietnamese metropolises least affected by pollution. The city is also distinguished by its progressive social safety net policies, attracting both visitors and foreign residents alike. Thus, Da Nang has earned a worldwide reputation as a city offering a remarkable quality of life.
What to do and see in Danang?
1. City tour and discovery of the Dragon Bridge
    What to do and see in Danang for an essential discovery? Start with a pleasant cyclo-pousse ride through the picturesque streets, passing by the city's iconic bridges spanning the Han River. A must-see is the Danang rotating bridge, which, at midnight, pivots 90 degrees to allow boats to pass before returning to its original position an hour later.
Another gem to admire is the Dragon Bridge (Rong Bridge), spanning over 600 meters and crowned by a majestic yellow dragon sculpture. This symbolic bridge of the city lights up as night falls, offering a spectacle not to be missed: every Saturday and Sunday from 9 pm, the dragon spouts fire and water, creating a magical ambiance.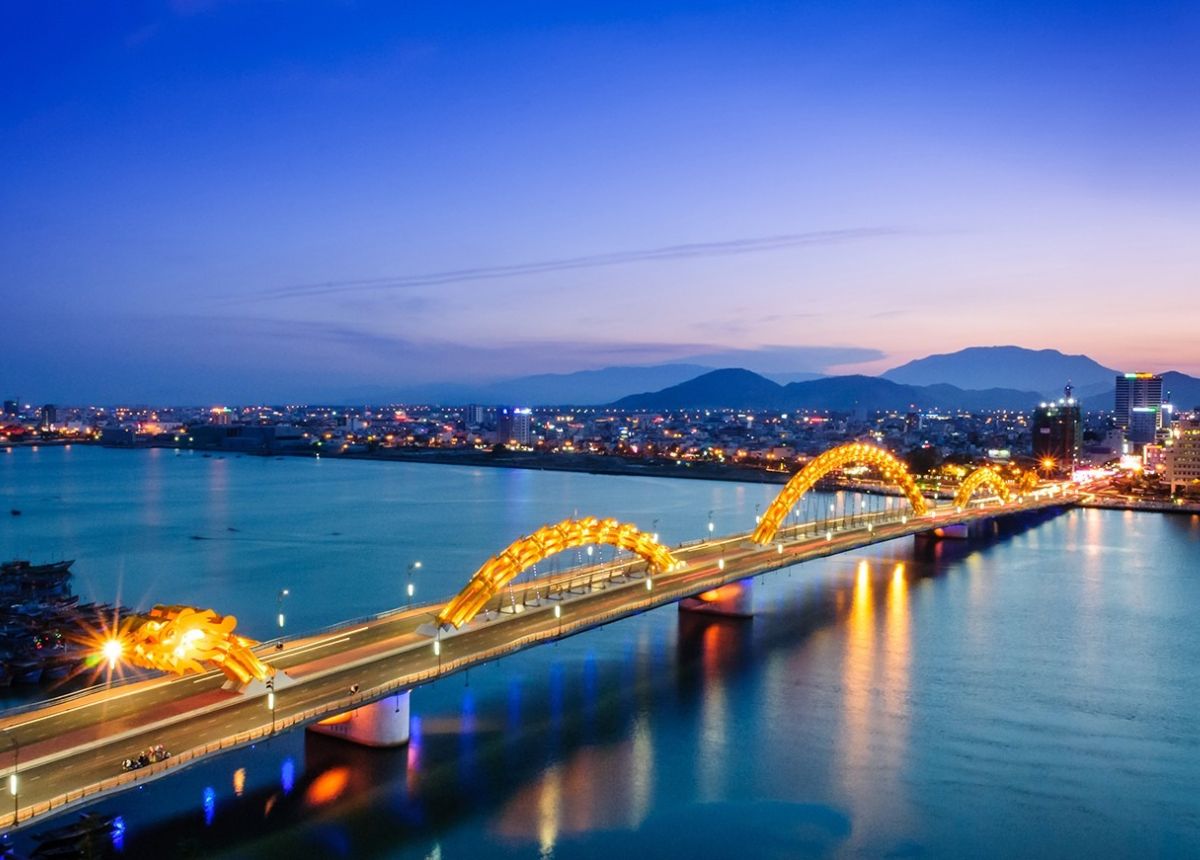 2. Dream beaches and relaxation
Danang is renowned for having some of the most beautiful beaches in Vietnam. Travelers like to come to Danang to enjoy its sunny climate for most of the year and for its divine white sand beaches where it is pleasant to relax or practice water sports (surfing, sailing, jet skiing, kayaking, paddling…). You can also enjoy fresh fish and seafood on the beaches of Danang where several restaurants welcome you for lunch or dinner with your feet in the water.
Which beach to choose during your seaside stay in Danang? My Khe, a superb stretch of white sand bordered by clear water was a place of rest and relaxation for American soldiers during the Vietnam War which they nicknamed "China beach", Xuan Thieu whose water is adorned with flamboyant colors at sunset, the lazy and peaceful Non Nuoc or the delicious Tien Sa beach superbly nestled at the foot of the Son Tra peninsula.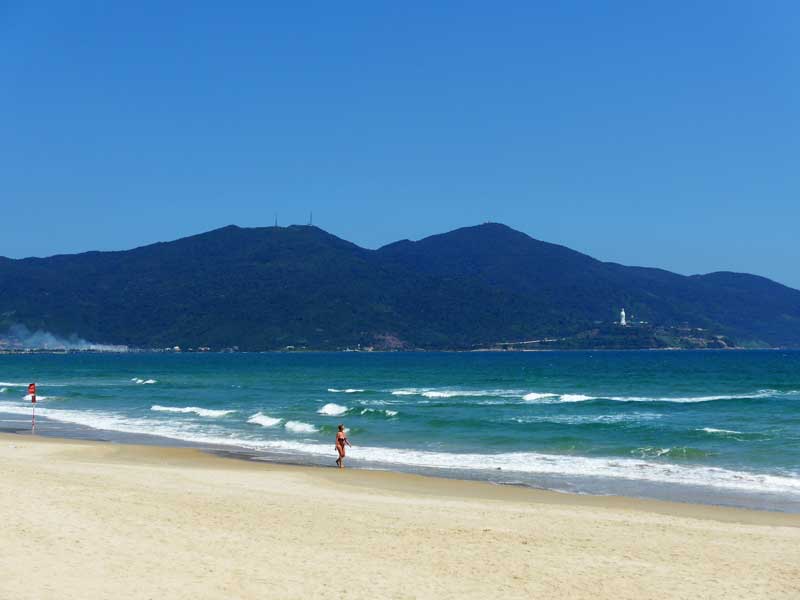 3. The marble mountains and its pagodas
The Marble Mountains are one of the most captivating things to do in Danang. Located about ten kilometers south of the city, the Marble Mountains bring together five hills made of marble and limestone representing the 5 elements: water, wood, fire, metal and earth. It is a very famous Buddhist and Hindu pilgrimage site comprising tunnels, caves with astonishing Buddha statues, pagodas and temples with breathtaking views of the city and the coastline.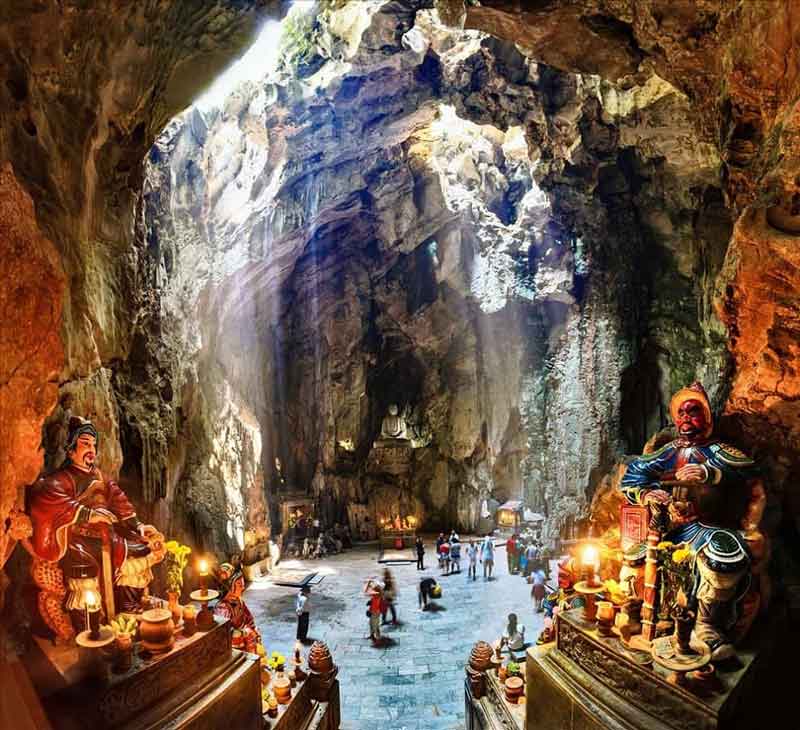 4. The Cham Sculpture Museum
The Cham Sculpture Museum is a must-visit for history and culture enthusiasts. Under the auspices of the French School of the Far East, it was conceived and proposed in 1902 by archaeologist and architect Henri Parmentier and was completed in 1919. Housed in a magnificent old colonial-era building, the Cham Sculpture Museum holds the largest collection of Cham art and sculpture in the world.
Among the approximately two thousand collected antiquities, the museum exhibits stunning pieces primarily crafted from sandstone, terracotta, and copper, showcasing the evolution of Cham art between the 7th and 15th centuries. History enthusiasts will also be delighted to complement this visit with a trip to the My Son Sanctuary, located 30 minutes from Hoi An, showcasing the remnants of this mysterious civilization influenced by both Buddhist and Hindu traditions.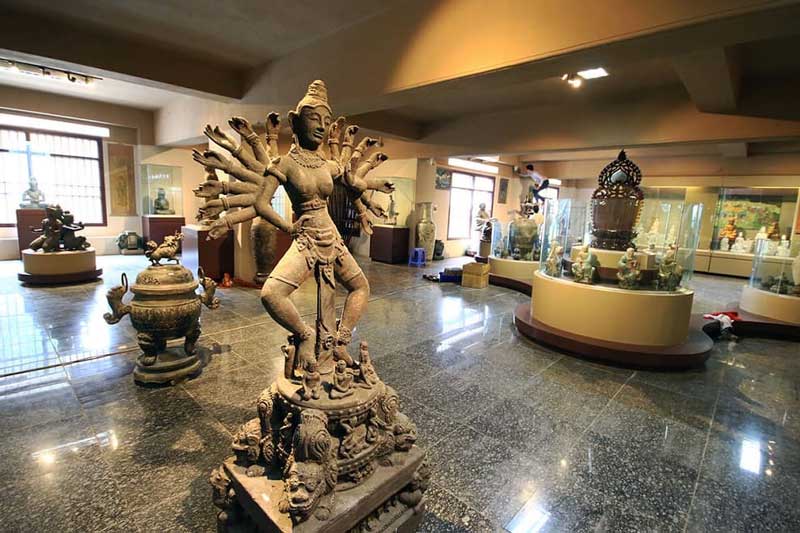 5. Lively nightlife 
Danang is truly a pleasant city with a lively and diverse nightlife. Here are our top 5 picks for the best bars! Sky Bar 36 offers a chance to sip a drink and enjoy a superb panoramic view of the illuminated city. The Dawn, located on My Khe Beach, delights music enthusiasts with live performances right by the water.
If you're into electronic music, Golden Pine is the place to go. Conversely, if you prefer varied music genres, give Simple Man a try: Vietnamese rock from the 70s, German house, American punk rock—there's something for everyone! On the Radio is also one of the city's most popular bars as many local singers and bands perform there regularly.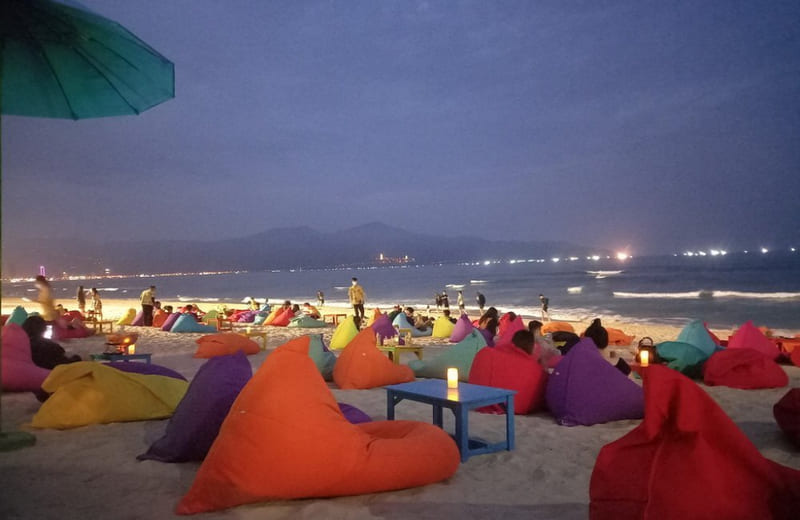 6. Kayaking on the Han River
Kayaking on the Han River is definitely an exciting sporting activity that should not be missed. You will have the opportunity to paddle a kayak directly on the famous Han River, which flows through the city of Da Nang, at the foot of the Dragon Bridge. This experience will allow you to admire the magnificent landscape of the city and observe the Dragon Bridge. Discover another side of Da Nang from the river. You can participate in this activity with "Danang kayak club", a reputable company that offers these exciting activities.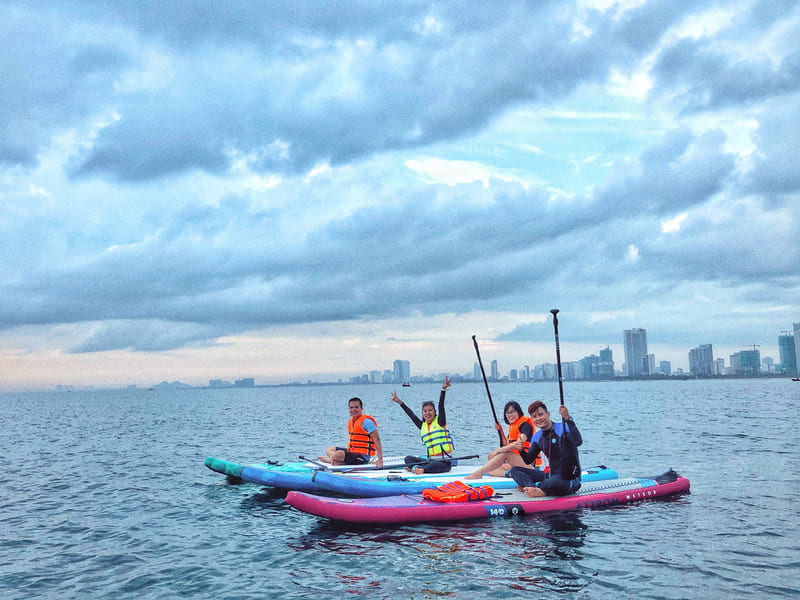 7. A cruise on the Han River
If you also want to admire the beautiful city of Da Nang with a different view from the river, besides kayaking, you can opt for a boat cruise. A romantic evening aboard a cruise, enjoying the breeze, will allow you to appreciate the dazzling beauty of the illuminated city. Han River cruises operate every evening, with four departures per day, and each trip lasts 45 minutes. Passengers are picked up and returned to the Da Nang pier. Tickets can be purchased online or directly at the platform.
You will have the opportunity to visit the most famous bridges in Da Nang, nicknamed the "city of bridges", and admire the magnificent landscapes on both banks of the Han River. In addition, you can taste the refined gastronomy of Central Vietnam and attend traditional Cham dances. So you can enjoy the night view of the city while discovering the Cham culture aboard the boat. This is truly a must-do experience when visiting Da Nang.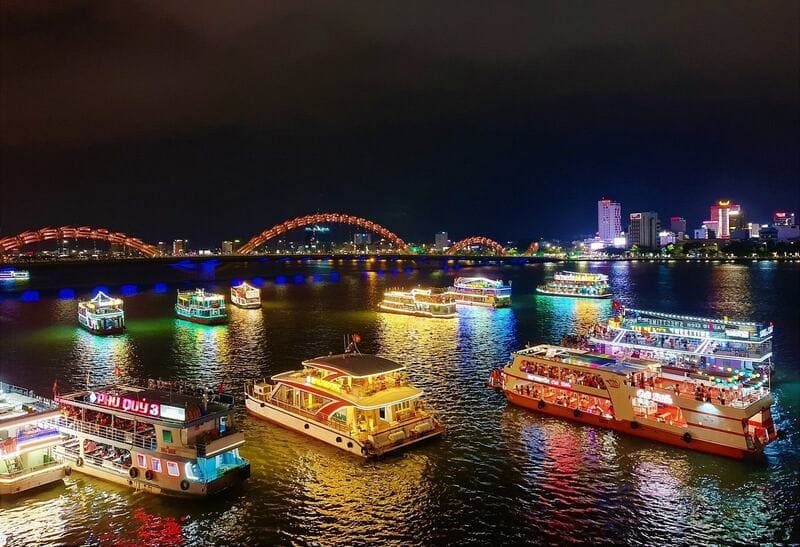 8. Excursion to Ba Na Hills
Ba Na Hills is a leisure park, perched at an altitude of 1,500 meters, which was once a health resort that welcomed French soldiers and settlers at the beginning of the 20th century. In 1940, there were around 200 villas designed especially for them. After the war, this site was rehabilitated into a natural and cultural amusement park, one of the favorite sites of the Vietnamese.
In this park, perfect for escaping the humid heat, you can discover the following attractions: the largest cable car in Vietnam, an immense statue of Buddha, the Golden Bridge or "hands of God" with its striking panorama of the surrounding mountains, the Garden of Love, a reconstruction of a French village with castles and villas and a fantastic amusement park for children.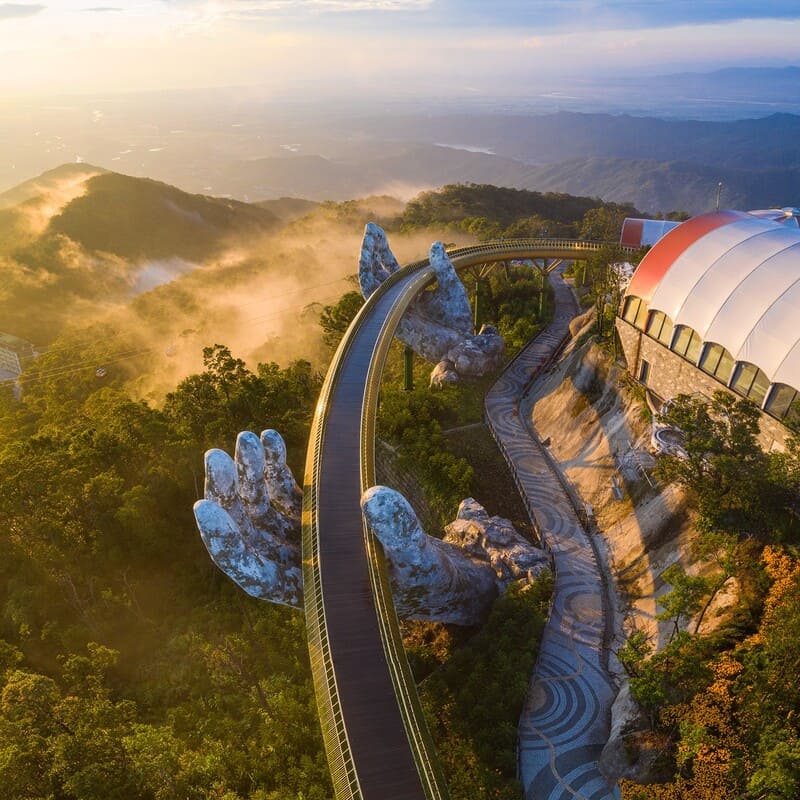 9. Son Tra Peninsula and Lady Buddha
The Son Tra peninsula, nicknamed Monkey Mountain in French, is ideal for a nature getaway between the jungle, ancient trees, monkeys, and pagoda. It is a nature reserve sheltering diverse and preserved fauna and flora, including the Douc monkey species. At the end of the reserve, you can enjoy charming little beaches surrounded by dense tropical forests. The Son Tra Peninsula is also known for being home to the Linh Ung Pagoda (also called Lady Buddha) and its immense 67-meter Buddha statue, the largest in Vietnam, visible for miles around.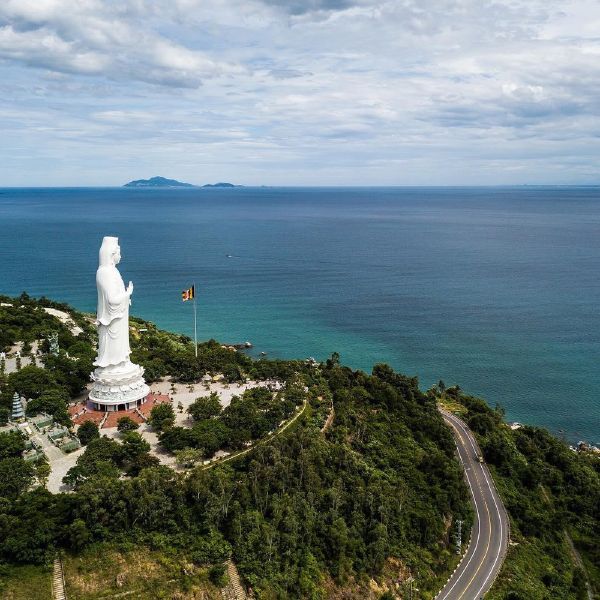 What to do near Danang Vietnam?
Cloud Pass and Lang Co Bay
The Cloud Pass, more commonly called "Hai Van Pass", is one of the most spectacular panoramic roads in central Vietnam where springs gush from the rocky slopes and where vast rice fields die on the sand, the only border between the land and the sea.
About 20 km long, the pass runs alongside the Bach Ma nature reserve to dive onto the coastline and the splendid bay of Lang Co. A feast for the eyes and a concentrate of thrills! After passing Cloud Pass, relax on Lang Co Bay and swim in the bright blue waters of the bay heaven on earth!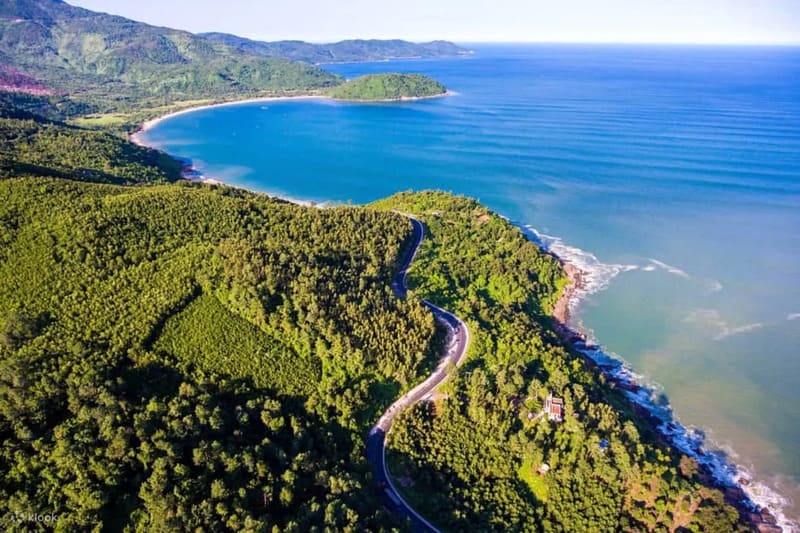 Visit Hoi An, the city of lanterns
Referred to as Vietnam's most charming city and the city of lanterns, Hoi An is a tourist's favorite cultural city! Listed as a UNESCO World Heritage Site in 1999, travelers are seduced by this ancient trading port city, with its century-old wooden houses, its colorful fishing boats, its richly decorated Buddhist temples, its typical Vietnamese markets and above all its atmosphere unique with its many colorful lanterns dotted throughout the streets of the city. An absolutely magical atmosphere!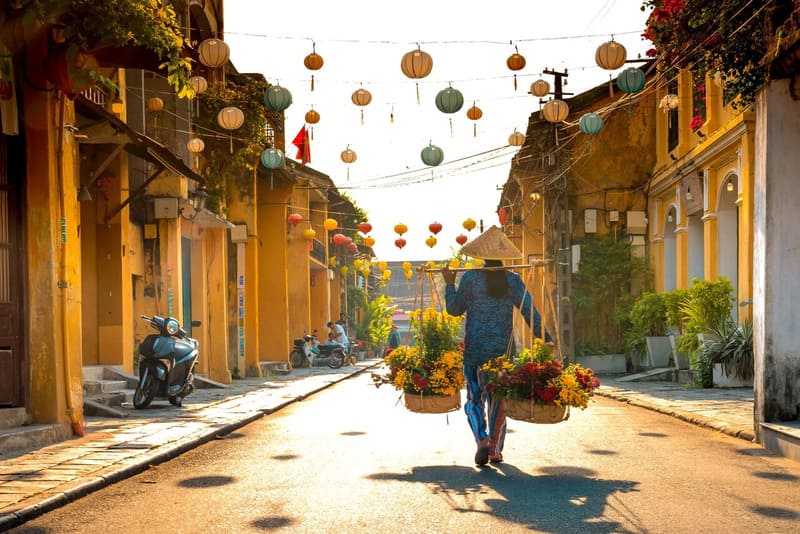 The Cham Islands (Cu Lao Cham)
The Cham Islands, also known as Cu Lao Cham, are a group of eight islands located 20 km off the coast of Hoi An town and 45 km from Danang. These islands offer a marvelous landscape and exceptional biological diversity. In fact, Cu Lao Cham was recognized by UNESCO in 2009 as a World Biosphere Reserve.
During your visit to Cu Lao Cham, you will have the opportunity to snorkel and explore the colorful coral reefs of this Cham Islands Biosphere Reserve.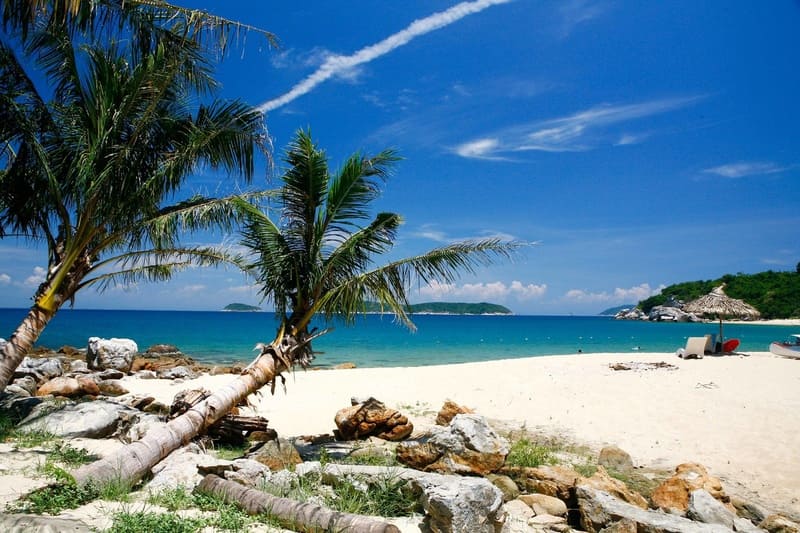 Discovery of the My Son sanctuary and the Cham civilization
Here is a must-see for all history, architecture and archeology enthusiasts: the My Son sanctuary. Located 40 kilometers from Hoi An, this site, listed as a UNESCO heritage site, attracts travelers for its remarkable remains, witnesses of the ancient Cham civilization which has now disappeared. There we discover a group of ancient temples and towers of red brick and sandstone with Hindu and Buddhist influences.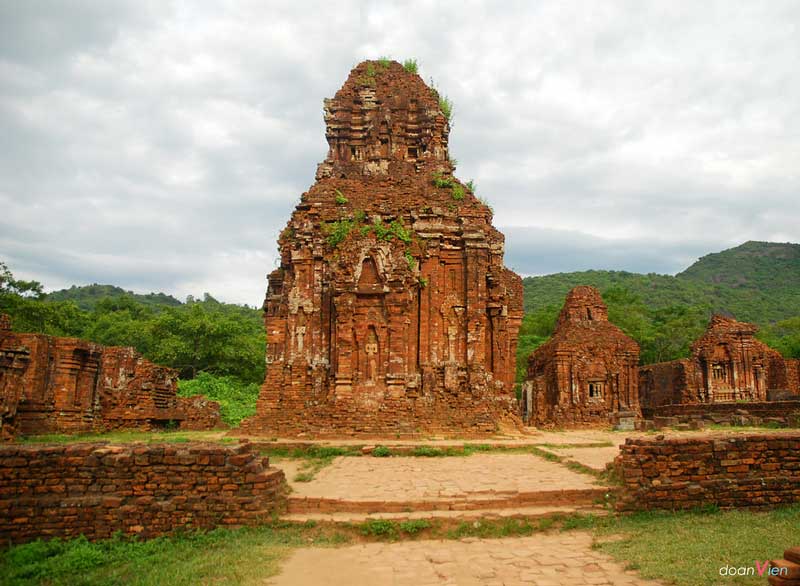 What is Da Nang famous food?
When passing through central Vietnam, it would be a shame not to try one of the culinary specialties of this region, whose cuisine is renowned for being more flavorful and seasoned than in the north of the country. Start by enjoying a bánh xèo, a delicious Vietnamese pancake topped with pork, shrimp and bean sprouts.
Also try "banh trang cuon thit heo", pieces of pork wrapped in a rice cake. If you prefer to eat noodles, order a "mi quang", a delicious shrimp noodle soup or a bun cha ca, a bowl of thin and tasty fish noodles. Finally, it would be a shame not to taste the city's specialty, veal cau mong, accompanied by small vegetables and subtly seasoned. Enjoy your food !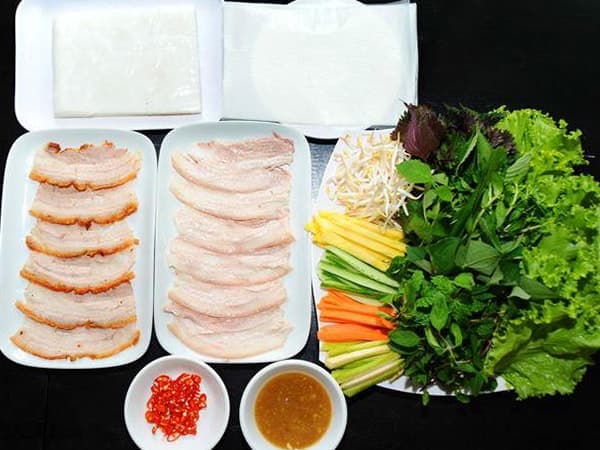 How to get to Danang?
By plane: Da Nang International Airport is located approximately 3 km from the city center. Many airlines offer direct flights to Da Nang from many cities in Asia, Europe and Australia.
By train: It is possible to take the train from Hanoi or Ho Chi Minh City to Da Nang. The trains, although not high speed as in some countries, nevertheless offer pleasant comfort and allow you to enjoy breathtaking views of the magnificent coastal landscapes.
By bus: Regular buses connect Da Nang to many cities in Vietnam. Queen Cafe bus is one of the well-known bus companies in Hanoi that offers a daily trip to Da Nang.
By car: It is possible to rent a car or scooter to travel to Da Nang from other cities in Vietnam. However, driving in Vietnam can be chaotic and dangerous, so it is advisable to take extra precautions if you choose this option.
When to go to Da Nang?
Dry season (December to August)
During this period, Da Nang offers a pleasant and refreshing climate. Although it is hot from May to August, this destination continues to attract visitors with its beautiful beaches such as My Khe, Non Nuoc and Son Tra Peninsula. The dry season also corresponds to the peak tourist season, when services are flourishing. It is recommended to book your plane tickets and hotel rooms in advance to ensure a hassle-free trip.
Rainy season (September to November)
The rainy season in Da Nang runs from September to November, and the weather during this period is often unpredictable, with the risk of thunderstorms. Therefore, if you opt for this period for your trip, it is essential to carefully monitor the weather forecast before departure.
So, the ideal times to visit Da Nang are from March to the end of August: magnificent weather, blue sea waters, white sandy beaches and golden sunshine, providing perfect conditions for a seaside vacation.
Our last words,
Visiting Danang Vietnam allows you to spend a complete stay alternating seaside pleasures, cultural visits, natural and taste discoveries. It is an unmissable destination which allows you to easily visit other unmissable sites: Hoi An, Hue… Do you want to discover this welcoming region rich in curiosities?
---