Chau Doc: Complete guide in 6 questions for a successful trip
Chau Doc is an important town in An Giang province, located close to the Vietnam-Cambodia border. Talking about Chau Doc immediately makes us think of a unique place where different cultures meet. This cultural diversity blends harmoniously with generous nature and wonderful spiritual stories. In this article, we will provide you with a list of must-do activities as well as practical information to make the most of your stay in Chau Doc.
Where is Chau Doc located?
Located about 245 km southeast of Ho Chi Minh City, Chau Doc is located on the banks of the "Hau" River, one of the two main branches of the Mekong Delta in Vietnam. Chau Doc is a border town between Vietnam and Cambodia. Over time, it has erased the traditional image of a simple crossing point between Vietnam & Cambodia and now attracts travelers for its incredible cultural diversity. This destination remains a land of cohabitation between 4 ethnic groups including the Kinh, the Cham, the Chinese and the Khmers.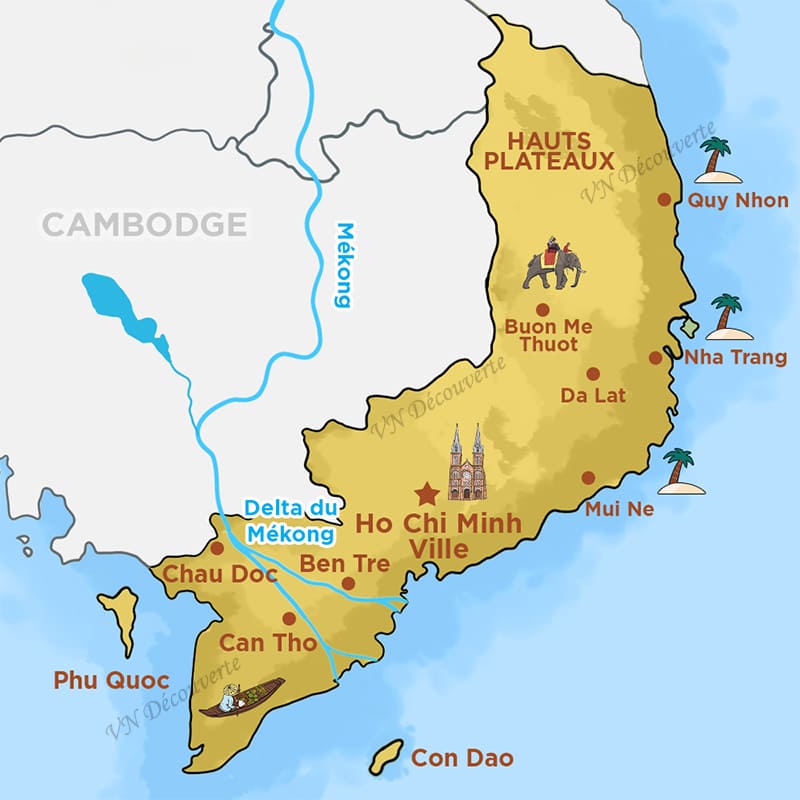 At present, the city appears as an ideal stop to discover another aspect of the Mekong Delta: floating villages stretching over several kilometers, Buddhist pagodas clinging to the sides of the mountains, vast expanse of rice fields, fish granary and notably Tra Su cajeputier forest.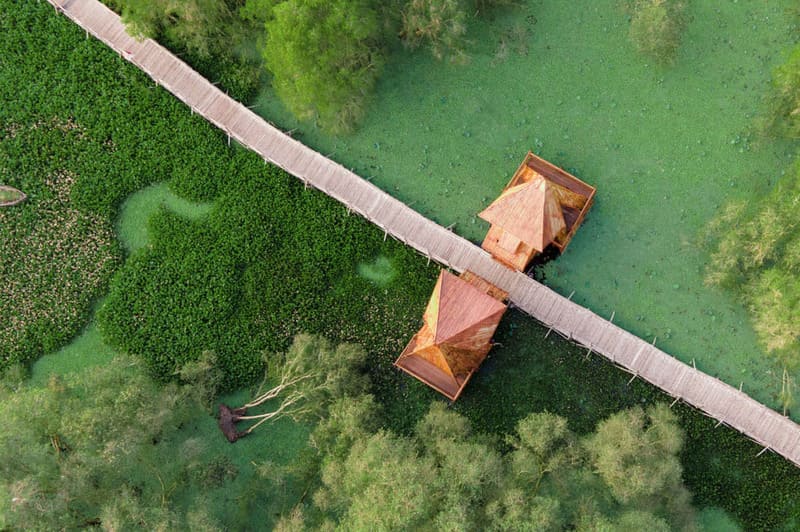 When to go to Chau Doc?
Chau Doc has a tropical climate which is characterized by two seasons: dry from November to early May, and rainy from late May to the end of October. You can visit this region of 7 mountains all year round but many tourists prefer the months of September to November, which correspond to the high water season. The floods during these months only rise little by little each day and fill the rice fields, canals, forests, which creates a luxurious atmosphere where tranquility reigns.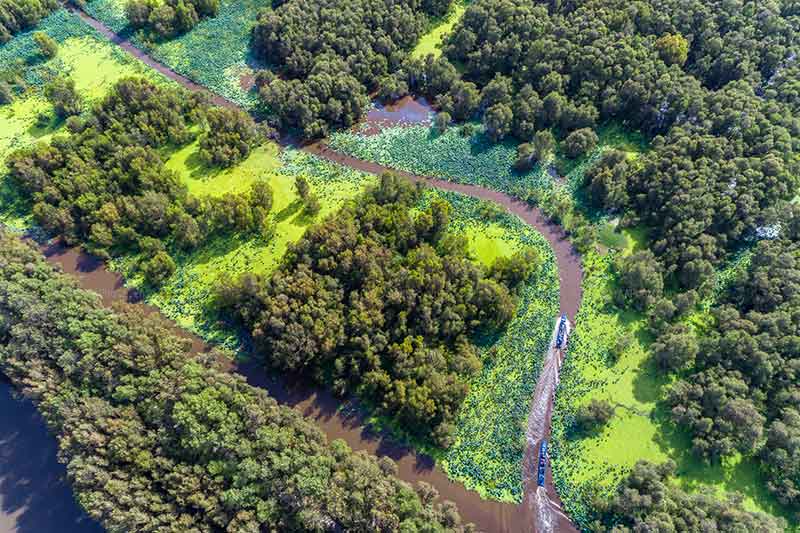 What to see and do in Chau Doc? 
1. The floating village in Chau Doc
Chau Doc floating market: in operation for a long time, the Chau Doc floating market is held on part of the Bassac river, about 10 minutes by boat from its central market. Less popular than the Cai Rang floating market in Can Tho, that of Chau Doc, still authentic and not very touristy, brings together several small boats, to which are added around 30-40 boats filled with goods and in particular fruit of all kinds. You can spot the product hanging on a pole attached to the boat to find out what kind of merchandise is sold on board. The peak of market activity occurs from 6 a.m. to 7 a.m., while it is less busy from 9 a.m.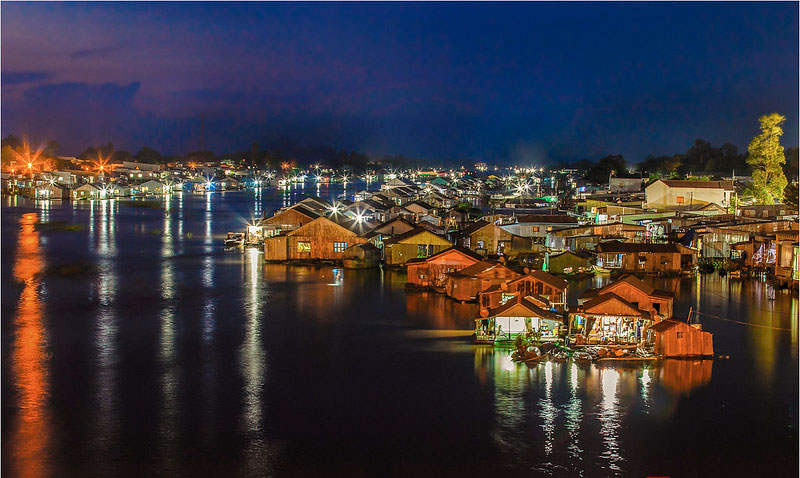 About 4km to the west, upstream of the Bassac River towards the Tan Chau and Chau Phu districts, several aligned floating houses form a raft village extended over a length of 3 to 10km. Each family builds a pale-colored wooden house with a sloping roof on a 4 x 8m raft. Underwater, hardwood columns of approximately 5m surrounded by stainless steel nets form cages to feed various lucrative fish such as catfish, stromata, pangasius, serran and notably basa fish - a symbol of the economy Chau Doc, exported to European and American markets. The boat trip in the middle of this fish farming world remains a great opportunity to better understand this traditional profession passed down from generation to generation, as well as the atypical way of life on the water of the local populations.
2. The culture and village of the Cham ethnic group
The province of An Giang serves as a refuge for more than 17,000 Muslim faithful spread across 9 villages. Along the banks of the Hau River and its branches, some Cham villages unfold before our eyes, characterized by astonishing tall wooden houses on stilts, most of them centuries old, as well as small or large mosques topped by the symbol of the Islam (crescent and star), but also brocade weaving & jewelry making workshops.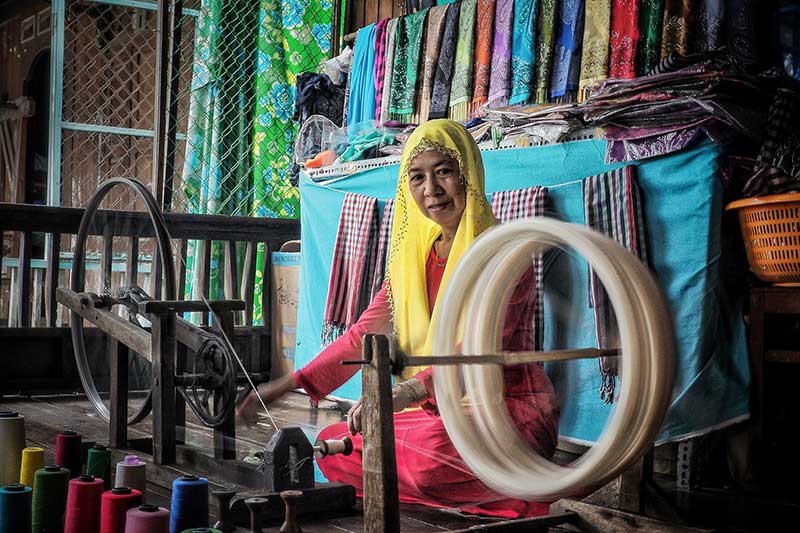 At Chau Doc, the curious could, after visiting the floating village, disembark at the Cham village of Chau Giang to discover this Muslim community. This village currently preserves their customs and costumes well: the women wear a loincloth and a scarf passing over their head, the men for their part wear a qamis - long tunic and cover themselves with a black headdress for the elderly, white for young people. They worship the holy Allah, the most sacred book of Islam - Qur'an and come to pray 5 times a day at the Masjid Al Ehsan, Mubarak and Jamiul-azhar mosques...
3. Tra Su Cajeputier Forest
Located 30 km from Chau Doc, with exceptional biodiversity, Tra Su is the dream destination for nature lovers.
This forest was created in 1983, from a hollowed-out plain contaminated by alum. We tried to plant cajuput trees to improve the soil and prevent flooding in the watersheds. Covering an area of ​​845ha, the Tra Su forest has exceptional biodiversity: 140 plant species, 11 animal species and around twenty fish species.
A canoe ride on the waters covered with duckweed and cajuput tree roots would be a romantic and charming experience. Early morning and at sunset when birds of several kinds come together to play, dance, glide or return to the nest are the two best times of the day for its discovery. It is also advisable to visit this impressive forest during the flood season, from September to November, due to the water filling in the forest, the lush vegetation.
During the flood season, you will get lost in a magical region with its water lettuce trails.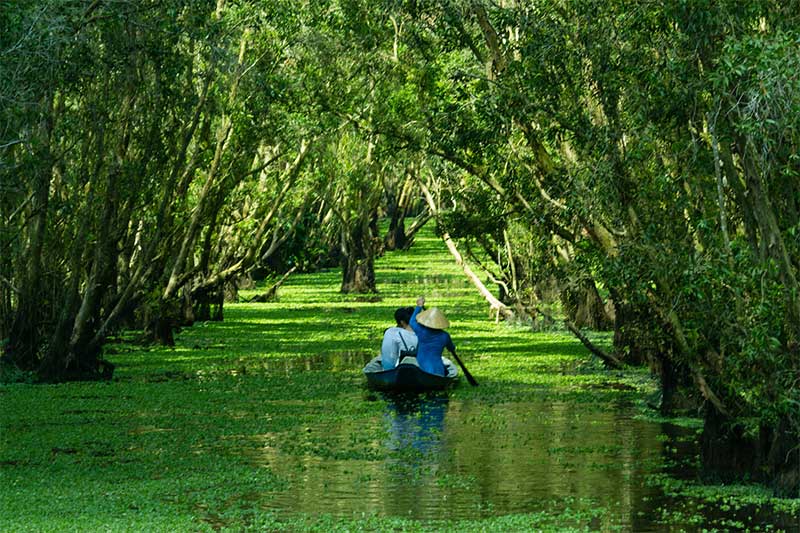 4. Mount Sam or Vinh Te Son
Located at an altitude of 284m and about 6km south of the town of Chau Doc, Vinh Te Son - another name for Mount Sam, given by King Minh Mang reigning from 1820 to 1841, overlooks a vast Mekong delta covered with lush vegetation and canals, tangled arroyos. This sacred mountain, with around 200 pagodas, temples scattered from the foot to the summit of the mountain, is a major place of Buddhist pilgrimage. The climb is carried out by a walk of approximately 1.5 hours from the Thoai Ngoc Hau mausoleum or facilitated by motorbike taxi in 15 minutes.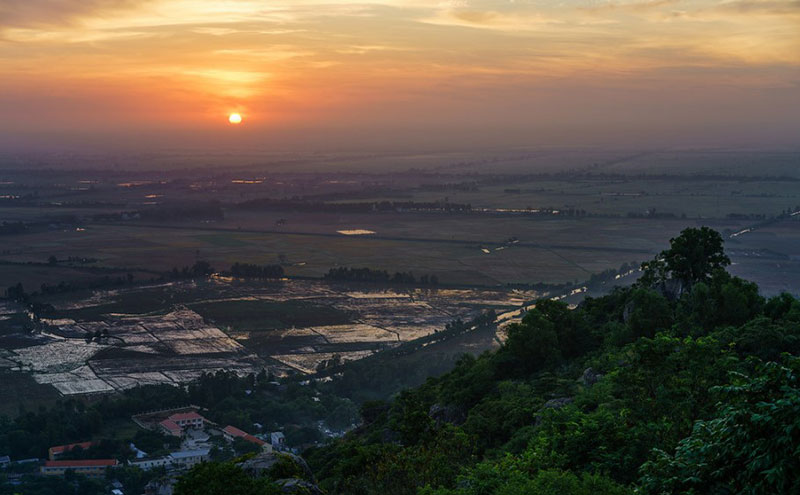 5. Tay An Pagoda
Located at the foot of Mount Sam, Tay An is an old pagoda built in 1847 and restored in 1958. It is renowned for its very colorful architecture which mixes Buddhist and Hindu style with its high dome. Its main sanctuary, higher in the middle, is reserved for the worship of Shakyamuni Buddha. At its entrance, two elephant statues, one black and one white, guard the door. On two sides, two lower drum and gong pavilions are built. There are 11,270 wooden statues of all sizes. On the 15th day of the first, 7th and 10th lunar months - feast days, many pilgrims pay homage to him.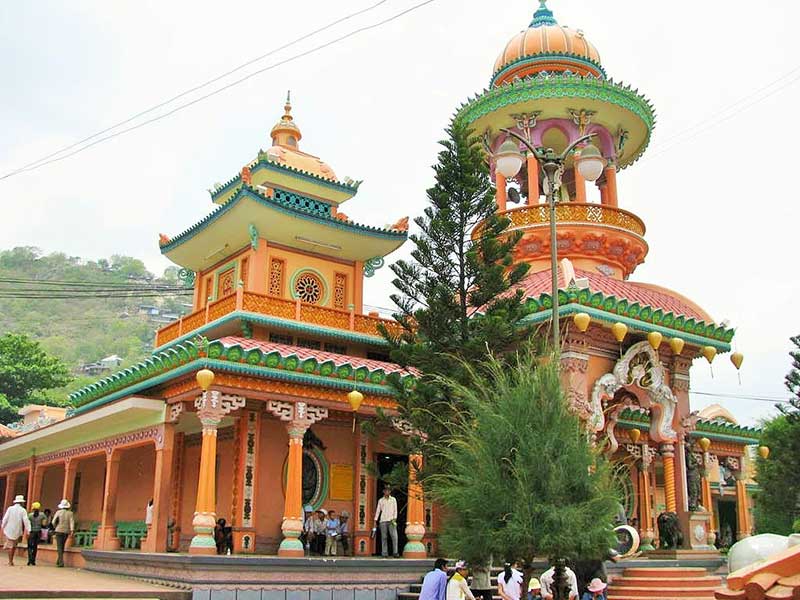 6. Goddess Chua Xu Temple
Very close to the right of Tay An Pagoda is a temple dedicated to Ba Chua Xu - a goddess worshiped since 1820 following the discovery of a statue on Mount Sam. According to French archaeologist Malleret, the statue of the goddess is inspired by a motif of that of Vishnu - one of three divinities of Hinduism. It was made of sandstone in the 6th century and remains one of the ancient objects of the Oc Eo culture of the 1st and 7th centuries - one of the oldest in Vietnam.
Having seen the light of day in 1870, this important place of pilgrimage was the subject of 4 years of restoration, from 1972 to 1976, before reaching its current version. Every year, on the occasion of the temple festival held from the 22nd to the 27th day of the 4th lunar month, many pilgrims come there to pay homage. It is forbidden to photograph the Goddess placed at the back of the temple.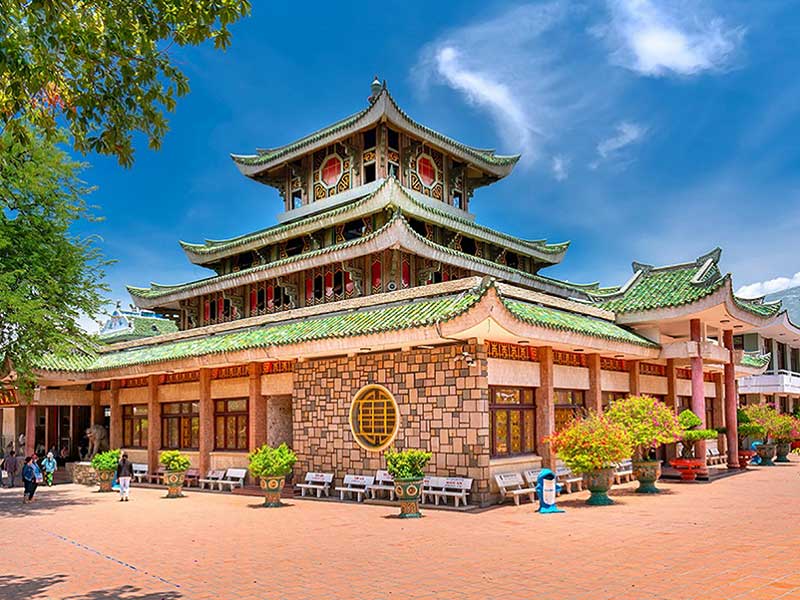 7. Hang Pagoda – cave pagoda
Hang is a local name given by locals to Phuoc Dien Pagoda (Phuoc Dien means the blessing ground). Located halfway, on the west side of Mount Sam, the Hang Pagoda was built in the 1840s and 1850s, initially in bamboo covered with leaves, then in brick, and finally in wood after several restorations. The pagoda houses two hexagonal tombs, one of Le Thi Tho, founder of this pagoda and the other of Thich Hue Thien, former bonze master.
Its main sanctuary is dedicated to the worship of Thich Ca Buddha and A Di Da Buddha. Inside, there is also a mysterious & deep cave where the two snake statues are venerated. Access to the Hang Pagoda requires climbing 300 steps on a fairly steep staircase but without any real difficulty.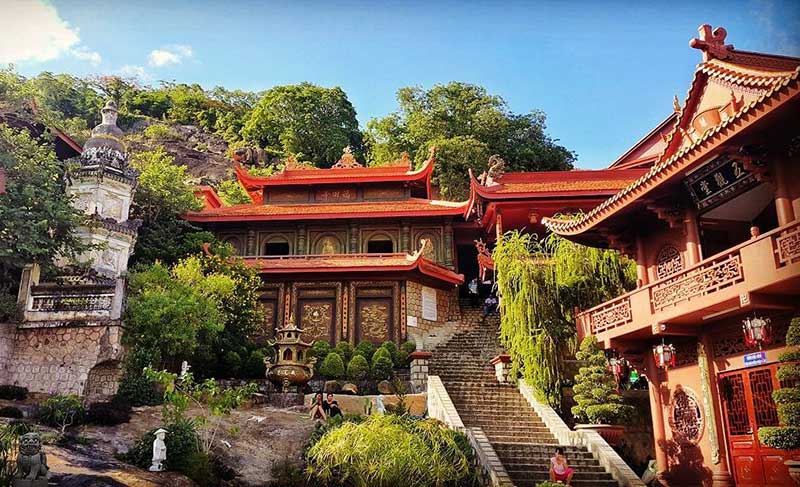 8. Tomb of Thoai Ngoc Hau
Built in the late 1920s, this imposing monument at the foot of Mount Sam is dedicated to Thoai Ngoc Hau, a high mandarin (1761-1829) during the Nguyen dynasty and his two wives. Thoai Ngoc Hau was a national hero who cleared, defended the region and built the famous Vinh Te canal allowing the creation of rice paddies, bringing water and facilitating local businesses. This tomb remains one of the typical works that saw the light of day during the reign of King Nguyen.
What visiting itineraries are suggested?
Chau Doc Vietnam is rarely visited independently, but is often offered as part of a program bringing together other famous destinations in the Mekong Delta including Ben Tre, Cai Be, Can Tho, Sa Dec, Long Xuyen… Below are some itinerary ideas:
Itinerary in 3 days 
Day 1: Ho Chi Minh - Ben Tre - Vinh Long (night at homestay or hotel in Vinh Long)
Day 2: Vinh Long - Can Tho floating market - Chau Doc, visit to Mount Sam
Day 3: Chau Doc - Tra Su nature reserve - Ho Chi Minh city
Itinerary in 4 days 
Day 1: Ho Chi Minh - Ben Tre
Day 2: Ben Tre - Tra Vinh - Can Tho
Day 3: Can Tho - Can Tho floating market - Chau Doc, visit to fish farms and Cham village
Day 3: Chau Doc - Tra Su nature reserve - Ho Chi Minh city
Chau Doc is recognized as the crossing point between Vietnam and Cambodia. After visiting Chau Doc, it is entirely possible to extend to Cambodia by the Chau Doc Phnom Penh boat in approximately 5 hours. There is a schedule/day of 7:30 a.m. from Chau Doc port and 12:00 p.m. from Phnom Penh port.
Where to stay in Chau Doc?
In Chau Doc, you have several accommodation options. However, most hotels are classified from one to three stars and only offer sufficient comfort: clean rooms with private bathroom and air conditioning, but the charm is lacking. It is crucial to choose carefully to ensure a pleasant experience during your visit. To do this, consult reputable hotel booking sites such as Booking, Agoda, and be sure to take into account the reviews of other travelers regarding the establishment you are interested in. Also, do not hesitate to contact the hotel of your choice directly to ensure all the details.
Among all the options available, we have selected three hotels particularly appreciated by our travelers: the Chau Pho Hotel, a three-star establishment, the Victoria Nui Sam, a beautiful four-star establishment with rooms scattered on the side of Mount Sam, and finally the Victoria Chau Doc Resort, a four-star hotel considered the best and located on the banks of the Hau River.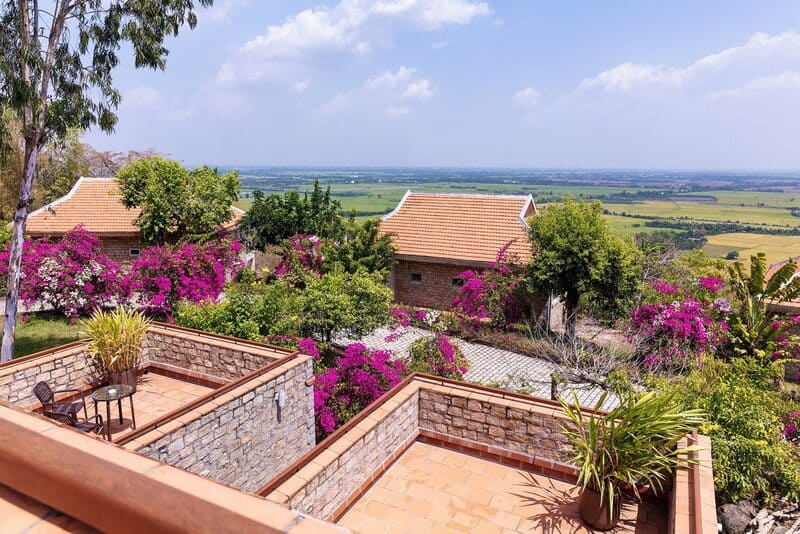 How to get to Chau Doc?
Departing from Ho Chi Minh City:
You can get to Chau Doc by local bus. Reliable bus companies are Thanh Buoi and Phuong Trang. For a more peaceful journey, you have the option of renting a private car with driver, which will allow you to take the initiative in terms of time and move peacefully.
You can take a direct flight from Hanoi to Can Tho, the capital city of the Mekong Delta, located 120 km east of Chau Doc. Alternatively, you can opt for a flight to Ho Chi Minh City and then take the local bus or a private car with driver for the Can Tho-Chau Doc or Ho Chi Minh City - Chau Doc route.
Finally, Chau Doc remains an excellent choice for an in-depth discovery of the Mekong Delta. The author hopes that the practical information acquired above proves useful for you.  
---