Hoi An: Complete guide and 15 must-do activities
Are you planning a trip to Vietnam and wondering what to do in Hoi An? We have prepared for you a Top 15 of the best activities for a memorable experience in "the most charming city in Vietnam".
In addition, we offer you practical advice for finding the ideal accommodation and organizing your transport to Hoi An. You will also discover the best times to visit this essential destination in Vietnam. Don't miss the opportunity to experience all that Hoi An has to offer!
Where is Hoi An Vietnam?
Hoi An is located in the center of Vietnam, about thirty kilometers south of Da Nang, the capital city of the central region of the country, and about a hundred kilometers north of Hue, the former imperial city. Considered the most charming city in Vietnam, Hoi An is an essential stopover in any itinerary to discover the country, whether from north to south or vice versa.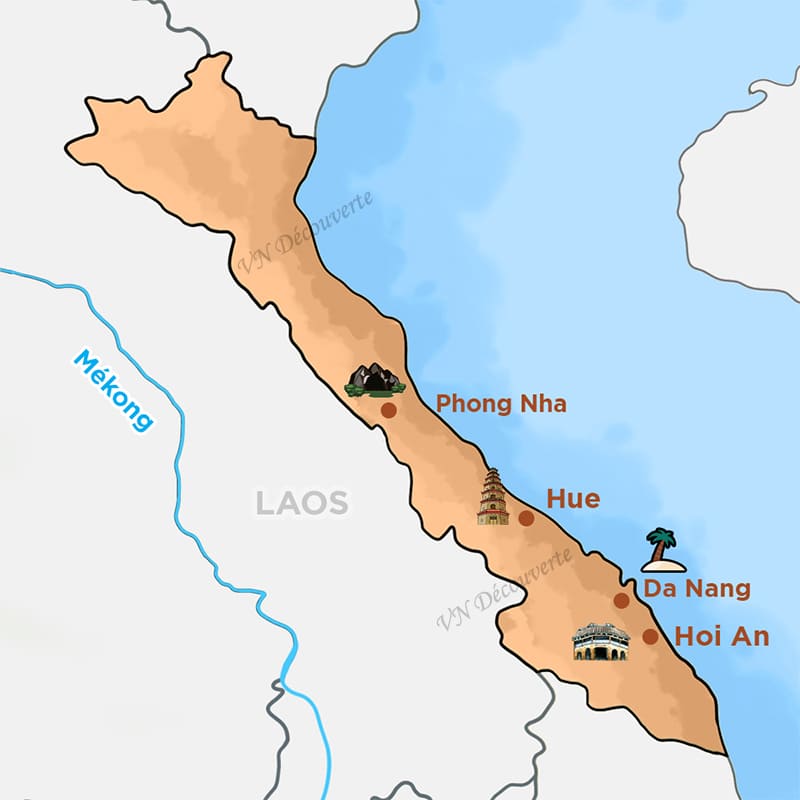 An overview of Hoi An, the most charming town in Vietnam
Hoi An, formerly known as Faifo in French, is a charming coastal town in Vietnam. It was once a bustling port from the 15th to the 19th century, attracting merchants from around the world to trade ceramics, silk and other goods.
Today, Hoi An is a town preserving its traditional Asian charm, with architecture reflecting Vietnamese, Chinese, Japanese influences, etc. It is also listed as a UNESCO World Heritage Site due to its rich history and its architectural beauty. The ancient and nostalgic features that emanate from the city create a soft and calming atmosphere, transporting visitors to a distant and vibrant world of color.
In addition to its cultural heritage, Hoi An is known for its traditional Vietnamese lanterns that light up the town, making it one of the most charming towns in Vietnam.
What to see and do in Hoi An? Top 15 essential activities
1. Take a stroll in the heart of Hoi An old town
The charming old town of Hoi An is nestled in the Minh An district, covering an area of less than 2 km2. The narrow, winding streets that make it up follow a unique checkerboard pattern, making it an interesting walking experience. The peaceful atmosphere that reigns in the pedestrian streets lined with old houses, multicolored lanterns and artisanal shops will enchant you. These places are perfect for delightful walks and personal discoveries.
You can also rent a bike and go on an adventure. So you will discover Hoi An at your own pace. As you cycle through the old town, you will be transported into a magical world with thousands of lanterns illuminating the streets, ancient houses and pagodas dating back centuries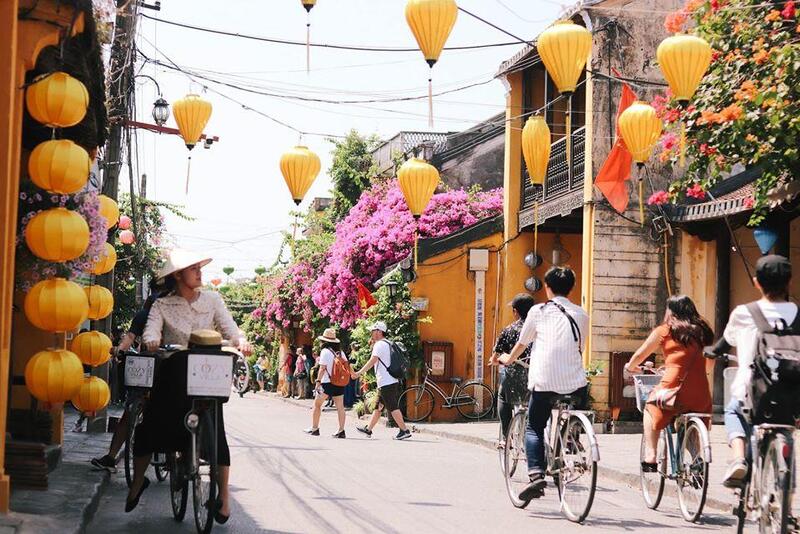 2. Discover the characteristic ancient houses of Hoi An
During a stroll through the old town, you can admire the ancient yellow houses characteristic of Hoi An. Indeed, this beautiful town is famous for its historic mustard yellow houses, which were once occupied by foreign merchants, as well as for its numerous Chinese communal houses, family homes and places of social, commercial and cultural activities.
Several old houses in Hoi An are worth a visit, including the Tan Ky Ancient House, a private residence dating from 1741 and full of antiques of great cultural and artistic value. But that's not all ! The city's other old houses, such as Phung Hung, Quan Thang or Duc An, are also unmissable.
All these architectural marvels are easily accessible in Hoi An Old Town. Visiting these ancient houses is undoubtedly one of the must-do experiences to do in this charming town, offering a journey back in time and an immersion into Vietnamese life from almost 200 years ago.
3. Visit Chua Cau, one of the iconic symbols of Hoi An town
Chua Cau, also known as the Japanese Bridge, was built in the 17th century by Japanese merchants. This famous bridge is distinguished by its unique architecture, harmoniously blending Vietnamese, Japanese, and Chinese elements. Built with wood and stone, it stretches majestically over a tributary of the Thu Bon River. Its beautifully carved lacquer roof adorned with wooden and stone sculptures adds to its striking charm. Interestingly, an image of this bridge even appears on the back of the 20,000 Vietnamese dong note, testifying to its symbolic importance for the country.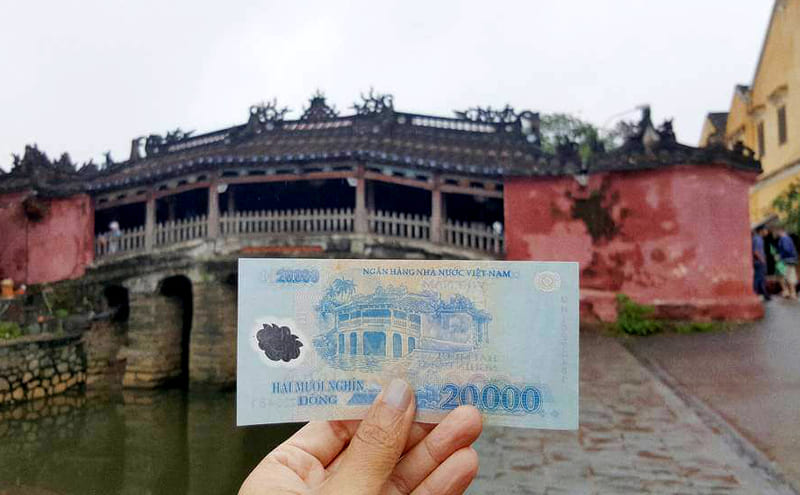 4. Marvel at the magical night of Hoi An
Hoi An transforms into a completely different atmosphere at night, offering unforgettable experiences. Stroll the pedestrian streets to admire the shimmering lights, colorful houses, and paper lanterns that light up to create a magical and romantic ambiance. Sipping a cup of Vietnamese coffee under the glow of traditional lanterns creates unforgettable memories. Additionally, you have the opportunity to purchase these lanterns as wonderful souvenirs for you and your loved ones.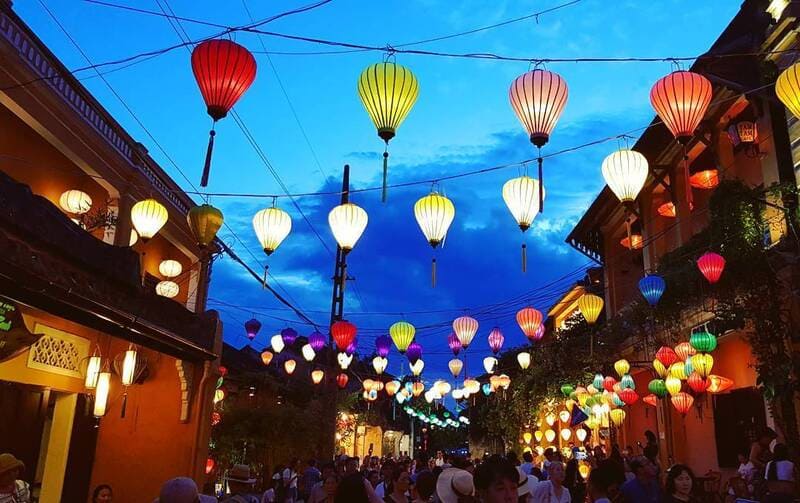 Watching the sunset over the Thu Bon River is also an activity not to be missed. Hoi An Old Town is particularly beautiful at dusk, when the soft, golden light envelops the yellowed facades of its century-old houses. To fully enjoy this romantic moment, opt for a boat trip on the river or a dinner cruise. You can also stroll along the quays of the Thu Bon River to admire the end-of-day spectacle in the best conditions.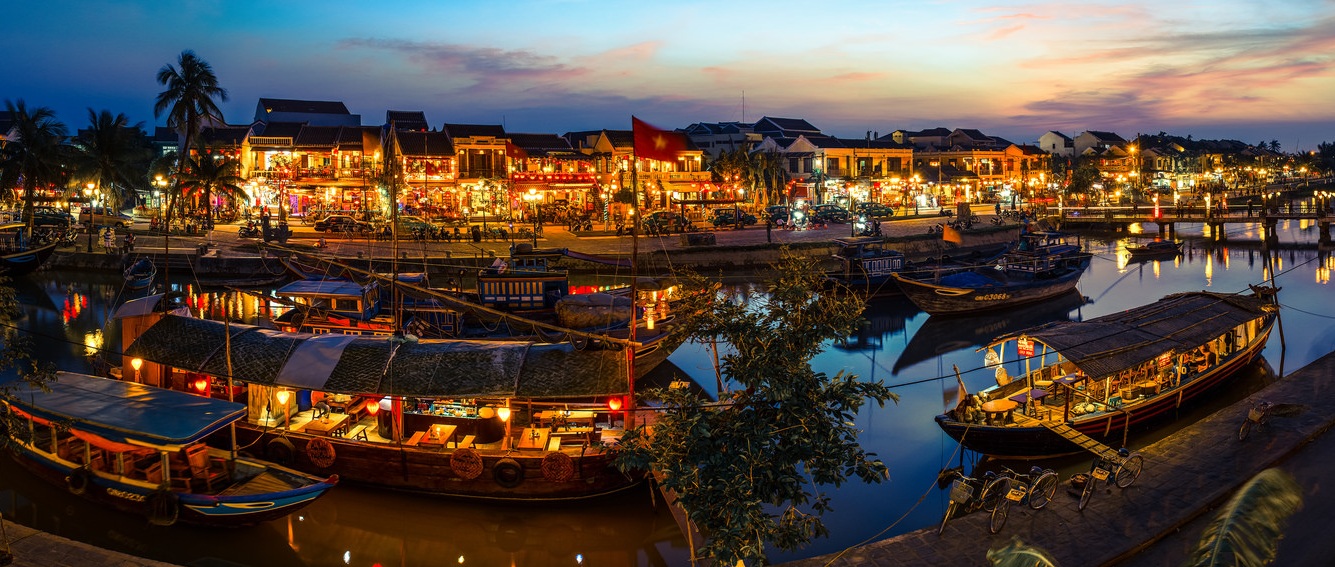 5. Experience the captivating art activities in Hoi An ancient town
Are you fascinated by traditional art objects and antique Asian colors? Then, the traditional mask-making activity in Hoi An is an experience you can't miss! Discover the ancient art of mask-making and create your own colorful masterpiece using techniques passed down through generations. This activity is a unique opportunity to learn more about the history and culture of the region while exploring your creativity.
Live this fascinating experience at "The Timing Masks Hoi An" (Address: 66 Bach Dang, Hoi An, Vietnam). You will learn many interesting anecdotes about the masks that characterize "bội" or "tuồng" singing (Vietnamese classical opera) with various nuances and expressions of emotion.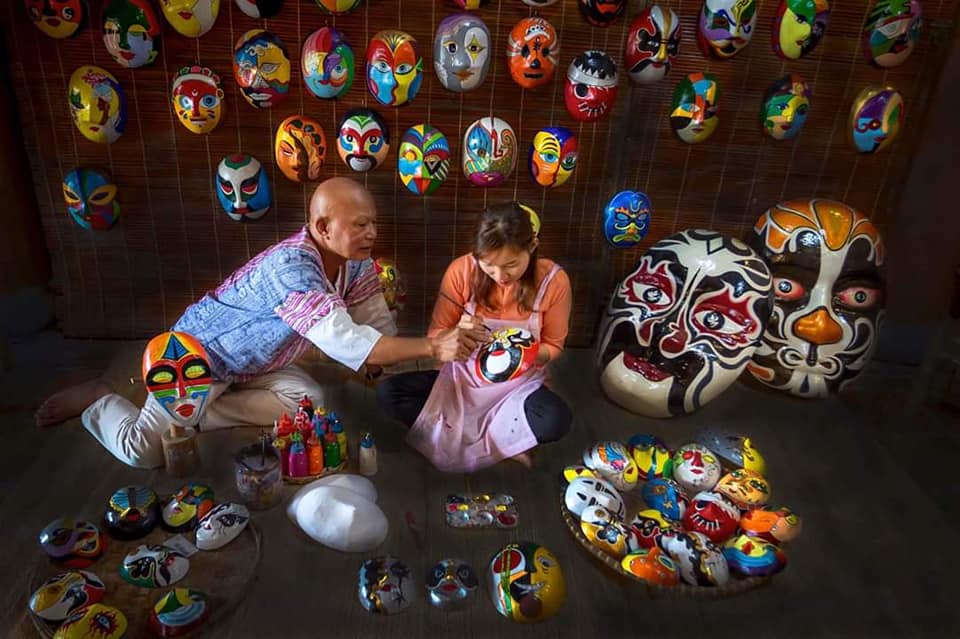 6. Visit the specialized traditional villages of Hoi An
After a stroll through the old town, you can explore the peaceful landscapes of the surrounding countryside. Visiting villages specializing in traditional crafts or agricultural crops promises you an extraordinary experience. Cycling through the countryside of Hoi An is an excellent way to immerse yourself in Vietnamese rural life and discover specialized villages such as the village of Thanh Ha for its ceramics, that of Tra Que for its herb crops and organic vegetables, with the possibility of taking a cooking class, and that of Cam Chau, for his lantern making. You can cycle a little further to the area around Van Lang to admire coconut forests, mangroves and market gardens.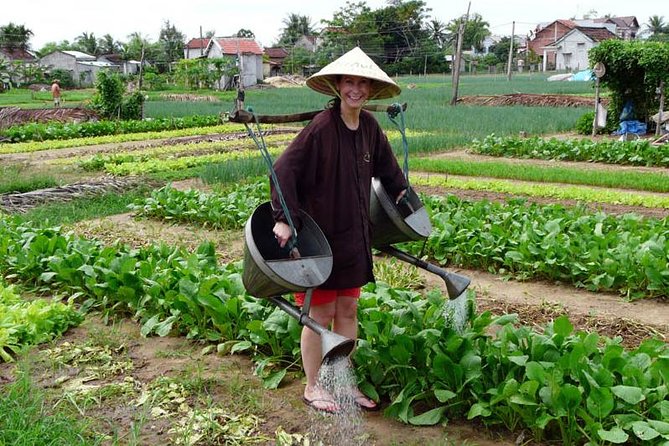 If you have a green thumb and are gourmets, immerse yourself in the shoes of a Vietnamese gardener by going to the village of Tra Que, located just 2 km north of Hoi An. This village is renowned for its organic crops and fresh aromatic herbs, whose history dates back more than three centuries. There, you can wander through lush fields and gardens, meet local farmers and learn about their organic growing methods.
Take part in exciting activities such as planting and harvesting vegetables, as well as preparing a traditional Vietnamese meal with the fresh herbs you pick. This immersive experience will leave you with unforgettable memories and a better understanding of Vietnamese culture.
7. Take an excursion to the Cham Islands
What to do in Hoi An, Vietnam, if you're a beach enthusiast? This is an excellent day trip from Hoi An for all lovers of pristine sand, translucent waters, and a complete change of scenery. The Cham or Cu Lao Cham islands are located 20km off the coast of the old town of Hoi An. This archipelago consists of a group of 8 small islands that have become one of the 15 national marine reserves and have been recognized by UNESCO as a world biosphere reserve.
In this little island paradise, you can enjoy magnificent beaches and exceptional seabed. Scuba diving and discovering the traditional making of hammocks are among the essential activities not to be missed.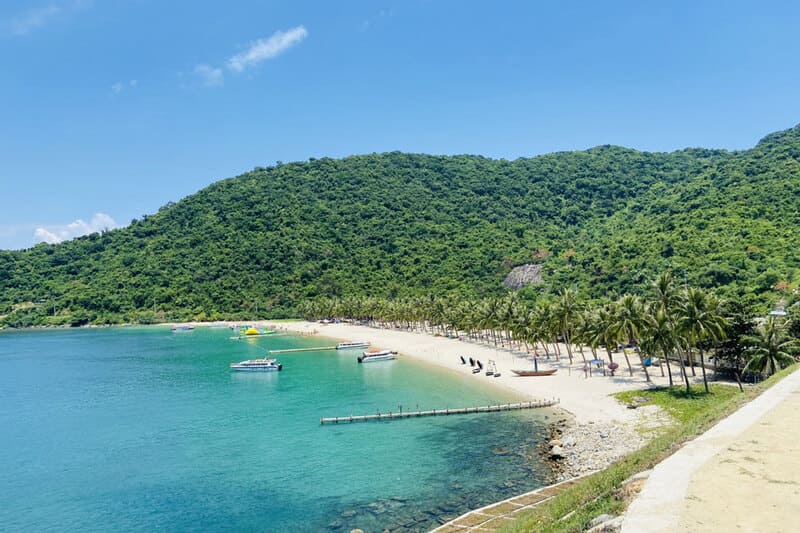 8. Relax on the beaches in Hoi An
Hoi An is also famous for its beautiful sandy beaches surrounded by palm trees. Cua Dai and An Bang beaches, located just a 30-minute bike ride from Hoi An, are perfect for relaxing and enjoying water sports. From February to September, during the summer season, you can also enjoy its wonderful beaches located just a few kilometers from the city center.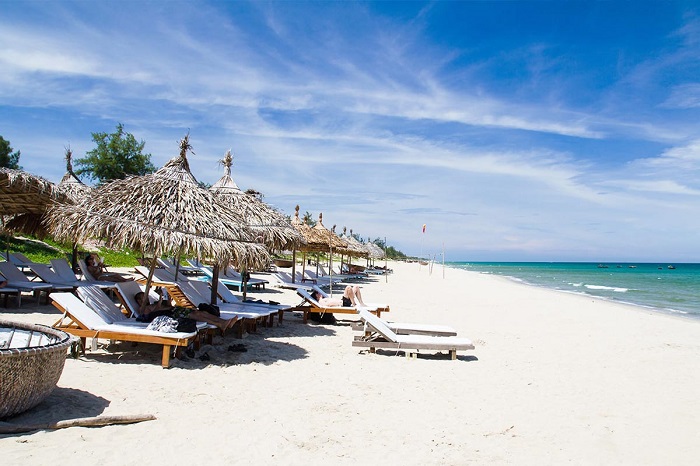 In addition to their natural beauty, the two featured beaches also offer a wide choice of restaurants, whether Vietnamese or international, for visitors who want to eat during their sunny day or for a romantic dinner in front of the sea.
9. Discover the culinary delights of Hoi An
Visiting Hoi An cannot be done without discovering its culinary specialties, an essential aspect of Vietnamese culture! The city is a foodie's paradise. Hoi An was something of a melting pot when it came to cuisine in particular, with incredible flavors. One of the traditional dishes you absolutely must eat is "cao lau". The "cao lau" noodle dish is the best example, expressing both this cosmopolitan heritage and the soul of its region. These pastas have a reputation for being unique, made exclusively from ingredients only found in Hoi An and its surrounding areas.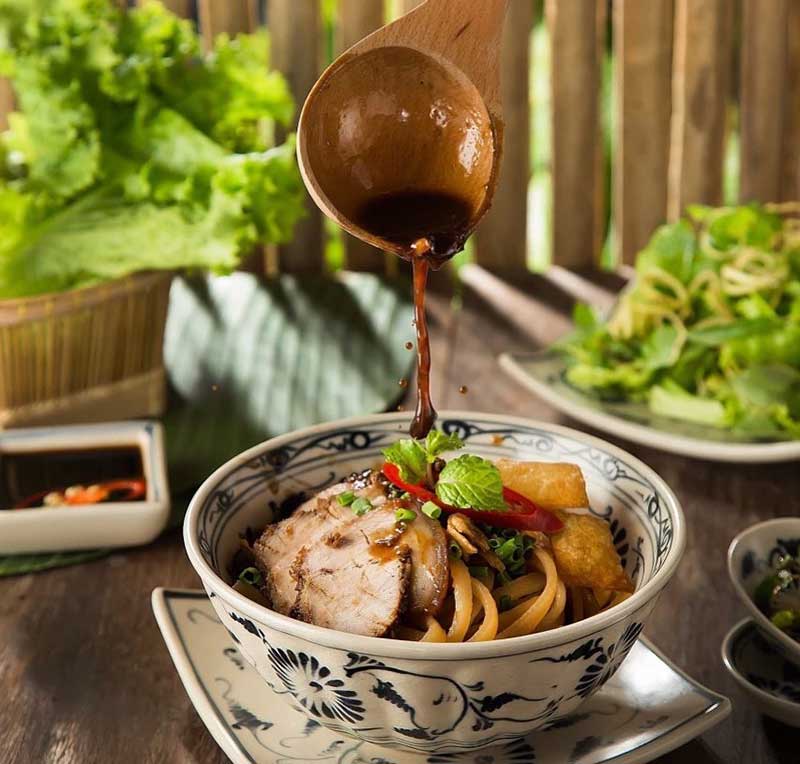 In addition to Cao Lau, which is the most typical dish, you should also try Quang noodles, another typical dish from this region of Vietnam. Additionally, Hoi An chicken rice is also a dish you should try.
Besides discovering the unmissable dishes of Hoi An, don't forget to drink MOT herbal tea, a famous drink that can only be found in Hoi An. This local drink, prepared with tea and a unique blend of herbs like lemongrass, lemon and cinnamon, is a taste experience not to be missed. The tea cups are made of paper, the straws are made of bamboo and the drink is decorated with tea leaves and fresh lotus petals, for a pleasant presentation. "Nuoc MOT" (MOT herbal tea) with aromas and flavors found nowhere else in the world.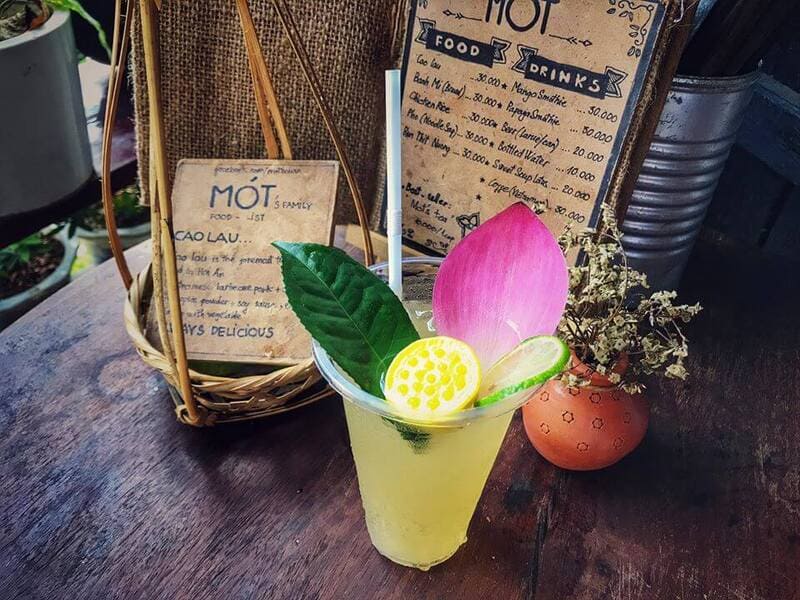 10. Take part in the cooking class in Hoi An
Hoi An is considered the new gastronomic capital of the country. Visitors can discover different tasty dishes by signing up for a cooking class. Hoi An offers a quality program with sightseeing activities combined with culinary experimentation sessions such as visiting local markets, area villages, excursions and demonstrations of planting and picking ingredients.
Hoi An's typical dishes are healthy, delicious and taken from everyday life. Taking a cooking class is one of the top ten travel experiences in Vietnam according to the Lonely Planet guide, so if you like culinary activities, this is a must-do activity in Hoi An.
The sessions take place in a restaurant in the company of a chef-instructor and a French-speaking guide. Steps include visiting a local market to choose ingredients, cooking traditional Vietnamese dishes with the instructor and active student participation, followed by tasting the prepared foods.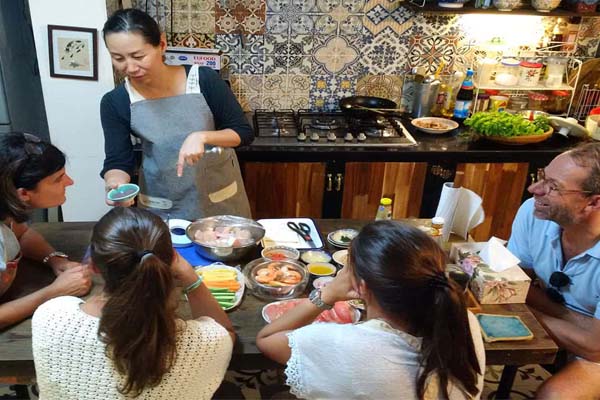 11. Attend one of the best shows in the world – Hoi An Memories Show
Did you know that in Vietnam, there is a world-renowned show: the Hoi An Memories Show! This open-air theatrical performance has become a phenomenon since its showcase at Times Square in New York in March 2019, gaining international media coverage.
It is performed in a massive open space of 25,000 square meters, accommodating over 3,000 spectators. With 500 actors on stage, the show narrates the history of Hoi An, from its inception to its development as the busiest commercial port in Southeast Asia, over four centuries. Come and discover the harmonious and grandiose scenes, the traditional settings of pagodas and bridges, as well as the aquatic scenes. You will be transported to the golden age of Hoi An and immersed in a living legend of Vietnamese history.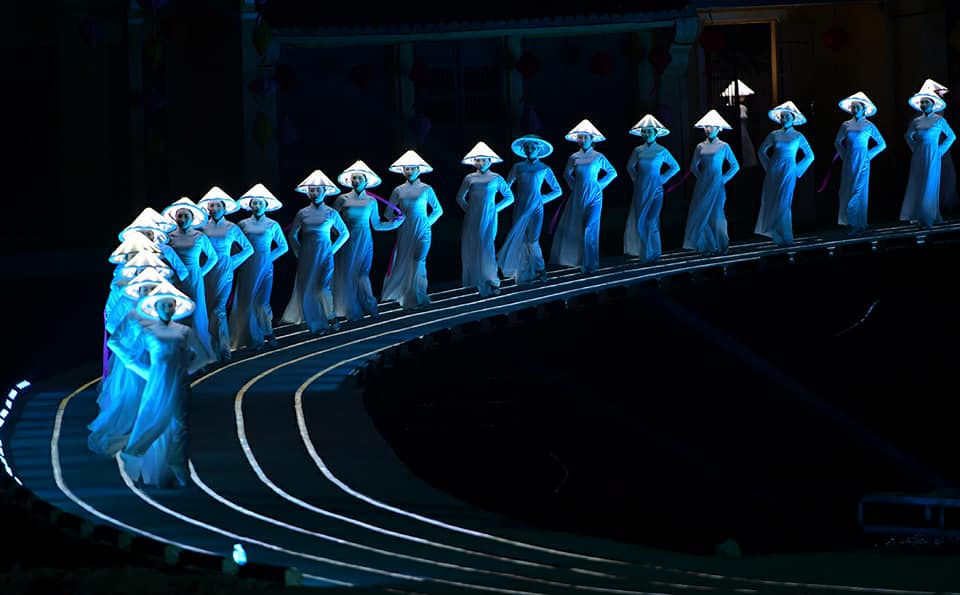 12. Explore Bay Mau Coconut Forest by Basket Boat in Hoi An
Bay Mau Coconut Forest, just a 10-minute drive from Hoi An Old Town, is a must-visit destination for nature lovers. By taking a traditional basket boat, you can explore the natural beauty of the area while learning about local history and culture. The peaceful beauty of the coconut trees and the diverse wildlife of birds and fish will transport you to a world of serenity.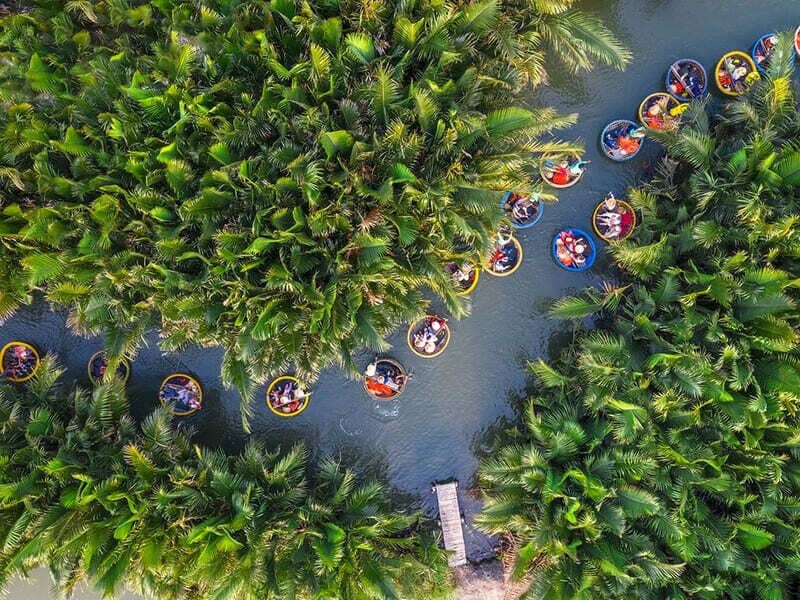 You can also make your own souvenirs from coconut leaves, a local specialty. The Bay Mau coconut forest is an unforgettable experience that will allow you to immerse yourself in Vietnamese nature and culture.
13. Discover the ghost town of An Bang
An Bang, in Hoi An, is famous for housing the most luxurious mausoleum in Vietnam. Although not an official tourist destination, the village attracts many visitors due to its nickname "the city of tombs" or sometimes "ghost town" given by foreign media.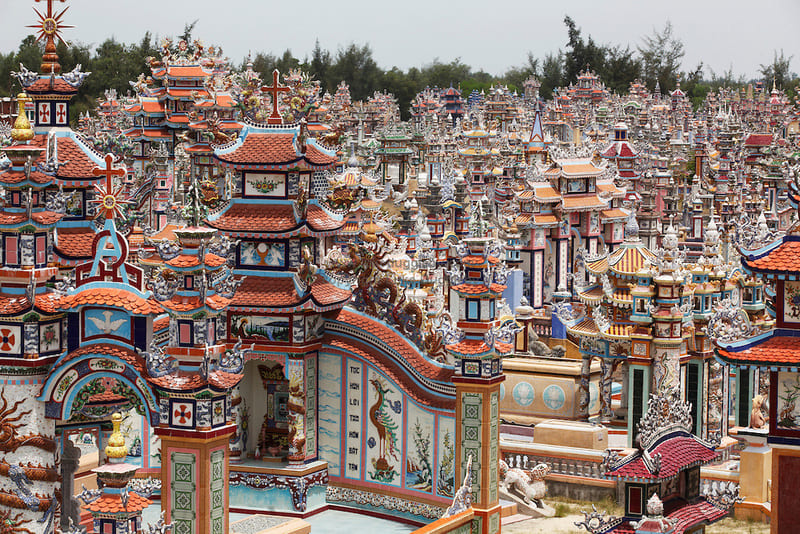 The An Bang tombs reflect a remarkable convergence of elements from Buddhism, Christianity, Taoism and even Islam. They are notable for their imposing pillars, sophisticated carvings and creative use of broken ceramics as decorative materials.
14. Experience custom tailoring in Hoi An
As you stroll through the streets of Hoi An Old Town, you will be struck by the abundance of fabric and fashion boutiques. But what truly sets Hoi An apart is the presence of tailors in every fashion store. They design and make tailor-made clothing, meeting the needs of customers, particularly foreign tourists. Each boutique houses several tailors and designers, and some even have specialized workshops.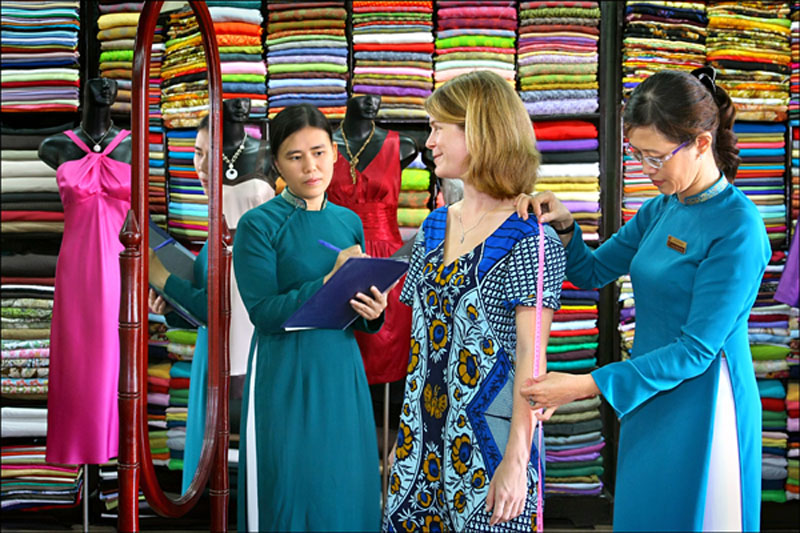 During your visit to Hoi An, don't miss the opportunity to immerse yourself in this fast-paced tailoring culture. In no time, you can walk away with a stunning made-to-measure garment, crafted to your desires, all at an affordable price. Don't miss this chance to discover the art of tailor-made sewing at your fingertips during your visit to Hoi An.
15. Recharge your batteries in Hoi An, the art of massage for a soothing trip
During a long journey, it is essential to find moments of relaxation to recharge your batteries. And what's better than a massage to achieve this?
Massage is an effective way to relax and relieve muscle pain, allowing you to recharge your energies to fully enjoy the other exciting activities of your trip. In Hoi An, you will find high-quality spas that are in harmony with nature, providing a healthy experience that is not to be missed.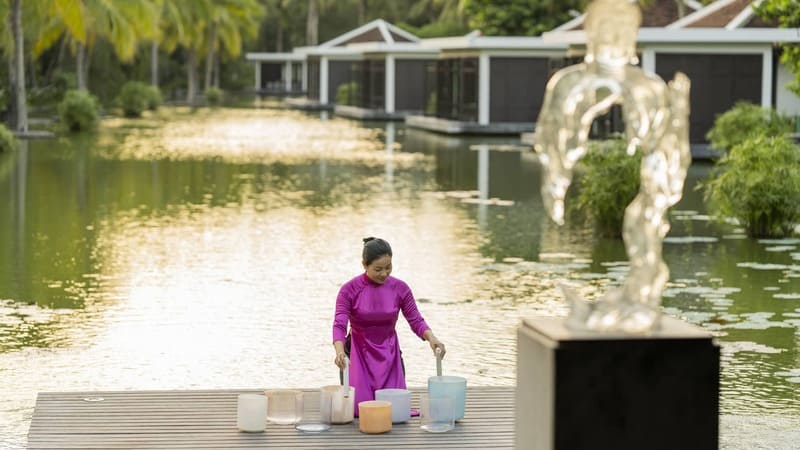 Enjoy traditional massages, herbal massages, herbal saunas, traditional healing therapies, as well as modern spa treatments such as mineral mud baths,... Additionally, traditional and unique massage techniques from the region also constitute a wonderful opportunity to discover and enrich your trip, thus adding an exciting and complete dimension to your experience.
What to do in Hoi An when it rains?
Don't be sad if you arrive in Hội An and it rains. It is an opportunity to discover a different side of the beauty of this city. Hội An in the rain exudes a calm, romantic and slightly melancholic atmosphere. The ideal activities to do in Hội An when it rains are to enjoy a cup of fragrant Vietnamese coffee or tea in one of the charming cafes in the old town while admiring the rain.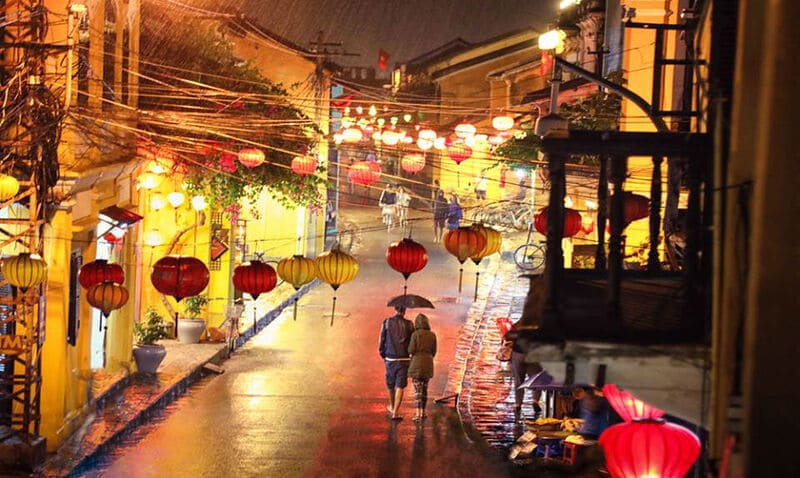 If you are an art lover, this is also an opportunity to take your time and immerse yourself in Vietnamese art by visiting the art galleries in the old town. Hoi An Old Town prides itself on having a variety of art galleries that display exceptional works by renowned artists from across Vietnam. The paintings and photographs presented here reflect the traditional culture of Vietnam, with its lush nature, traditional people and costumes, as well as its villages and iconic sites.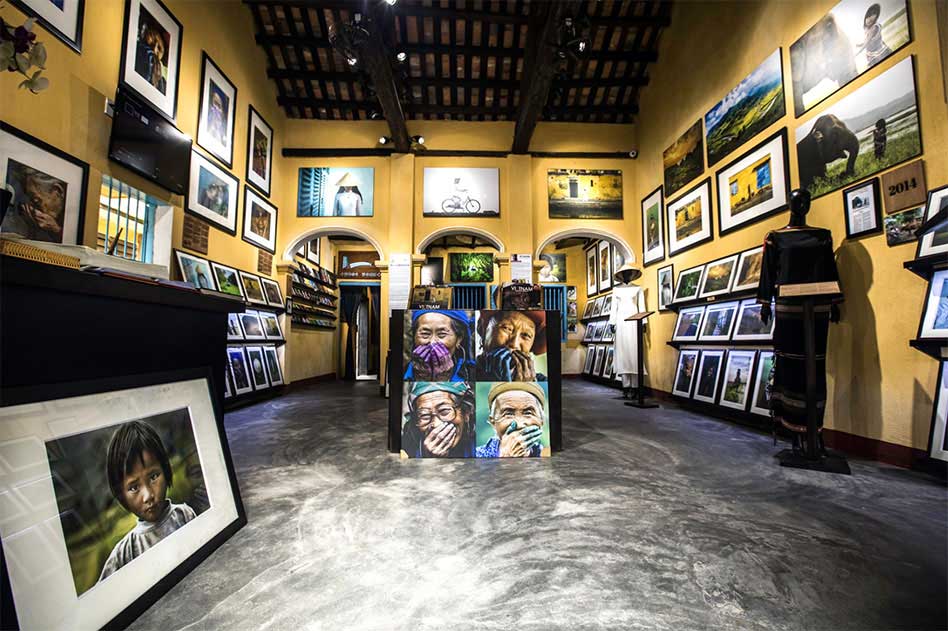 Each art gallery in the heart of Hoi An Old Town offers visitors a unique artistic experience, inviting them to discover and appreciate the diversity and colors of Vietnamese art.
What is the best time to visit Hoi An?
Knowing the Hoi An weather is essential if you want to visit this historic city. The city is located in central Vietnam and is affected by the monsoon season which occurs during the rainy season. The other times of the year the weather is hot and dry.
The rainy season lasts between the months of October and November. During this period, it is not uncommon to see heavy rain and flooding. So, if you are traveling during this period, cover up and take shelter in a charming café or restaurant until the rain stops.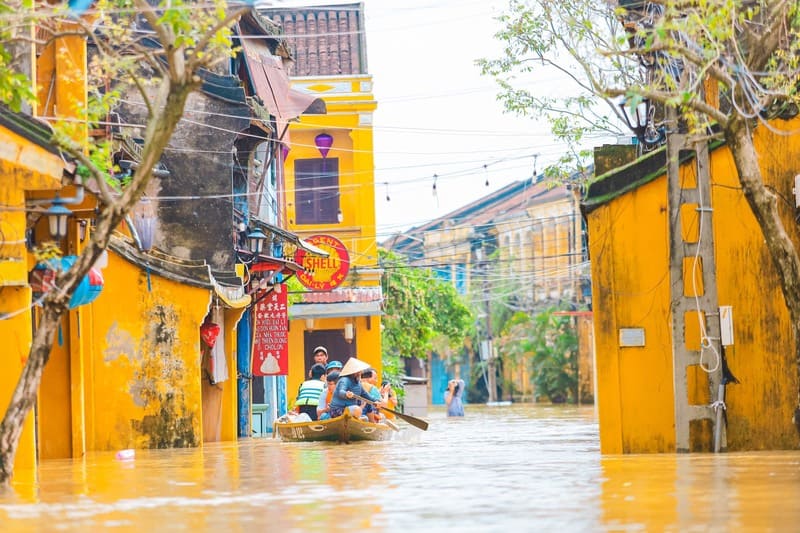 If you want to soak up the magical atmosphere of the city, stay there during the "Full Moon Festival". Every 14th day of the lunar month, the lantern festival takes place. The old town becomes pedestrianized, is only lit by the light of lanterns, and several traditional games and concerts are organized during the evening. It's a magical time, ideal for soaking up local traditions and interacting with locals.
If you want to get away from the flow of tourists, stay in Hoi An in the low season and avoid the months of March and April.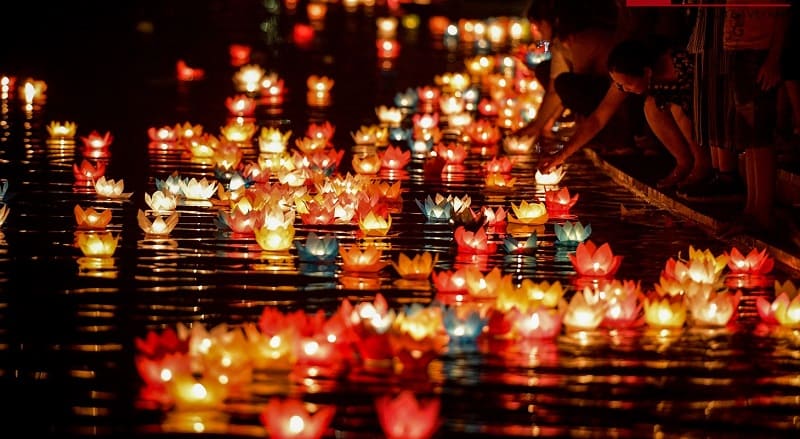 How to get to Hoi An?
The distance between Hanoi and Hoi An is approximately 740 km, while that between Ho Chi Minh City and Hoi An is approximately 950 km. Travel time varies depending on the mode of transport chosen.
Flying from Ho Chi Minh City (Saigon) or Hanoi is the quickest option. The journey takes only 1 hour to Danang Airport. Hoi An is 30 km from the latter, you can take a car, bus, or shuttle to get to Hoi An.
By car from Danang to Hoi An
If you arrive at Danang Airport, the best way to get to Hoi An is to take a car. However, be careful with taxis, as they can inflate prices and charge high tips. We therefore recommend that you rent a car directly from Danang Airport. You can obtain information from your travel agency or hotel. Alternatively, you can also look for shuttle buses to go to Hoi An.
Many trains depart from Hanoi or Ho Chi Minh City to Danang. Then, to reach Hoi An, you will need to take a bus or taxi. The train journey can take several hours, but it offers a unique experience, especially if you opt for an overnight cabin. This will also save you a night in a hotel. Although the speed is slow, the train ride offers the opportunity to admire the beauty of the Vietnamese countryside, with its rice fields and green mountains.
To buy a train ticket online in Vietnam, it is recommended to visit the official website of Vietnam Railways at https://dsvn.vn/
An interesting option for travelers on a budget is to take the night sleeper bus. There are sleeper buses that connect Hanoi or Ho Chi Minh City to Hoi An, however, this option is very long-lasting and it is important to note that it does not offer more safety in terms of traffic than the other options mentioned above.
Where to stay in Hoi An?
In Hoi An, you have a wide range of accommodation options, from budget choices to luxury accommodations. It is crucial to choose carefully to ensure a pleasant experience during your visit. To do this, consult reputable hotel reservation sites such as Booking, Agoda, etc. Don't forget to take into account the opinions of other travelers regarding the establishment that interests you, and do not hesitate to directly contact the hotel of your choice to ensure all the details.
Among all the options available, we have selected three hotels particularly appreciated by our travelers:
La Siesta Hoi An Resort & Spa:
Address: 132 Hung Vuong, Thanh Ha, Hoi An, Vietnam
Just a 10-minute walk from the center of Hoi An Old Town, La Siesta Hoi An Resort & Spa offers an oasis of natural beauty. Nestled in a lush tropical garden, this resort is an ideal hideaway to escape from the chaos of life and find peace in absolute privacy. With its harmonious marriage of modern architecture and traditional Vietnamese charm, the 137 rooms offer an elegant resort experience in the heart of nature. Additionally, the resort offers 4 swimming pools for cooling off and relaxing.
Little Hoi An:
Address: 02 Thoai Ngoc Hau, Hoi An
Little Hoi An is a boutique hotel located in the center of Hoi An Town. This hotel offers an authentic ambiance with an inspiring history of Faifo Town, which has stood the test of time. The design of the hotel is rustic and charming, reflecting the ancient town of Hoi An.
Hoi An Boutique Resort:
Address: 34 Lac Long Quan, Cam Chau, Hoi An
Boutique Hoi An Resort is a haven of peace and relaxation nestled on a sandy beach by the sea. The spacious villas offer stunning ocean views, while the large private terraces are the ideal place to relax and enjoy the sea breeze. The lush tropical gardens surrounding the swimming pool invite relaxation and contemplation. If you are a sea lover, Boutique Hoi An Resort is the ideal place for you.
Our last words,
Exploring Hoi An promises an immersive adventure. The alleys illuminated by lanterns and historic houses transport you to a culturally rich past. Whether you aspire to delve into history, savor the local cuisine, or relax on the beaches, Hoi An offers a varied and captivating experience. We hope this comprehensive guide will help you prepare for an in-depth exploration of this world heritage - Hoi An. Enjoy every moment to the fullest and let yourself be immersed in the timeless beauty of this unique destination!
---