Vietnam Visa: Latest Procedures and News
Vietnam is a beautiful and diverse country that attracts millions of tourists every year. However, before you pack your bags and book your flight, you need to know the visa requirements and procedures for entering Vietnam. Depending on your nationality, you may or may not need a visa to visit Vietnam for a certain period of time. In this blog post, we will provide you with the latest information and updates on Vietnam visa 2023, including the visa exemption policy, the electronic visa (e-visa) system, and the visa options for long-term stays. We hope this guide will help you plan your trip to Vietnam smoothly and hassle-free.
1. Do I Need a Visa for Vietnam?
If you plan to stay in Vietnam for less than 45 days and you are a citizen of one of the following countries: France, Germany, Italy, Spain, United Kingdom, Sweden, Denmark, Finland, Norway, Japan, South Korea, you can benefit from a visa exemption upon arrival (see How to Benefit from Vietnam Visa Exemption).
However, for stays exceeding 45 days, citizens of these countries require a visa. The tourist visa for Vietnam is typically valid for 90 days, depending on the type of visa requested. You have three options to obtain a visa for Vietnam:
The traditional visa provided by the Vietnamese embassy (or consulate) in your country.
The e-visa or electronic visa issued online through the Vietnamese immigration website.
Visa on arrival.
2. How to Obtain a Visa for Vietnam?
Here are explanations for each type of visa. First and foremost, please note that regardless of the duration and type of visa, your passport must be valid for 6 months beyond the expiration date of your visa (6 months after your return date).
2.1 "Classic" Visa Obtained at the Embassy Before Your Departure
This is a traditional option that travelers often chose in the past. If you opt for this visa, please inquire at the Embassy or Consulate of Vietnam in your country of residence. The required documents are as follows:
Completed visa application form NA1 (available for download on the Embassy's website).
2 passport-sized photos, with one attached to the form.
Passport with a minimum of 2 blank pages and valid for at least 6 months beyond your entry date into Vietnam.
Visa fee payment (in cash, by credit card, or by check). Payment will be in the currency of your country (euro, dollar, etc.). The processing time varies from 1 to 2 weeks depending on the time of year, and the visa will be issued for a specific date (the date you specify in the form).
In other words, it is impossible to enter Vietnam before that date. However, you can arrive after that date. This type of traditional visa is quite complex as the procedure is lengthy and costly.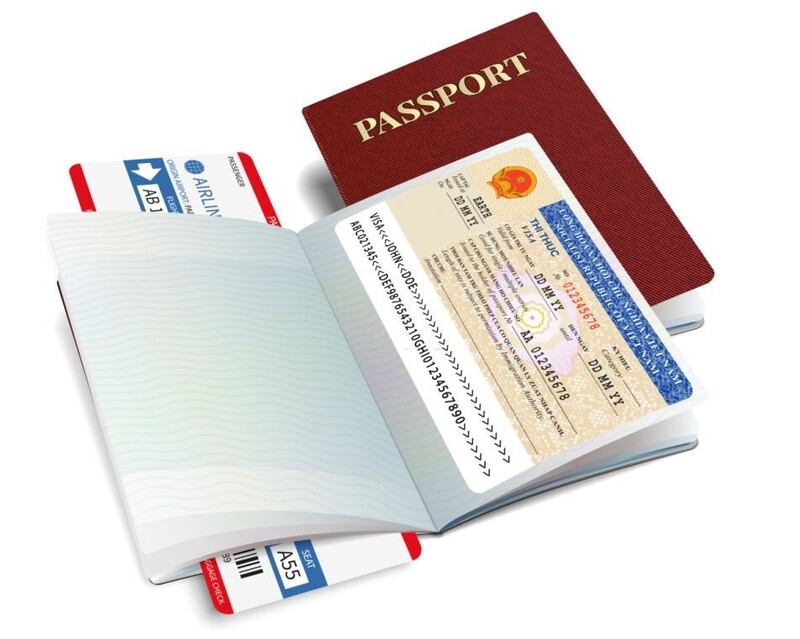 2.2 Vietnam e-visa
As of August 15, 2023, nationals from all countries can apply for an e-visa to Vietnam. This online visa option allows you to obtain a visa without visiting an embassy or consulate.
How to complete the online Vietnam e-visa application?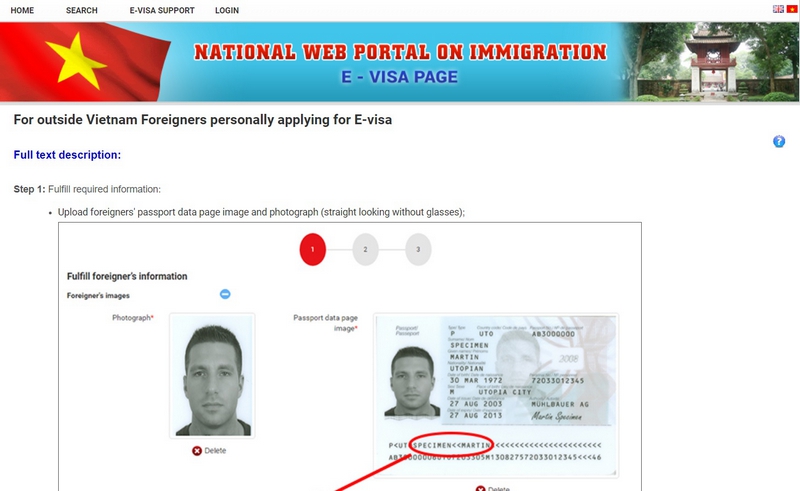 Step 1: Fulfill required information:
Upload foreigners' passport data page image and photograph (straight looking without glasses);
After this step, registration code will be sent to the applicant;
Step 2: Pay E-visa fee. Your application will be processed in 3 working days;
$25/single-entry electronic visa

$50/multiple-entry electronic visa
After making the payment, you will receive a confirmation email stating that your visa application has been submitted and is being processed. Your application will be processed within 3 business days.
Note: If you need to modify your application (due to an error in your name, passport number, etc.), the processing time may extend to 1 to 2 weeks.
Step 3: Once processing is complete, use the registration code, registration email, and date of birth to check the result in the E-visa search menu. If your electronic visa is approved, please print the electronic visa and present it upon your arrival in Vietnam.
To search for and print electronic visas, you can access one of the following websites:
The validity period of your e-Visa starts from the date specified in your approved e-Visa document.
You are allowed to enter Vietnam on any date during this validity period. Please note that it is not possible to enter Vietnam before or after the specified validity period in your e-Visa.
>>> Discover here all frequently asked questions about Vietnam e-visa
2.3 Visa on arrival
The visa on arrival means that your visa will be ready upon your arrival at the airport, and you will not need to complete any procedures with the Vietnamese embassy before your departure.
To obtain this type of visa, you will need an invitation letter (or prior authorization) provided by a travel agency such as ours (Vietnam Discovery). We handle all the administrative procedures to obtain your visa. You just need to send a scanned copy of your passport to our agency.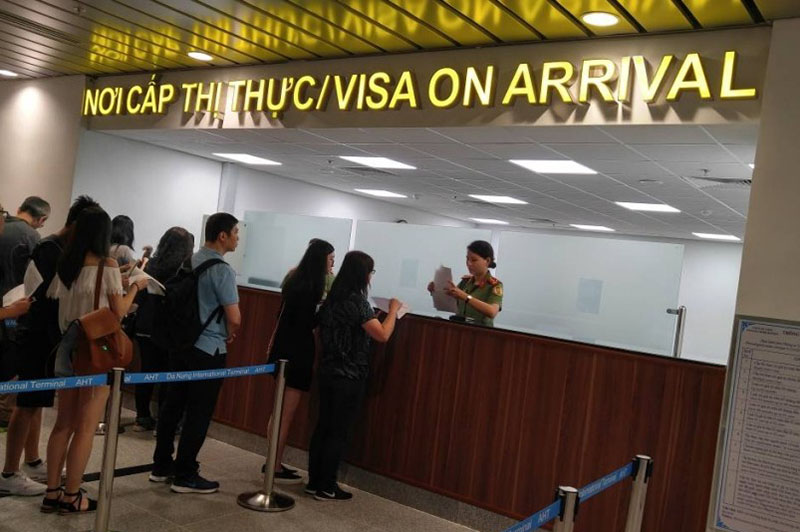 We then request the Vietnam entry approval letter from the Vietnamese Immigration Service so that you can receive your visa upon arrival at the airport. You will need to print this approval letter to board your international flight to Vietnam. Upon arrival, once you have disembarked from the plane, you will submit this letter to the immigration officer in charge. After verification, they will affix your visa to your passport.
Please Note:
Visa on arrival applies only to air travel. If you enter Vietnam by land or cruise, you must obtain a full visa before your arrival.
Ensure that your passport is valid for at least 6 months beyond the end of your planned stay in Vietnam.
If you are traveling with children who have their own passports, please note that the same fees as for adults apply.
The visa stamping fees at Vietnam's airport must be paid in cash. Credit cards are not accepted.
There is no official website for the visa on arrival service. All websites offering the pre-approved visa letter are private agencies.
Our advice: Among these three types of visas, we strongly recommend opting for the E-visa as it is easier to obtain and less expensive.
3. Vietnam Visa Price: What is the cost of a visa for Vietnam?
The cost of a visa for Vietnam depends on several factors, including the duration of your stay, the type of visa requested, and where you apply. Here's an overview of the average prices for the most commonly requested visas:
E-visa Vietnam Price: The fees for a single-entry electronic visa are $25 USD. Payment must be made online.
Visa on Arrival Vietnam Price: Visa fees are to be paid directly at customs. You can pay in USD or EUR: $25 (or €25) for a single-entry visa for a maximum stay of 30 days. It is advisable to pay in USD to avoid unfavorable exchange rates. We also offer assistance services for obtaining your visa on arrival.
Please note that visa procedures and fees may differ for citizens from African countries such as Morocco, Algeria, Tunisia, Kuwait, and Oman.
>>> Detailed Information on Vietnam Visa for African Countries in 2023
To assist you in the process of obtaining a Vietnam visa, you can go through a travel agency in Vietnam. Feel free to contact us for more specific information.
4. What are the risks of overstaying a visa in Vietnam?
The fine depends on the number of days exceeded. See the information below:
$25 for a delay of up to 3 days
$55 for a delay of 4 to 10 days
$175 for a delay of 11 days to 1 month
$440 for a delay of 1 to 3 months
$700 for a delay of more than 1 year.
In severe cases (significant visa overstay: several months, lack of cooperation with local authorities to resolve the issue, etc.), you risk being placed on the Vietnamese immigration blacklist, which could make your future entries into Vietnamese territory more challenging. There are indeed local intermediary services that can help you manage your situation as positively as possible. We do not provide detailed information on these services and do not offer them directly.
>>> Also Worth Reading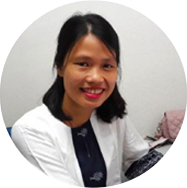 Mrs Duong Thi LAN
Travel Consultant
Have questions about your trips ?
Feel free to ask us !
Voir tous nos conseils pratiques